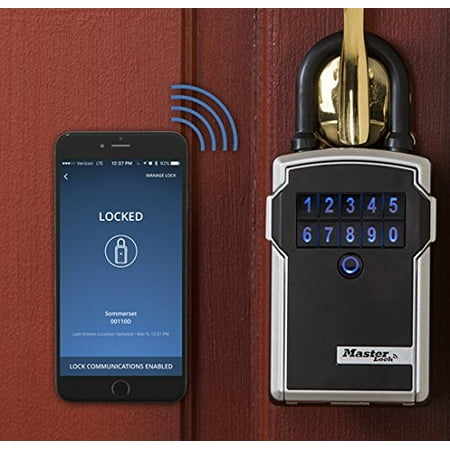 Nice price drop!
The Master Lock No. 5440D Bluetooth®
Portable Lock Box
. Open and manage with your smartphone or with temporary or permanent codes. Monitor who visits and when through the App and notifications. Removable shackle can be managed with the App or a traditional code. Large capacity to hold key cards or traditional keys. Long life battery is easily replaceable. Solid body durability and coated surface to protect hardware and door finish. Works with the free Master Lock Vault eLocks App.
•Open and manage with your smartphone.
•The free iOS and Android eLocks App is designed for personal use, supporting up to 10 locks.
•Can also be accessed by entering a traditional code on the keypad.
•Schedule access now or in the future.
•Provide permanent or temporary access.
•Removable shackle for easy portability and installation. •Use the App or web to track usage.
•Tamper alerts and low battery warnings.
•Large storage capacity for keys and access cards.
•Easy to replace battery (CR123A preinstalled)