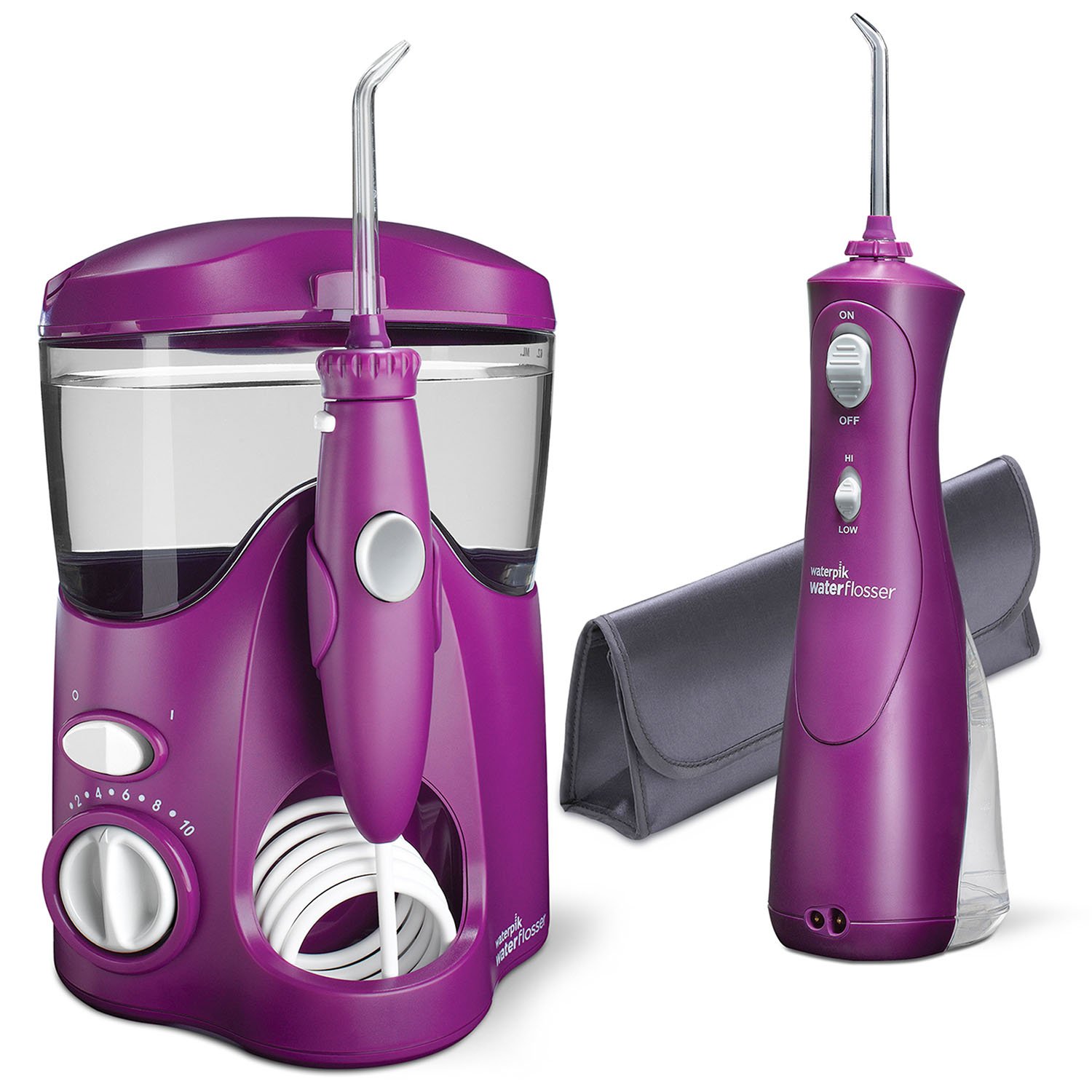 Get two for the price of one!
The
Waterpik Ultra and Cordless Plus Water Flosser Combo
(WP-115/465) is the easier and most effective way to floss. This electric dental water flosser combination unit leaves your mouth feeling fresh and clean. Waterpik water flossers are clinically proven to be up to twice as effective as string floss for gum health and are ideal for anyone with braces, implants, crowns, bridges or periodontal pockets. Removes 99.9% of plaque from treated areas, and is 3x as effective as string floss for cleaning around braces with the orthodontic tip. Waterpik Water Flossers provide a unique combination of water pressure and pulsation to massage and stimulate gums, and clean deep between teeth and below the gumline where traditional string floss can't reach. The Ultra water flosser features ten pressure settings, a contemporary design that is smaller and quieter than previous models, a covered reservoir with in-lid tip storage, and a variety of tips. The Cordless Plus
water flosser
features a rechargeable battery and compact design. It is great for travel and small bathrooms. The Cordless Plus includes a premium travel case. Tested and trusted, Waterpik water flossers are first in class accepted by the American Dental Association (ADA).
12 water flossing tips included
Combines water pressure and pulsations to clean deep between teeth and below the gumline
Removes up to 99.9% of plaque from treated areas and is up to 50% more effective for improving gum health vs. string floss
Ultra countertop water flosser unit features 10 pressure settings, a contemporary design, 90+ seconds of water capacity, 3 year warranty, and in lid tip storage
Cordless Plus water flosser unit features high/low pressure settings, rechargeable battery, 45+ seconds of water capacity, 2 year warranty, and premium travel case