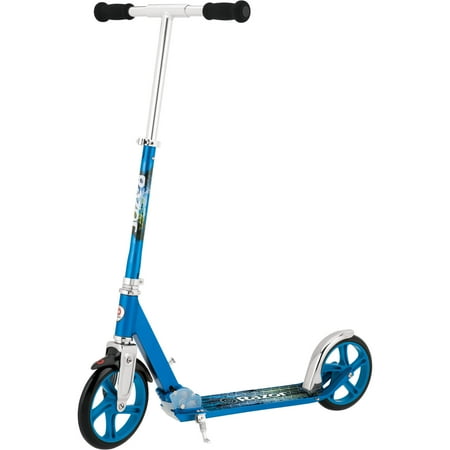 Highly rated!
Walmart.com has this Razor A5 Lux Scooter in blue
for just $49.94 (Regularly $99.99) shipped. The Razor A5 Lux scooter has extra-large urethane wheels to help give it a smooth ride. The wheels on
the Razor a5
Lux Scooter is probably the biggest standout. They're massive At 8 inches in diameter. Not many other scooters can say they have anywhere close to that of the A5.
The
Razor A5 Lux Kick Scooter
provides a smooth ride and hours of outdoor entertainment for users ages 8 years and up. It's made of super-durable aircraft-grade aluminum t-tube and includes a wide deck that easily supports riders up to 220 lbs. This Razor adult kick scooter requires no assembly and is ready to ride straight out of the box. When not in use, simply fold it up for easy transportation and storage. Its oversized urethane wheels allow you to gain speed easily, especially when riding downhill or downslope, and they also ensure a smooth ride. Its rubberized handles keep your hands comfortable, especially during extended use. This Razor A5 Lux Kick Scooter is available in assorted colors to match your individual look and personality. It's ideal for young kids, teens and adults.
Razor A5 Lux Scooter:
Aircraft-grade aluminum t-tube
Deck that comfortably supports riders up to 220 lbs
Extra-large urethane wheels
Easy to fold and carry
Built for larger riders
No assembly required
Age range: 8 years and up
Adult kick scooter colors: black, blue, pink
Razor A5 Lux scooter blue has comfortable black handles
Kickstand allows for secure placement and storage
Comes in black
FREE Shipping!