Find the perfect holiday gift for everyone on your list this year, no matter your budget. Browse gift guides for her, the guys, teens, pets, and more. Or, get ideas for a unique gift like a Christmas advent calendar.
The holiday season is just around the corner, and it's time to spread joy and love through thoughtful gifts. Finding the perfect presents can be a daunting task, but fear not! Our comprehensive 2023 Holiday Gift Guide is here to rescue you from the holiday shopping frenzy. With a wide array of unique and carefully selected gift ideas, you'll be sure to find something special for everyone on your list.
Since gifts are all about showing someone how much you love and care about them, it's important to find just the right thing for them. To help give you some inspiration for this holiday season, we rounded up our favorite gift ideas that will show them just how much they mean to you!
Jump Ahead:
*Keep in mind that pricing is subject to change and any pricing listed is what the current listing price was at the time of posting.
Keep your eye out as we will update this gift guide throughout the holiday season!
Image credit: Pexels
2023 Holiday Gift Guide for Tech Enthusiasts
For the gadget gurus in your life, we've curated a selection of cutting-edge technology gifts that will leave them awestruck. From the latest smartphones to smart home devices, this section has it all.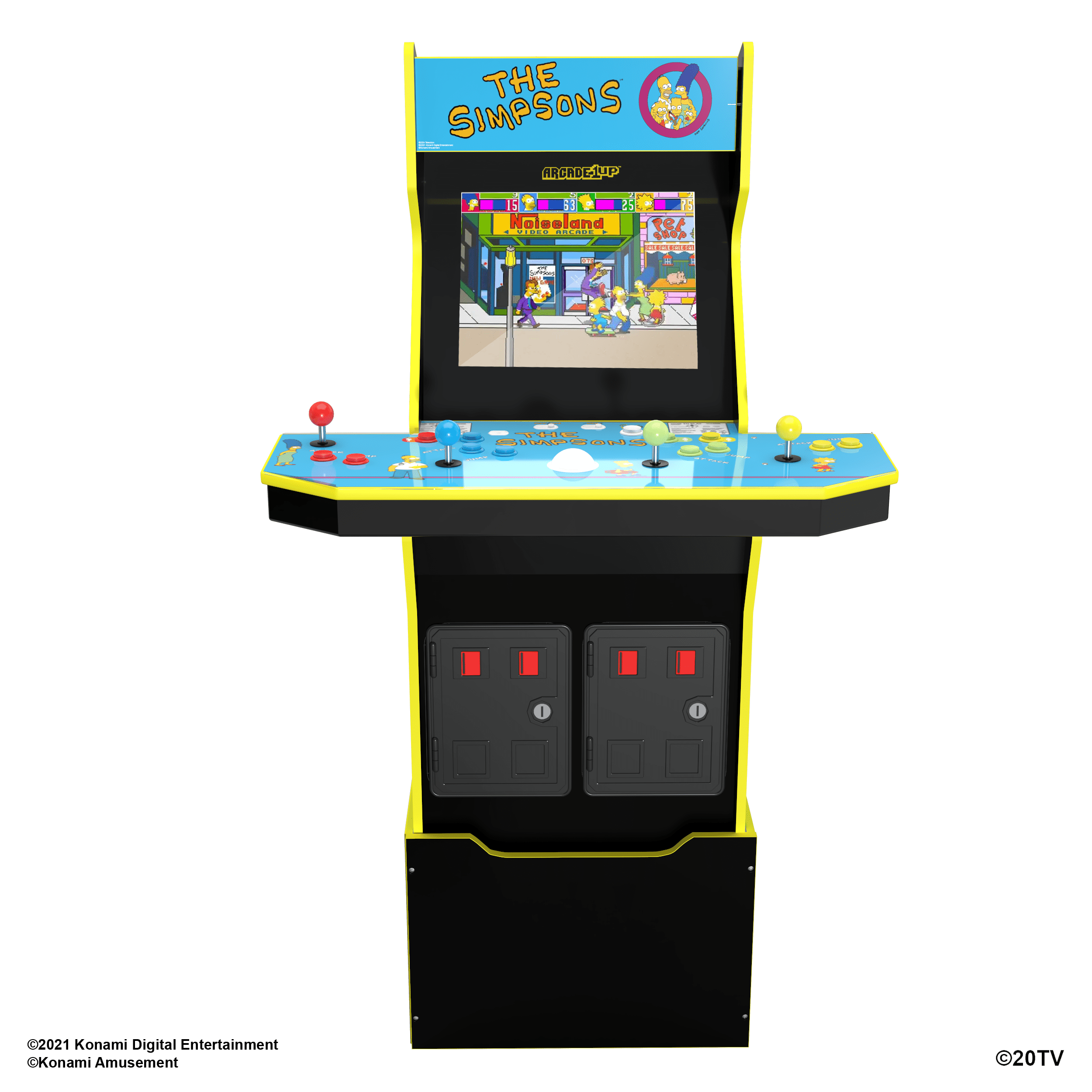 The Simpsons™ Arcade Machine includes a riser and a light-up marquee. Live Wi-Fi enabled with no monthly subscription required. Redefining family game rooms, game caves, and even home offices, Arcade1Up game cabinets have quickly become absolute must-haves for retro gaming enthusiasts and pop-culture collectors; they play great, look great, and are instant conversation pieces. Exactly how you remember it from the early '90s, play as Homer, Marge, Bart, and Lisa, taking on swarms of Springfield's wide cast of characters. Four simultaneous players, endless animation inspired fun. Oh, and you want to switch it up a bit? You got it. Also in this cabinet is The Simpsons™ Bowling!
---
For a combination of functional comfort and colorful style, reach for the Sleeveless Quilted Heated Vest from Dr. Prepare. This unisex electric vest features a quilted design for comfort and timeless style. The mid-weight construction and interior lining help you stay cozy and warm, and the zipper front makes it easy to layer this vest over a variety of different tops.
---
The smart necklace where you keep your loved ones heartbeats. Hold it and feel their heart in your hand.
---
RokBlok is the world's smallest, wireless record player. Simply place RokBlok on top of any record to instantly listen to your favorite vinyl, anywhere.
---
State 7-in-1 Music Center is packed with features and also sports a great Retro Design. The built-in 3-Speed Turntable, CD & Cassette Player, and FM Radio are ready to play all your favorite songs! The Dual Bluetooth feature allows streaming of your vinyl records to an external Bluetooth Speaker or plays music from your Smart Device through the State's built-in Speakers. The 3.5mm Aux Input & RCA Audio Outputs allow for even more additional Playback options!
---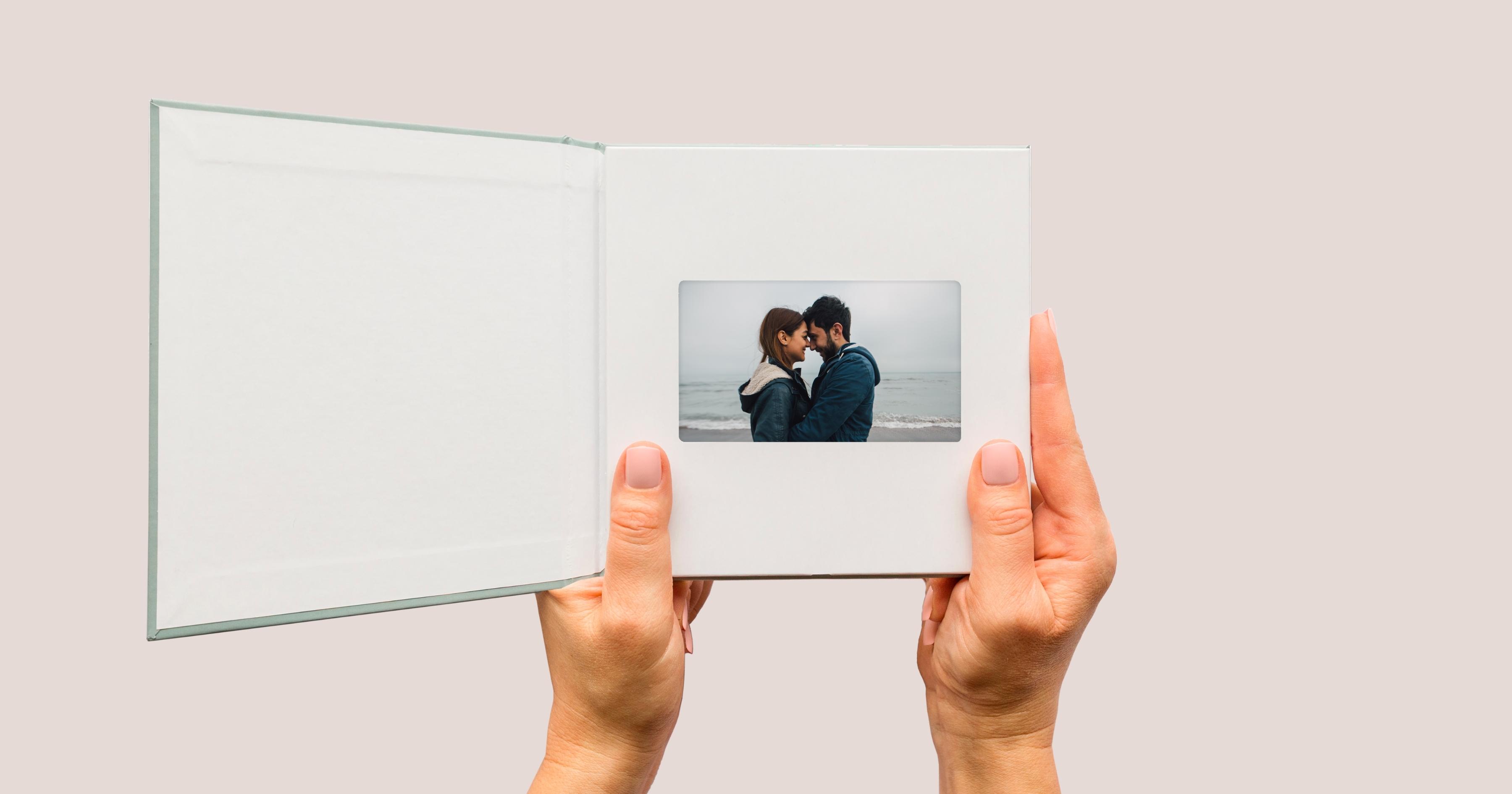 What's a video book? A physical book that plays your videos when the cover is opened -- just provide your video! Heirloom loads your book with your videos and ships it directly to you or your loved one.
---
This pocket-sized, retro mini suitcase-shaped speaker comes with an included lanyard, effortlessly attaching to backpacks, bags, or keys, making it one of the best portable Bluetooth speakers for travel and outdoor activities. It offers deep bass and balanced sound. Its 3W amps and dual passive radiators produce surprisingly rich, distortion-free sound. Whether you're a fan of Hip Hop or classical music, expect great-sounding audio from this small Bluetooth speaker. Its vibrant, contrasting colors and delightful design add a playful and colorful dimension to your audio experience. With a choice of Berry Blue, Candy Pink, Green, Cantaloupe Yellow, and Scarlet Red, you can pick a color that matches your mood and style.
---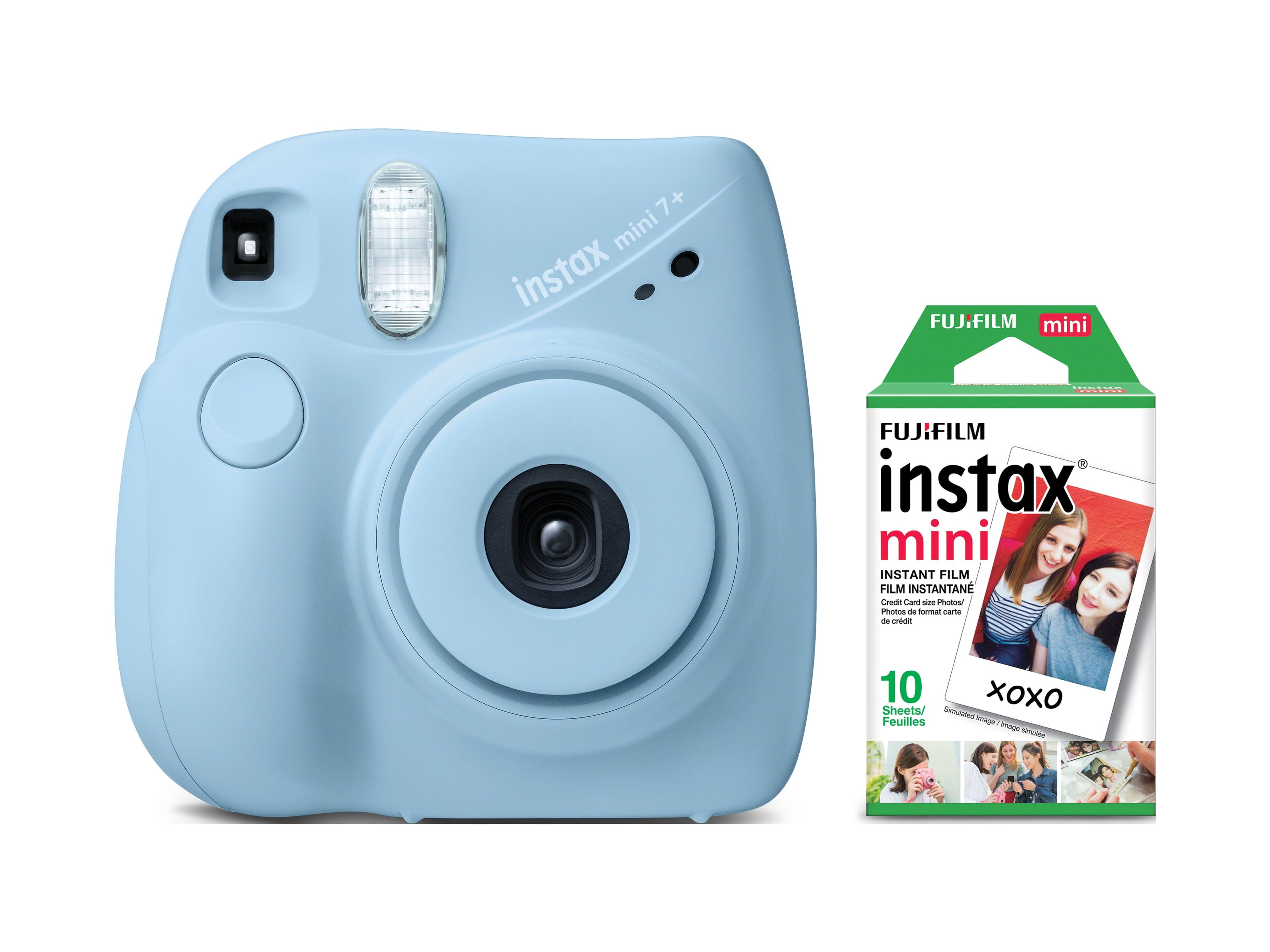 The new Fujifilm Instax Mini 7+ Instant Camera is stylish, colorful, and compact. With its exposure control adjustment and easy point-and-shoot features, the Fujifilm Instax Mini 7+ will no doubt quickly become a favorite. Superior images are just an instant click away with the camera's high-quality FUJINON lens in combination with the Fujifilm Instax Mini Film. Just point, shoot, and let the fun start immediately. The new Instax Fujifilm Mini 7+ instant camera is available in five trending colors: Lavender, Light Blue, Light Pink, Seafoam Green, and Coral. This Blister Pack comes with a 10 Pack of Fujifilm Instax Film. The Fujifilm Instax Mini 7+ Instant Camera gives you high picture quality that is simple to operate.
---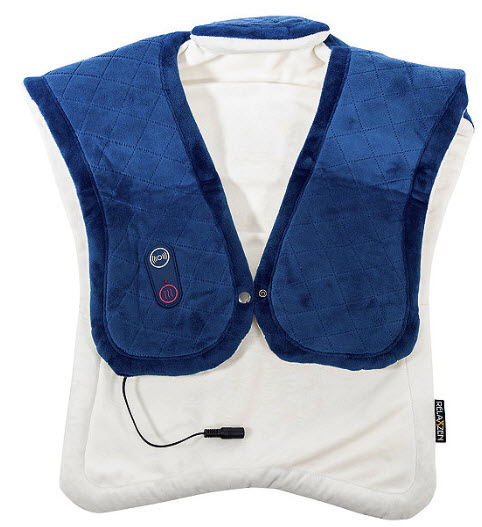 The Relaxzen Comfort Heated Massaging Wrap comes equipped with soothing heat elements that work wonders in relaxing and easing muscle pain. Whether you've had a long day at work or an intense workout, this wrap can provide the comfort and relief you need.
---
STEP UP YOUR PRINTING GAME. KODAK Step Printer Connects to Any iOS or Android Device [Via Bluetooth or NFC] Turn Your Selfies, Portraits, Social Media Posts Into Physical Photos. ZINK 2" x 3" Sticky-Back Paper with Embedded Dye Crystals Delivers High-Quality, Durable, Affordable, Beautifully Detailed Prints That are Resistant to Moisture, Rips, Tears & Smudges.
---
Larger files and more content demand next-level performance. The My Passport SSD delivers read speeds of up to 1050MB/s[1] and write speeds of up to 1000MB/s[1], and capacities of up to 2TB* so you can access your digital world anytime, anywhere. Your digital world is invaluable. Help keep your data safe with password enabled 256-bit AES hardware encryption and simple backup. Carry your data with confidence. The My Passport SSD has a bold, metal design that is tough enough to handle whatever comes your way. Shock and vibration resistant. Drop resistant up to 6.5ft (1.98m).
---
Ember, The World's First Temperature Control Mug, is a design led temperature control brand and technology platform, whose mission is to revolutionize the way people eat, drink and live. Founded by inventor and serial entrepreneur Clay Alexander, Ember creates, designs and develops temperature control products that offer people complete customization. The award-winning Ember Travel Mug and Ember Mug are the most advanced coffee mugs on the market, allowing you to set and maintain your preferred drinking temperature for hot beverages.
--- Pocket 3 is a small smartphone of 4.5 inches. It's the perfect size to be ergonomically friendly for one-handed use and more pocketable. It is easy to use one-handed without dropping. Pocket 3 powered by Helio G85 octa-core processor. It provides reliable performance, ensuring a more fluid and lag-free experience.
--- The LOKMAT APPLLP 4 Pro is a cutting-edge Android smartwatch that combines style and functionality. With a compact 1.6-inch 400x400 pixel screen, this device offers a clear and vibrant display for all your needs. Powered by an Octa-core processor and equipped with 6GB of RAM and 128GB of storage, it ensures smooth performance and ample space for your apps and data. This smartwatch stands out with its versatility, featuring SIM card support for phone calls and 4G LTE connectivity, allowing you to stay connected wherever you go. It also boasts WiFi capabilities for seamless internet access and dual cameras for capturing photos and videos on the fly. With GPS positioning, you can navigate with confidence, whether you're exploring a new city or tracking your outdoor adventures. The LOKMAT APPLLP 4 Pro runs on the latest Android 11 system, providing a user-friendly and feature-rich experience for your smartwatch needs.
--- Introducing the USB Plug-In LED Eye-Care Desk Lamp, a versatile and stylish addition to your study or office space. This lamp, measuring 95x65x510mm, combines modern functionality with a sleek design. With its built-in perpetual calendar, it helps you stay organized and on top of your schedule. The soft LED lighting is designed to be easy on the eyes, making it ideal for students and professionals spending long hours at their desks. Crafted with a business imitation leather grain finish, this desk lamp exudes a touch of elegance and sophistication, making it suitable for both formal and casual settings. It also features a convenient bedside alarm clock, ensuring you start your day on time. Upgrade your workspace with the USB Plug-In LED Eye-Care Desk Lamp, offering practicality, style, and functionality all in one sleek package.
--- 4.1 inch FHD 1920*1080 IPS Screen, The 14.1inch FHD screen brings you a wider view and is still clearly visible even in strong outdoor light. Besides, the night mode and color setting will help reduce the onset of eye strain. Larger multi-functional touch panel,High quality keyboard, makes your typing more enjoyable and comfortable. Built-in ultra HD 600 graphics ensures faster image processing, hard-decoing 4k video. 8GB RAM,Quad core CPU, up to 2.7GHz. revolutionizing memory and storage, run faster.
---
With the high-tech motor, trigger point massage, Renpho eye massager replicate the human massage effect of squeezing and kneading, helping to refresh your eyes, reduce styes, sore eyes, dark circles. You can choose between 2 adjustable compression intensity settings to enjoy a vacation for your eyeballs and a better sweet dream. The built-in heating pads provide a comfortable temperature 104℉-107℉ (40℃-42℃ ), better for relieving eye strain, eye puffiness, dry eyes, etc. Our forehead massager can effectively help you refreshed after a long day work or study.
---
Personal fan with 72 wind outlets and 60pcs twin-turbine fan blades,there are air outlets on both sides and at the rear, which can achieve a 360° omnidirectional air outlet and cooling,neck fan has three speeds to meet different needs,portable neck fan keeps you cool anywhere. The hanging neck fan after upgrading and improvement, its weight is only 8.8 ounces,the lighter weight makes it easier for you to use it for a long time without fatigue,cooling hanging fan frees your hands and will not affect you to do anything.
---
REACH FOR THE STARS with the Mind-Glowing Galaxy Lamp & elevate any room decor for teen girls! This dreamy lamp features a nebula design inspired by real telescope images. Multiple colors, dimmer & superior quality make it the best night light for relaxing evenings, sound sleep or home decor. Comes in a galactic signature box, gift-ready. This galaxy moon light is the perfect kids lamp. Adjustable brightness & long-lasting battery help a good bedtime routine & anxious children feel secure. Our cool galaxy night light will spark your kids creativity, get them excited about space. And, it will help teenagers relax!
---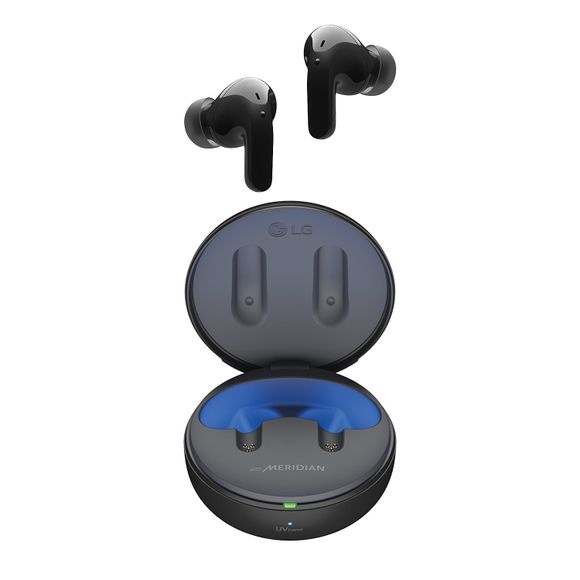 Experience an immersive sound experience, on the go! True Bluetooth wireless with LG Meridian technology delivers rich and clear, high-quality balanced sound. Enhanced active noise cancellation is perfect for reducing background noise. Includes 2 earbuds, charging case, extra ear-gels and USB Type C charging cable. Imported.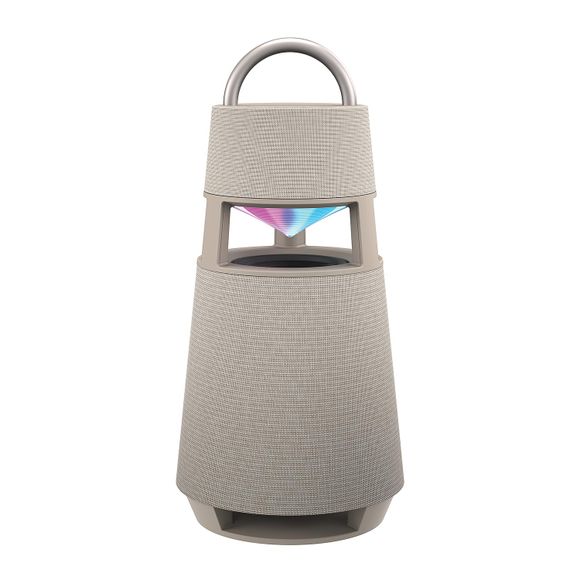 Get the party started with this rocking lightshow of a portable speaker! Experience of a 360° audio panorama or connect multiple XBOOM 360 speakers wirelessly to maximize your sound output. 10" diam. x 20" H. While supplies last.
---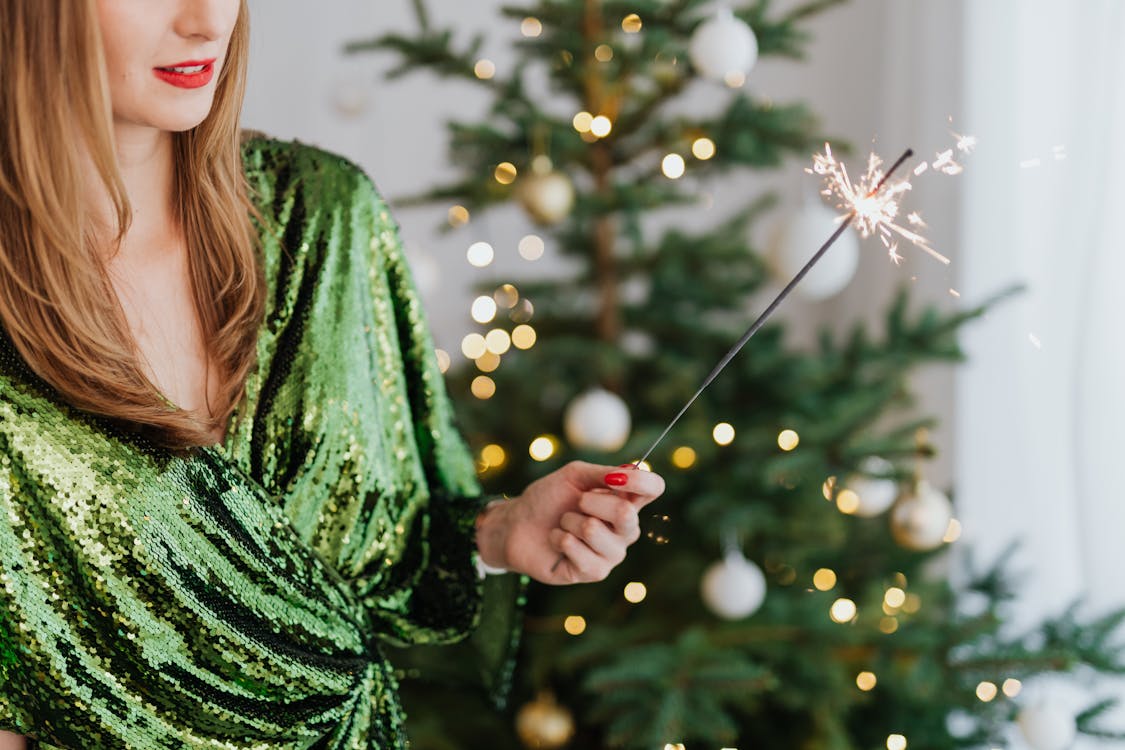 Image credit: Pexels
Fashion Forward: Stylish Gifts for 2023
Fashionistas deserve the finest, and our gift guide for fashion lovers showcases trendy clothing, accessories, and must-have items that will elevate their style game.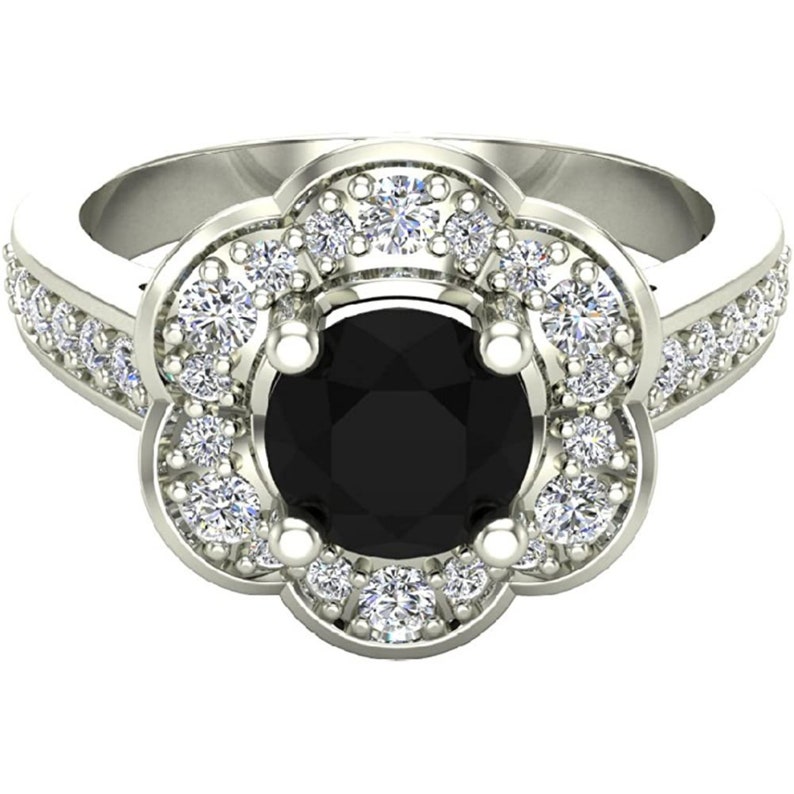 Your bride deserves a unique treatment, and you're waiting to hear that "I do" which is going to make your life marvelous, then you cannot find a better gift than this stunning ring. It will just make her so happy that she will also feel a sense of admiration for having such a beautiful ring on her hand. Black Diamonds are Natural, Earth-mined, and Real. They are highest Quality AAA.
---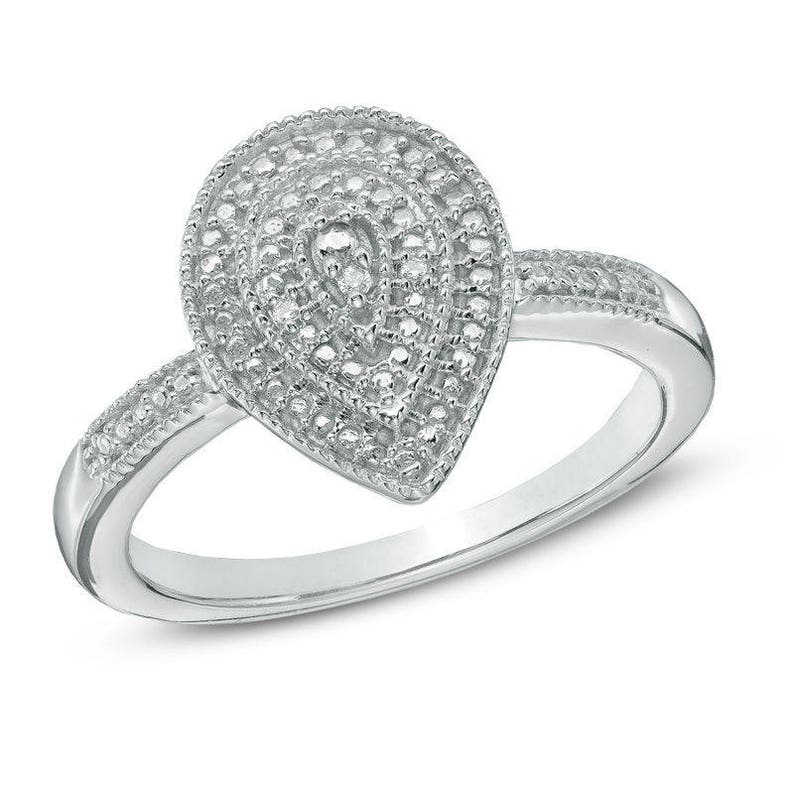 Bring out the bling with this stylish fashion ring. Created in sleek sterling silver, this ring features a teardrop-shaped frame centered with a shimmering diamond accented and bordered with rows of intricate beaded detailing. Smaller diamond accents and additional beading line the ring's shank, while milgrain detailing completes the design. A fabulous everyday look, this ring is finished with a bright polished shine.
---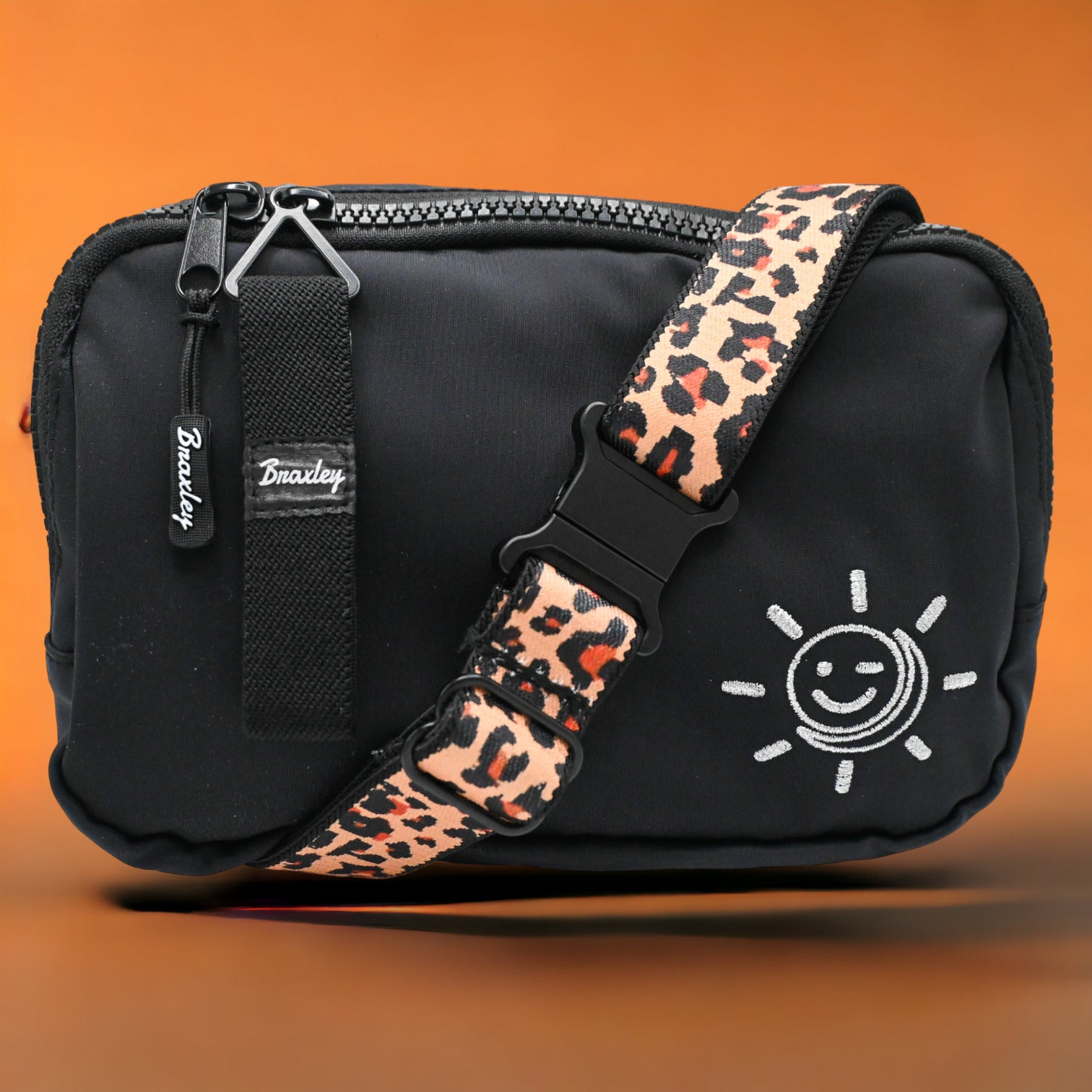 The Belt Bag is the most versatile fanny pack ever made. The Belt and Bag work perfectly on their own, but when combined, it becomes a customizable daily bag perfect for anywhere life brings you. With 4 bag colors and 6 belt colors, you can create your own look out of 24 unique combinations. The Stash Bag is your everyday carry companion. Made from water-resistant LYCRA™, it's perfect for your phone, wallet, passport, keys, snacks, and more. Lined with copper, it blocks RFID and harmful EMF radiation from your phone by up to 99%. The RELASTIC™ bracelet zipper pull lets you use it as a hands-free clutch. The bag holds 1 liter and measures 8 x 6 x 1 inches. The Wonder Belt is easily the most comfortable belt ever made. This belt will quickly become your go-to for any outfit.
---
This versatile backpack is perfect for a day or evening out. With adjustable shoulder straps, a cinch strap, and a magnetic snap closure, this cute pack is a customer favorite for so many things. Many of our customers even use it as a diaper bag!
---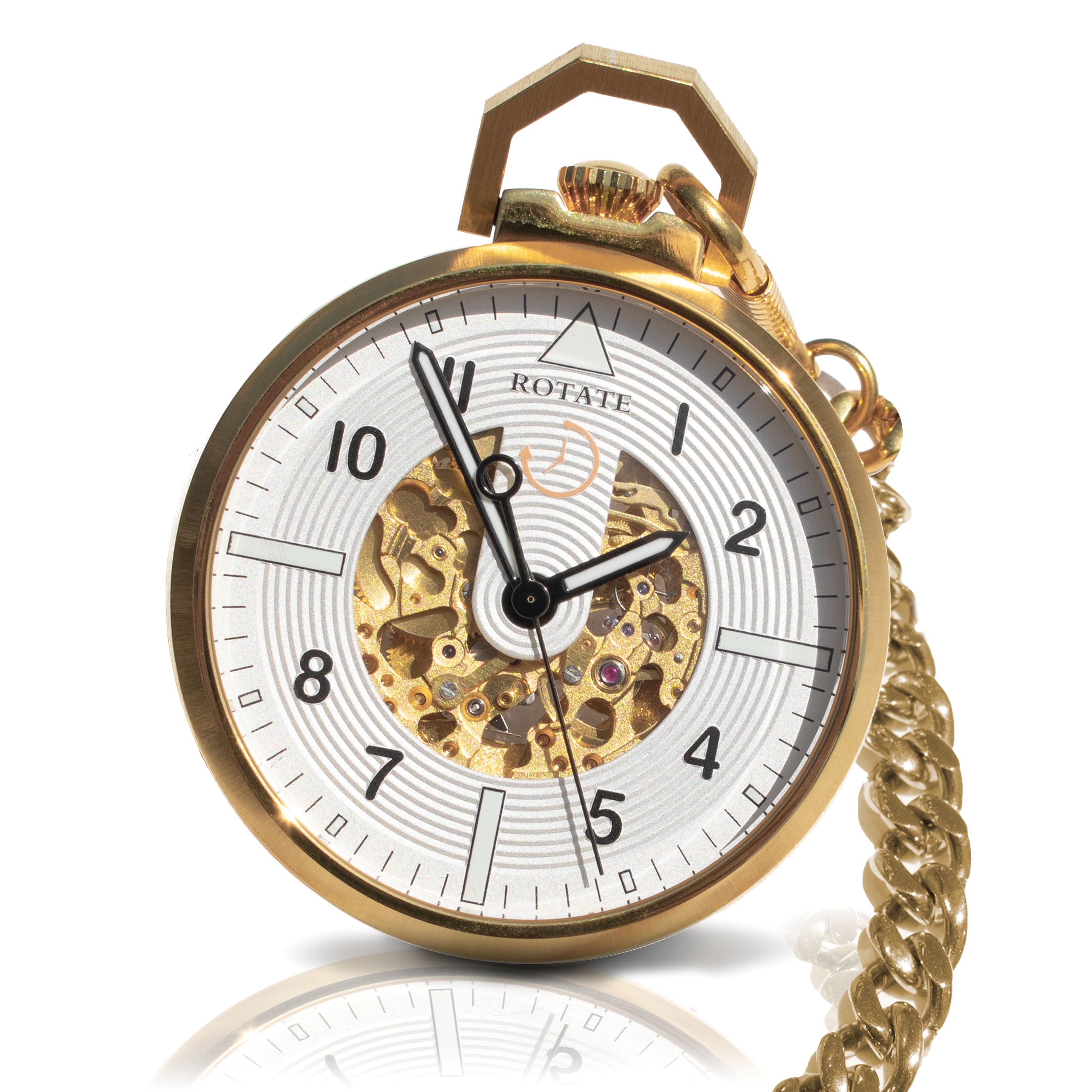 Immerse yourself in the captivating allure of the Earle. Its grandeur knows no bounds with a large gold case and matching gold chain that exudes timeless opulence. The off-white skeleton dial, embellished with retro lettering, adds a touch of vintage sophistication, making this timepiece an exquisite blend of classic and contemporary style.
---
The Cooluli Classic 4-liter thermo-electric cooler/warmer mini fridge sports a matte finish and a modern profile that's perfectly portable. This unit measures: 7.25" W x 10.25" D x 10.75" H and weighs 4 lbs. The Inner dimensions are 5.3" L x 5.7" D x 8.3" H
---
The slim wallet AUSTIN presents itself in a modern way with the right amount of card slots and an integrated stainless steel money clip. The classy design is emphasized by the metal emblem.
---
Mignon&Mignon is not a company. We are a team of happy people dedicated to handcrafting every order with excitement and love! We know this isn't about us, but all about you. Thank you so much for allowing us to be a part of your special moment!
---
The Comfy Original wearable blanket screams outs gifts for mom, gifts for her, gifts for girlfriend, gifts for teenage girls, girlfriend gifts, gifts for grandma, gifts for wife, cool gifts, gifts for sister and so much more! We're the brand that launched a world-wide craze and made wearing your blanket a thing. The Comfy Original wearable blanket is the world's first of its kind letting you stay warm and cozy wherever you are: watching TV, playing video games, working on your laptop, camping, attending a sporting event or concert, & more.
---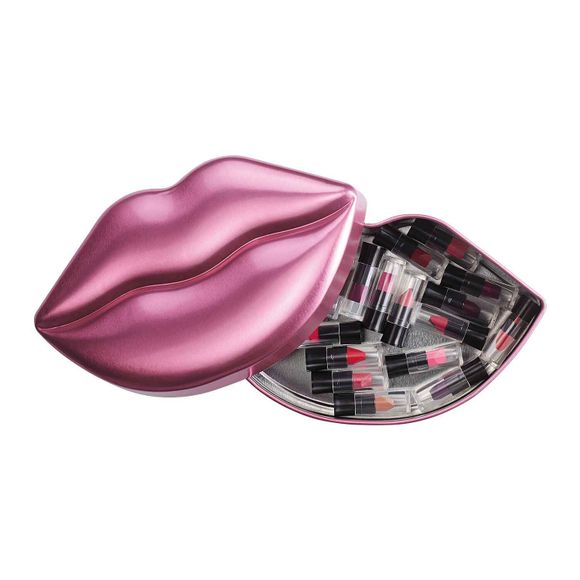 30 of our best-selling fmg Glimmer Satin Lipstick shades in take-to-every-party sample sizes housed in a cute keepsake tin. Comes in gift box. Metal. Each, .021 oz. net wt. Includes shades: Luna, Wild Rose, Rose Angel, Sierra Sunset, Poppy, Violet Night, Hibiscus, Firebolt, Thunderbird, Fog, Eclipse, Aster, Wild Cherry, Tulip, Constellation, Morning Glory, Plum Blossom, Desert Moon, Equinox and Twilight.
---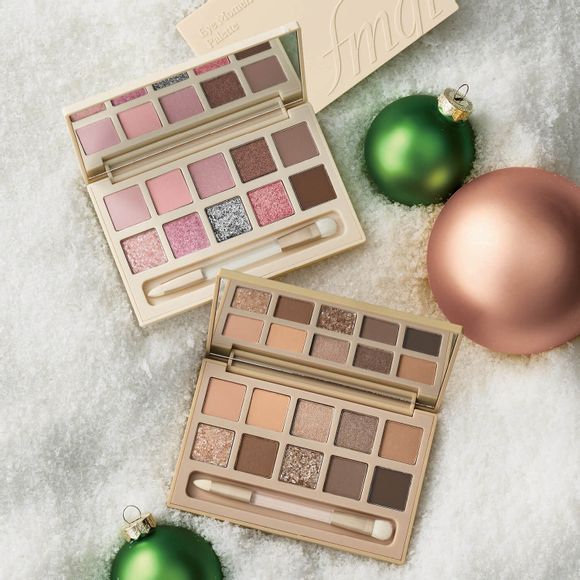 Get holiday party-ready with your choice of two expertly curated palettes featuring ten complementary shades each. From soft and shimmery to bold glitter glam, create your best holiday eyes yet! Complete with luxurious creamy powder shadows in satin, shimmer, matte and glitter finishes, the highly pigmented formula glides on and blends easily for crease-and smudge-proof wear.
---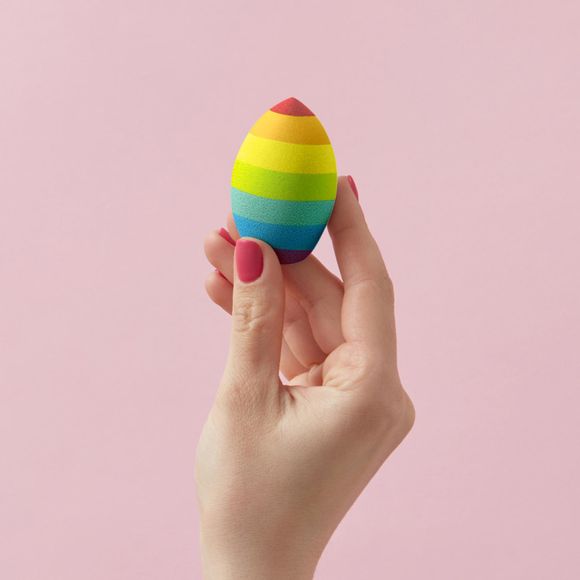 Put some magic in your application with a more lean and flexible design for easy, delicate blending. Dampen sponge with water. Once sponge expands, squeeze out excess water and dab on desired makeup products.
---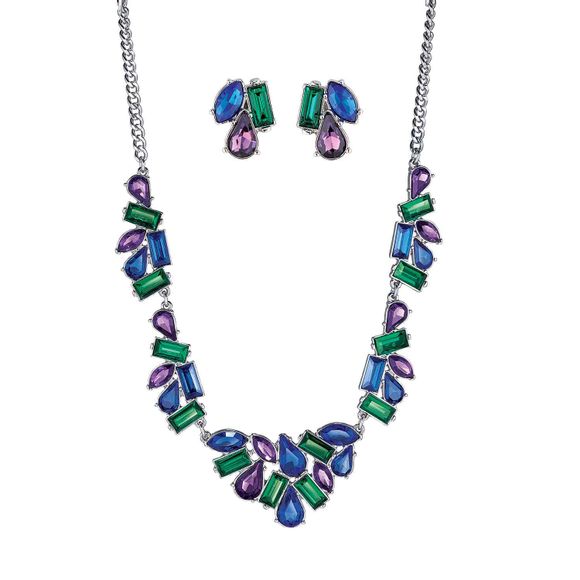 Get ready to sparkle at your next holiday soirée. Bold baguettes of emerald-, sapphire- and amethyst-colored stones set in silvertone will add dramatic glamour to enhance any wardrobe. Matching hoop earrings and bracelet also available.
---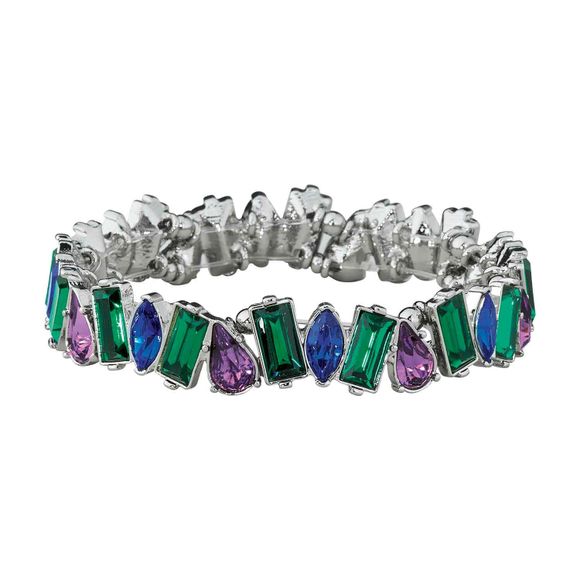 Need that special finishing touch? Go for extra sparkle with a bejeweled bracelet. Emerald-, sapphire- and amethyst-colored stones set in silvertone. Matching hoop earrings and necklace and earring giftset also available.
---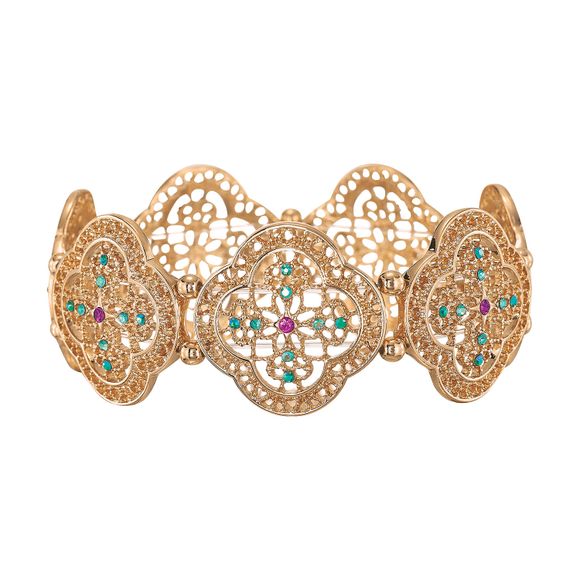 From the Adorned Filigree Collection. Everything old is new again with boho glam! Fabulously filigreed stretch bracelet features multicolored glass stones set in goldtone to captures bazaar chic in worldly style. Matching necklace and drop earrings also available.
---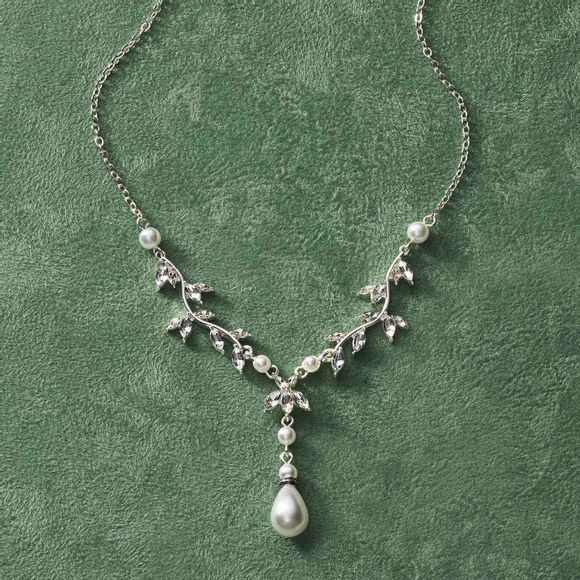 The perfect accessory for a little black dress and beyond. This beautiful necklace with pearly accents enrobed with sparkling crystal vine motifs will dress up any ensemble. Matching earrings and bracelet also available.
---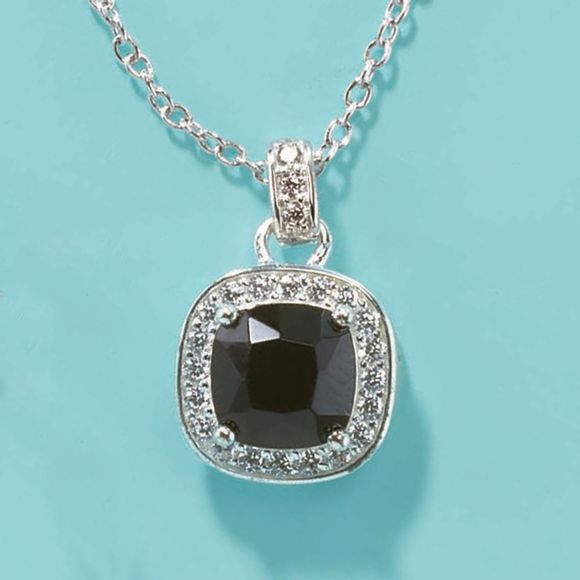 Beautiful, timeless and elegant—our onyx pendant necklace will make a stunning addition to your jewelry collection. Perfect for everyday wear, this sterling silver piece features a 1.25-carat genuine onyx stone embraced by a sparkling cubic zirconia halo. Matching ring and earrings also available.
---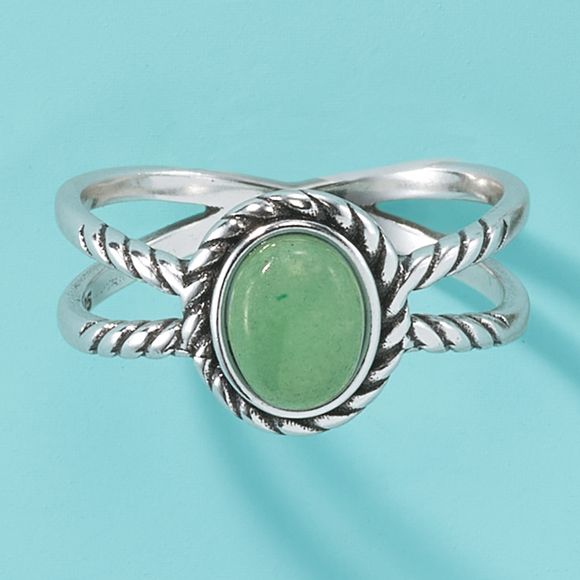 Known as the stone of opportunity and luck, the aventurine stone displays a stunning glistening green hue. Sitting atop a sterling silver band, the oval-shaped stone is adorned with a rope-detailed frame. Matching necklace and earrings also available.
---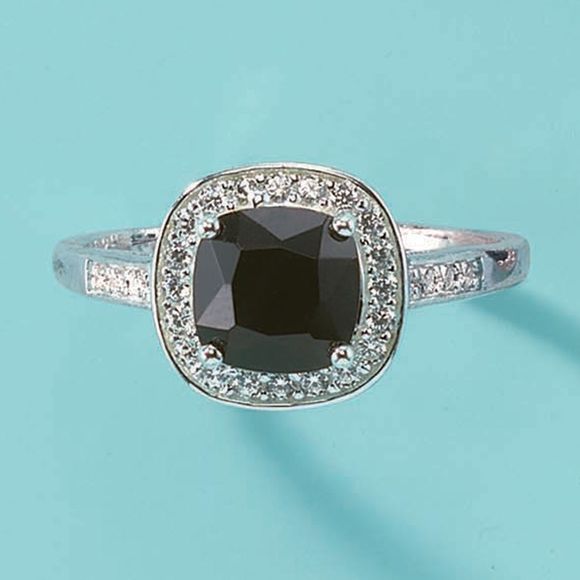 Dress up your hands with a timeless and elegant bauble. A genuine onyx stone is accented with sparking cubic zirconia and set in sterling silver for a sparkling moment day or night. Matching necklace and earrings also available.
---
Sleek, chic and trendy. This mini crossbody bag has just enough space for your bare necessities—perfect for running errands (like holiday shopping!), or days when you don't feel like lugging around a large tote. The cute mini bag comes in a taupe hue that will match anything in your closet and features an adjustable strap. Limited quantities. Imported.
---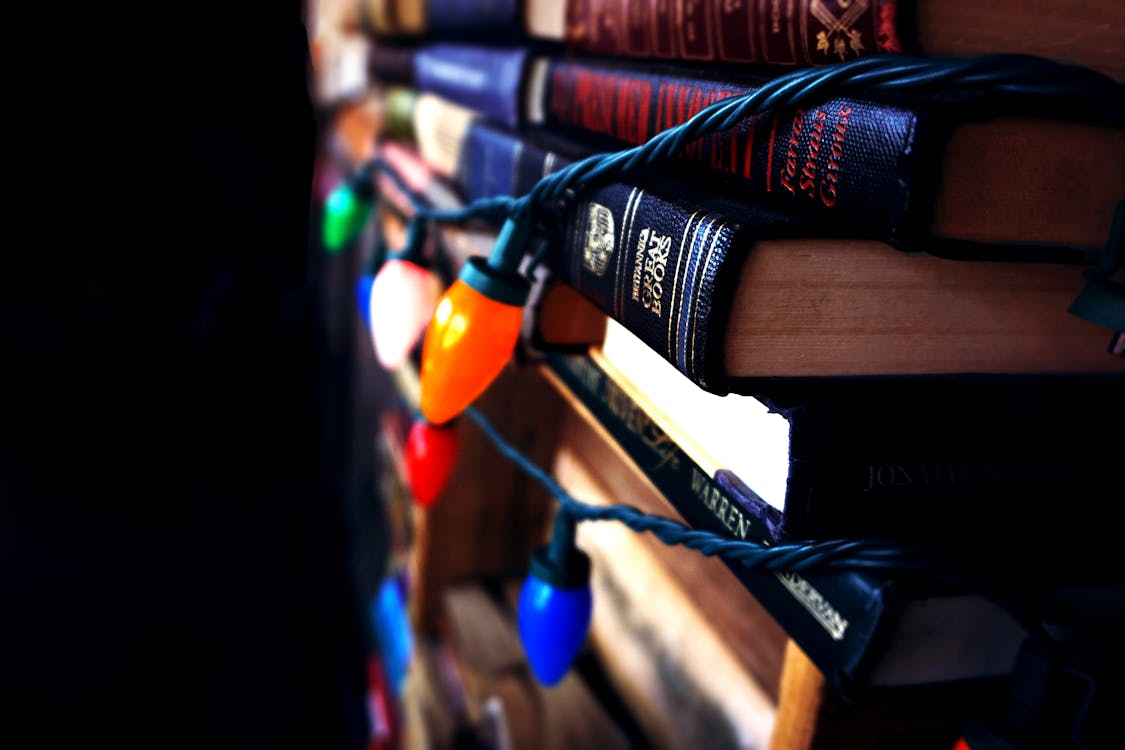 Image credit: Pexels
2023 Holiday Gift Guide for Bookworms
Book lovers rejoice! Dive into our handpicked selection of books, from bestsellers to hidden gems, that will transport you to different worlds and leave you craving more.
It's microwave & dishwasher-safe and made of white, durable ceramic in an 11-ounce size. The perfect gift for the coffee, tea, chocolate and book lovers.
---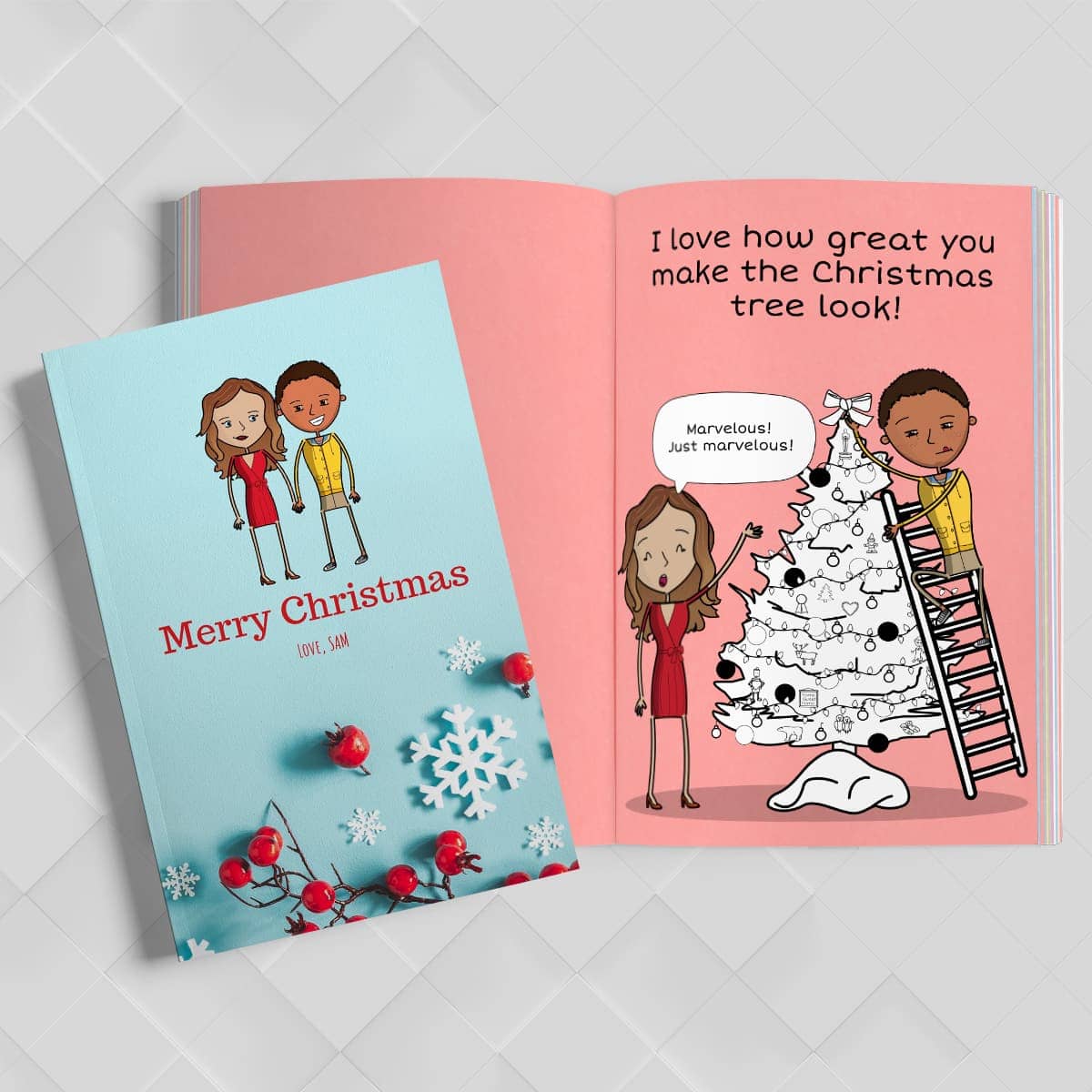 LoveBook is the most Unique personalized Christmas gift you could ever give. Say why you love them in your own book. The perfect romantic gift idea for him or her. Use our LoveBook Creator to build your book of reasons why you love someone! Create your characters and select your pages. It's a sentimental, thoughtful gift for a boyfriend, girlfriend, husband or wife.
---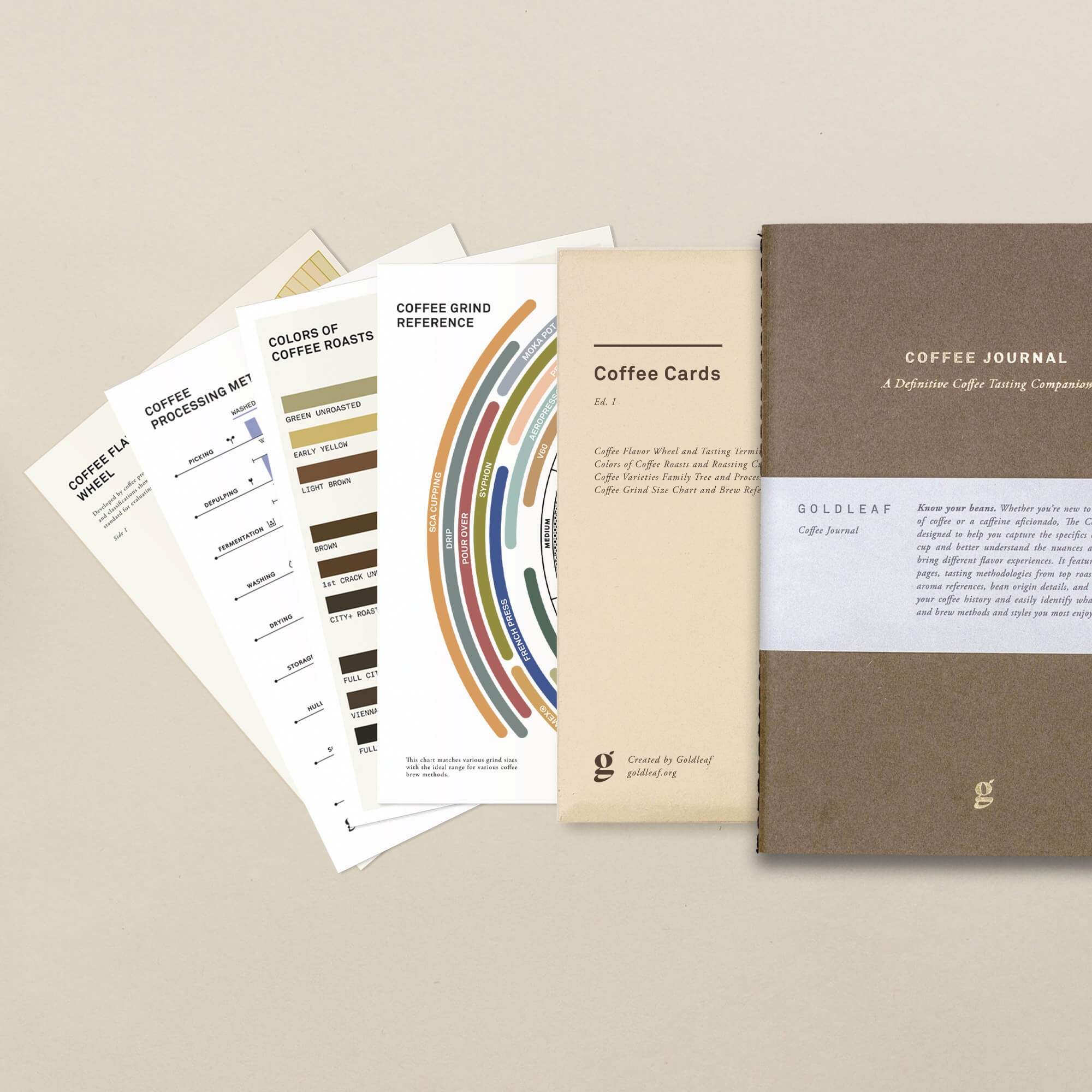 You deserve to have a blissful day. But to do so, you need to ensure that you start off on the right footing. And what better way to ease into your morning than with the perfect cup of joe? Goldleaf's Coffee Journal is designed to help you identify your preferences when it comes to which beans, roasts, and brew methods and styles you most enjoy, making it easy to brew up (or buy) the best coffee for your unique palate. With its flavor and aroma references, bean origin details, tasting methodologies from top roasters, and plentiful guided entry pages, The Coffee Journal will not only help you find your ideal brew, but will vastly increase your knowledge on all aspects of coffee.
---
This meaningful bookmark is a great gift for your best friend or someone who plays an important role in your life.
---
This Our Adventure Book sizes 11.6 x 7.5 inches. The Classic Quote "To be with you is the greatest adventure...... " was printed on the back cover, which gives more impression. Each book comes with Pixar UP postcards and photo corner stickers, with one book, you will get 8 post cards collections. Thick and HI-Q pages: Inside pages: 40 sheets / 80 pages of blank and thick craft paper.
---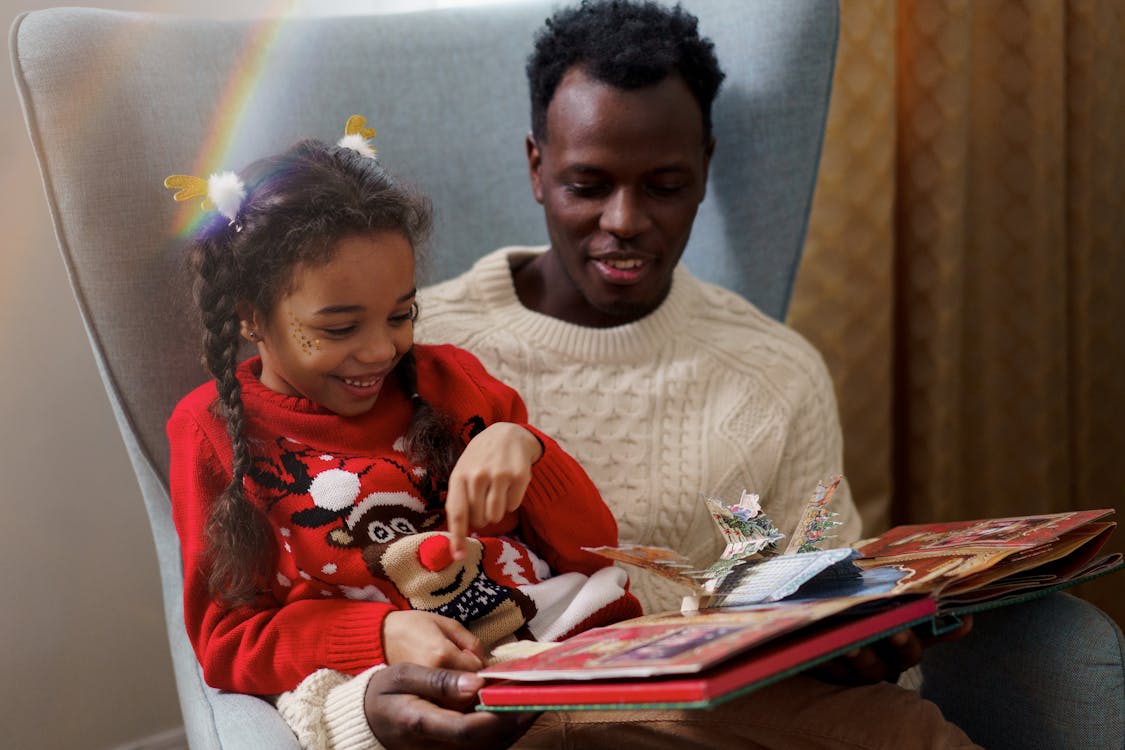 Image credit: Pexels
Gifts that Give Back: 2023 Edition
In the spirit of giving, consider choosing gifts from our ethical and sustainable collection. Giving back during the holiday season is a wonderful way to spread joy and make a positive impact on the world. Here are some thoughtful holiday gift ideas that also contribute to charitable causes:
Donation in Their Name: Make a donation to a charitable organization or cause that aligns with your recipient's interests or values. Many organizations offer the option to send a personalized e-card or certificate acknowledging the donation made in their name.
Fair Trade Gifts: Choose fair trade products such as coffee, chocolate, clothing, or handicrafts. These products support artisans and farmers in developing countries by ensuring fair wages and ethical working conditions.
Reusable Bags and Water Bottles:
Help reduce plastic waste by gifting
reusable shopping bags
and
water bottles
. Look for brands that support environmental initiatives, and part of the proceeds often goes towards cleaning up the environment.
Adopt an Animal: Many wildlife conservation organizations offer symbolic animal adoptions. Your gift recipient will receive a certificate and information about the adopted animal, and the funds go towards protecting endangered species.
Plant a Tree: Consider planting a tree in honor of your loved one through environmental organizations that focus on reforestation efforts. It's a gift that contributes to a greener planet.
Gifts That Support Education: Look for gifts that support education in underserved communities, such as buying school supplies for children in need or donating to organizations that build schools.
Buy One, Give One: Some companies have a "buy one, give one" model where for every item purchased, they donate a similar item to someone in need. This way, your gift has a direct positive impact on others.
Volunteer Together: Instead of a physical gift, consider volunteering together at a local charity or shelter during the holiday season. It's a meaningful way to spend time together while giving back to the community.
Artisanal Gifts:
Support local artisans
and craftspeople by purchasing handcrafted gifts. Many artisans rely on the income from their creations to support their families and communities.
Charity Gift Cards: Some organizations offer gift cards that allow the recipient to choose which charity they'd like to support. It empowers them to make a difference in an area they're passionate about.
Food Bank Donations: Donate non-perishable food items or make a financial contribution to a local food bank to help those in need during the holidays.
These gift ideas not only bring joy to your loved ones but also make a positive impact on the world. It's a meaningful way to celebrate the holiday season while spreading goodwill and kindness.
---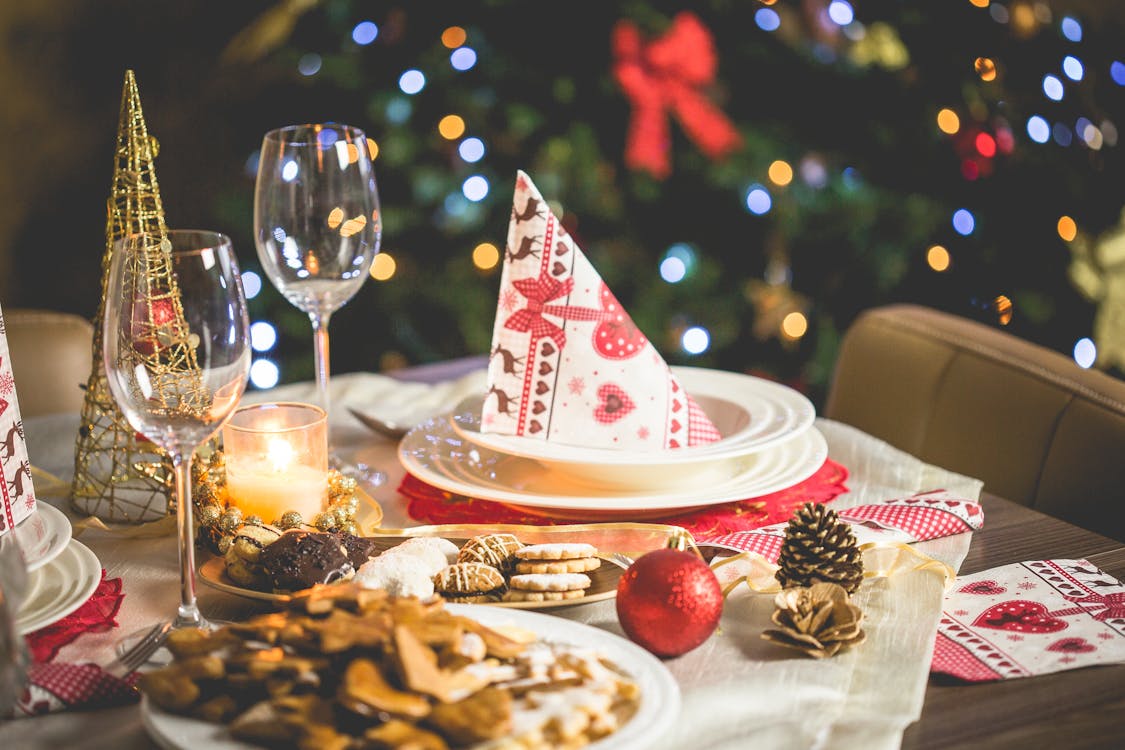 Image credit: Pexels
2023 Holiday Gift Guide for Foodies
Indulge your taste buds with delectable treats and culinary gadgets from our foodie's paradise. From artisan chocolates to kitchen essentials, we have something for every palate.
Our 12 Nights of Wine was the world's first curated wine advent calendar, and the 2022 edition was designed to be enjoyed day or night through the holidays! We have two fantastic boxes to choose from: Holi-DAY Collection & Twas the NIGHT Collection. This year we have included a Virtual Tasting experience for each wine lead by a certified sommelier. Inside each box you'll find twelve carefully crafted glass tubes, each carrying a world-class pour of exquisite wine. These boxes hold vibrant whites, opulent reds, and even a few rosés, all handpicked by our Certified Sommeliers.
---
Get ready to receive all those compliments to the chef. If you fancy cooking over a flame, this easy-to-follow kit teaches you to finetune your smoking blend for flawless flavors in your meats & veggies.
---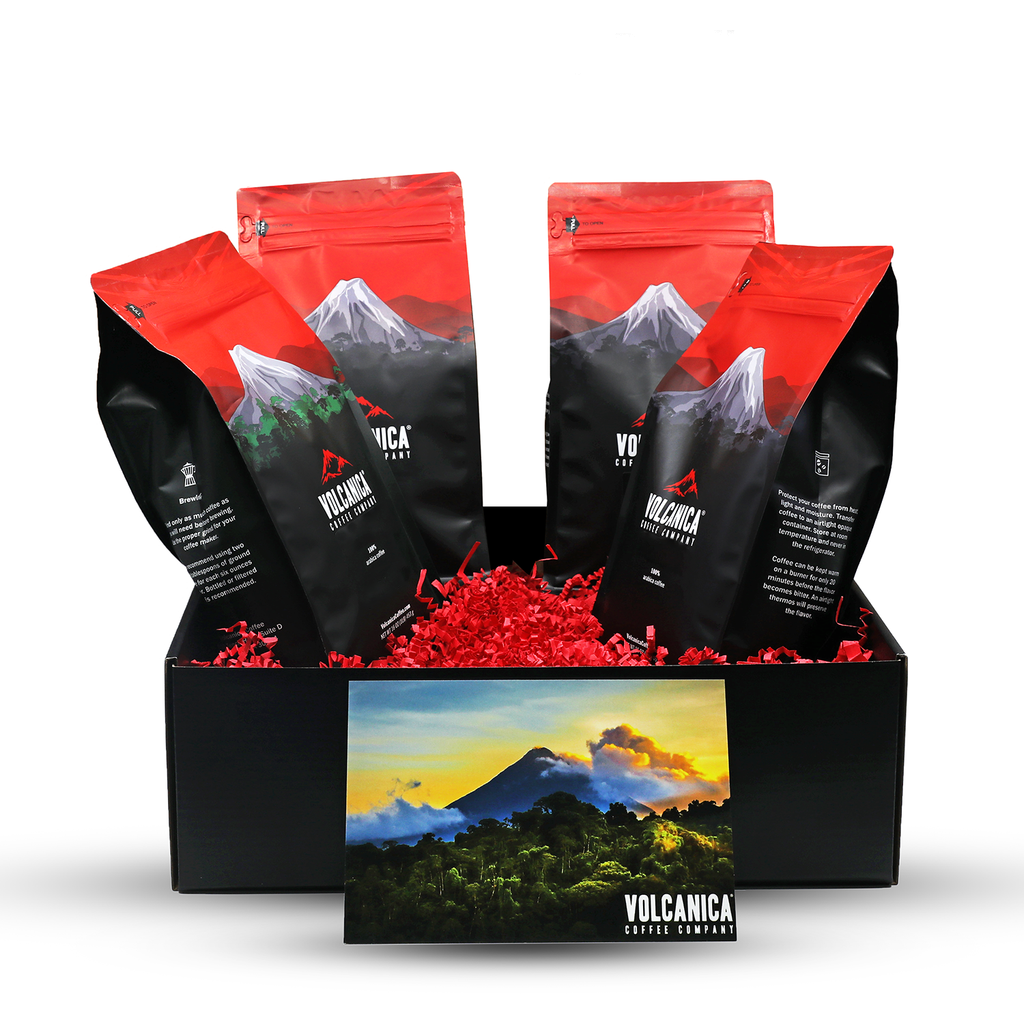 The perfect gift box for those who are looking to add a kick of flavor to their coffee journey. This gift box is filled with fun and festive options, great for celebrating any occasion. This gift box includes a 16 oz bag each of the following coffees: Caramel Chocolate Flavored Coffee, French Vanilla Flavored Coffee, Hazelnut Flavored Coffee, and Pumpkin Spice Flavored Coffee.
---
Loved by Amazon, better from us. Get it fresh right from our roastery. This set Includes four 4oz bags (16oz total) of our most popular single origin coffees. This makes a great gift or simply a great way to try single origin coffees from around the world.
---
Whether you are celebrating the holidays or sharing your love for decorating with others, Sweetology makes decoration fun and easy while providing irreplaceable memories! With ready-to-decorate, fresh-baked cake sent right to your front door we make sure that clean-up is a breeze and everyone is entertained till the last sprinkle is placed. Sweetology removes all the hassle and leaves all the fun of at-home cake decorating.
---
If you're shiitake-wacky like we are, you can never get enough of their meaty texture and earthy, smoky flavor. Grow your own with Howard Berk and Todd Pittard's mushroom log kit. They salvage recently felled trees and plant organic spores inside. Soak the wood, keep it in a damp, cool, dark place, and in about six weeks you'll be in shiitake heaven. Re-soak and harvest every six weeks or so for up to three years. Handmade in Georgia.
---
Experience the best of The Big Apple by snacking all weekend long on Goldbelly's Taste of New York Weekender Box! Fit for a crowd, it's overflowing with iconic New York City eats, including Gray's Papaya's legendary hot dogs (a city staple for over 40 years), NYC-style pizzas from the historic John's of Bleecker Street (which has been pulling in crowds since 1929), picture-perfect bagels from the renowned Kossar's, and, of course, a classic New York cheesecake from Brooklyn's must-visit Junior's, a destination since 1950. It's full of New York City's most celebrated foods, ready to enjoy all weekend long!
---
A fun new way to shake up your cooking routine, Foodie Dice provides inspiration for creating simple, seasonal meals. Simply select the five primary dice, add a seasonal veggie die and roll. Then shop, cook, and eat! Over 186,000 possible meal combinations to inspire creativity in the kitchen.
---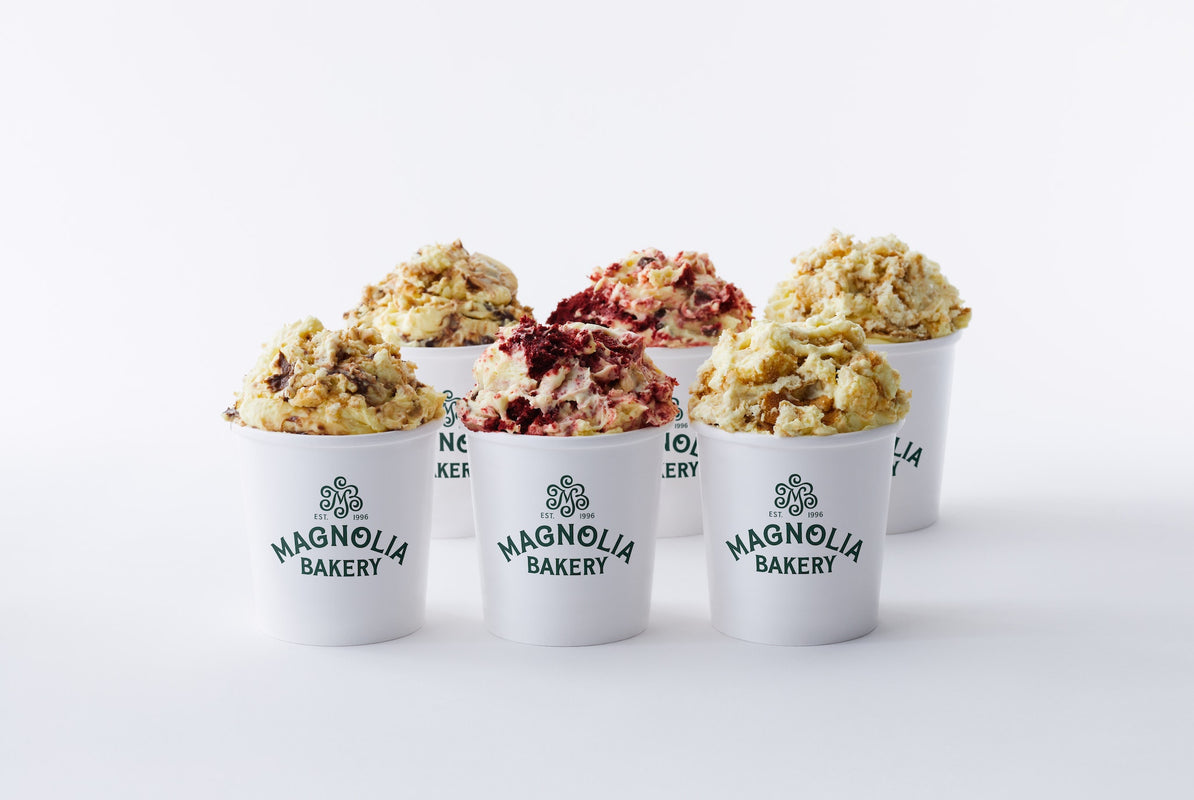 This online exclusive variety pack combines three of our most popular world-famous banana pudding flavors in one pack! Each multipack includes two Red Velvet Banana Pudding cups, two Chocolate Hazelnut Banana Pudding cups and two Classic Banana Pudding cups.
---
MEATER Plus is 100% wire-free, allowing you to cook with complete freedom and flexibility. The Long Range Model is the world's first truly wireless meat thermometer. Plus, you can easily monitor your cooking progress using the free app, which is available for both iOS (version 12.2.0 and later) and Android (version 8.0 and later) smartphones and tablets. Please note that the smart phone is not included in the package. The dual temperature sensors on this meat thermometer enable you to monitor both the internal meat temperature (up to 212°F) and the ambient/external temperature (up to 527°F) at the same time. This means you can achieve the perfect level of doneness for your meat, while also ensuring that your grill or oven is operating at the right temperature. And when it comes to cleaning up, you'll appreciate the fact that this thermometer is dishwasher safe.
---
From grandma's lasagna to mom's bundt cake, every family has recipes that transport them back to the kitchen in an instant. Pass these special moments on to future generations with My Family Cookbook, a completely customizable recipe book—now in two different options. The bound volume has blank pages for conversion tables, photo galleries, and space for family members to review each successful recipe (or flop!). Work on filling in the pages with your family, ask loved ones to contribute their favorite dish, or pass it along to newlyweds hoping to create memories of their own in the kitchen. There's space for over 80 recipes in addition to tips, tables, and an introduction with useful cooking guides for kitchen novices. The three-ring binder edition includes 50 blank double-sided (and templated) recipe cards for you to fill in with familial favorites for 100 dishes in total. Clear vinyl sleeves protect each insert from spills, and six tabbed dividers let you organize everything into custom sections. Also included are conversion charts, kitchen hacks, and full-size clear pockets to store magazine clippings.
---
The Flower Tea cup is made of high-quality Lead-Free eco-friendly sturdy glass material,glass cups are handmade by skillful professional craftspeople who pay attention to detail. Since all of our glass mugs are handmade, they're not completely identical. So you can be sure that if you place an order, no one else in this world will have a glass coffee cup that will be exactly the same as yours. Glass cups are handmade by skillful professional craftspeople who pay attention to detail. Since all of our glass mugs are handmade, they're not completely identical. So you can be sure that if you place an order, no one else in this world will have a glass coffee cup that will be exactly the same as yours!
---
Customize a box of cookies with six of your favorite Batch & Box flavors!
I just tried the Batch and Box Assorted Half-Dozen cookies and let me tell you, it was a party for my taste buds! Here's a brief review of each flavor:
Classic: The classic cookie lives up to its name with a signature dough that's generously studded with both milk and dark chocolate morsels. The added bonus of being gluten-friendly makes it a versatile and crowd-pleasing option.
Doodle: The doodle brings a twist to the classic snickerdoodle with its pockets of cinnamon chips. It's a delightful take on a timeless favorite, offering a comforting blend of cinnamon and sweetness.
Gentleman: The Gentleman caters to dark chocolate enthusiasts with its decadent dark chocolate dough and additional dark chocolate morsels. It's a rich and indulgent choice for those who appreciate the depth of dark cocoa.
Pink Lady: The Pink Lady introduces a fruity element to the mix with real strawberries and white chocolate morsels in the signature dough. This combination creates a sweet and tangy profile that's both unique and satisfying.
Cocoa Mint: Just in time for the holidays, the Cocoa Mint offers a festive experience. The dark chocolate peppermint dough, combined with white chocolate morsels, creates a decadent treat. The hand-dipping in white chocolate and peppermint candy flakes adds a touch of elegance.
Ginger: The Ginger cookie provides a warm and nostalgic holiday treat. With a traditional ginger molasses dough, cinnamon morsels, a sugar coating, and a drizzle of glaze, it strikes the perfect balance between crisp and chewy textures, delivering a comforting seasonal flavor.
Overall, the Batch and Box Assorted Half-Dozen seems to offer a well-thought-out selection, catering to various tastes and preferences. Whether you're into classic flavors, rich chocolates, fruity notes, or holiday-themed treats, this assortment seems to have something for everyone. Cheers to a delicious celebration!
---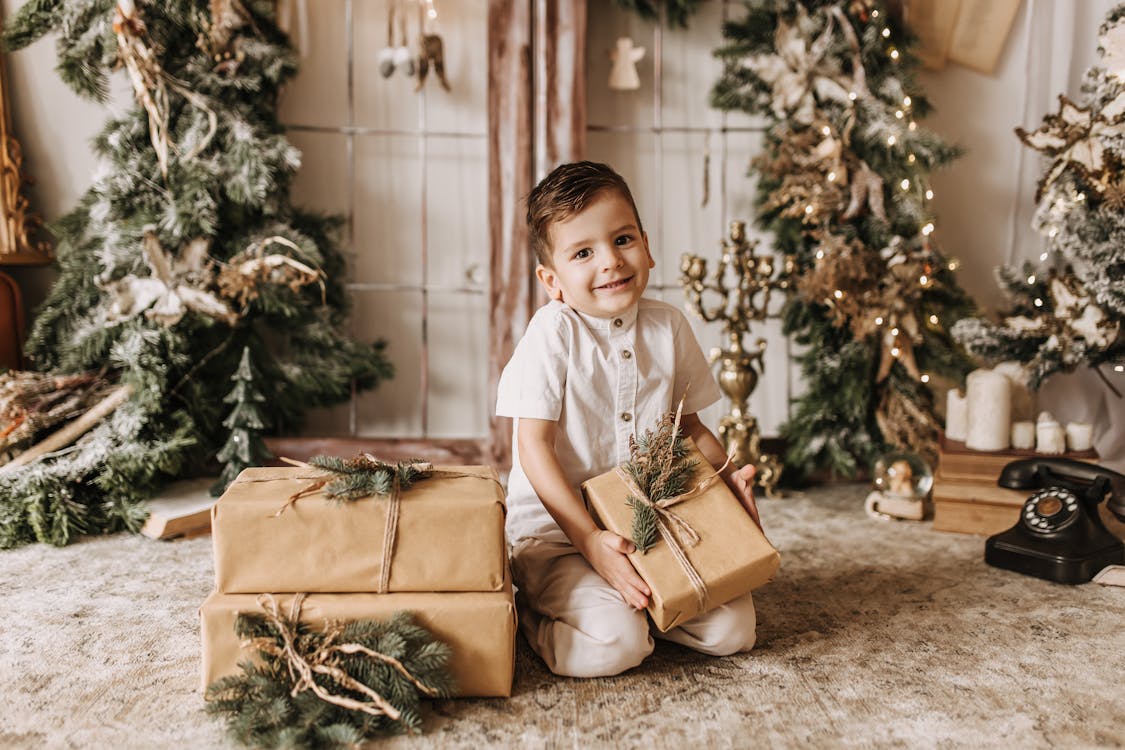 Image credit: Pexels
2023 Holiday Gift Guide for Kids
Make the little ones' faces light up with joy by selecting gifts from our kids' section. From toys to educational games, you'll find something to delight children of all ages.
What a cute way to surprise your child - A LETTER FROM SANTA! Print out a personalized letter for your child from Santa and totally make their Christmas special! For this item, you will get this exact note page but personalized with the name of your choosing at the top. Additionally, if you want to add/remove text, or simply use your own writing, I can replace the body of the letter as well. Just let me know during the checkout process!
---
Introducing our beautifully crafted Wooden Rocker, designed to inspire your child's imagination and foster their development through play. Made from high-quality, sustainable wood, this rocker is perfect for toddlers and young children to enjoy.
---
Introducing the Bunny Hopkins Balance Beam, a versatile Montessori wooden toy designed to inspire the budding gymnast, imaginative shape creator, color lover, and innovative stacker in your child. This open-ended play essential encourages hand-eye coordination, balance, stacking skills, and fosters analytical skills while promoting gross motor skill development.
---
Giddy-up cowboys and cowgirls! Our traditional plush rocking horse will turn your home into the rootin' tootin' Wild West! Handlebars and footrest will help your child build the right muscles and learn to balance themselves. Wearing a handsome red scarf and with an added feature, this horse comes with simulated galloping sounds by squeezing the horse' ear. The soft huggable plush body with comfortable saddle and stirrups are perfect for long rides into the sunset.
---
Perfect for taking a stroll or storing tiny treasures, our NEW Ollie Rattan Push Car will be a favorite go-to toy and an instant family heirloom. Our Ollie Push Car is is made from safe, child and planet-friendly materials, crafted from renewable and sustainable rattan with light-mahogany wheels. It arrives fully assembled, and comes complete with a soft foam mattress with a natural linen cover.
---
Qaba Outdoor Kids Tricycle is a safe, easy to operate ride on toy that can be used on any hard, flat surface. The tricycles are made from the most durable plastics allowing for an always smooth and enjoyable ride. Stylish design and special color will surely become your little one's preferred method of transportation! While kids enjoying the ride, the low seat height reduces the risk of injury by keeping feet and frame low to the ground, just giving your little ones enough protection. And the foldable function provides enough possibility for your outing and storing. Just worth your purchase!
---
Hockvill kids LCD doodle board is a creative education and learning toy, perfect support for drawing, writing, spelling, math, remark, and notes which can let your kids freely release their natural instincts and inspire your kids' creativity and imagination. Let your kids be away from electronics, Protect their eyes from now on.
---
Ah, nostalgia. Give yourself a double dose with this grown-up, just-for-you version of one of childhood's greatest gadgets: the reel viewer. Assemble snapshots of your favorite memories and add them to your very own reel using the redemption code included with your viewer. Once you receive your made-to-order reel, pop it in the viewer and marvel at baby's first steps, or your favorite beach at sunset, or... well, whatever else you want immortalized. Remember: You're the view master now. Made in USA.
---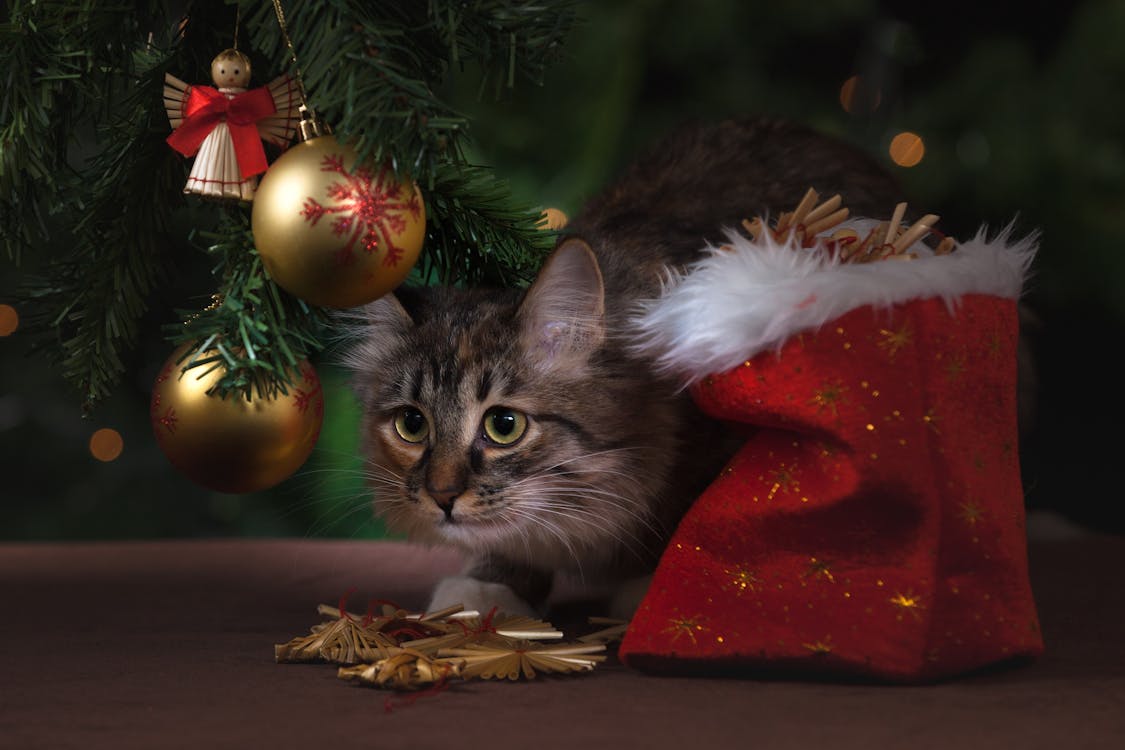 Image credit: Pexels
2023 Gift Ideas for Pets
Don't forget to include your furry friends in the holiday festivities. Pets bring so much joy to our lives, and they deserve a little something special too. Here are some delightful gift ideas for your beloved pets: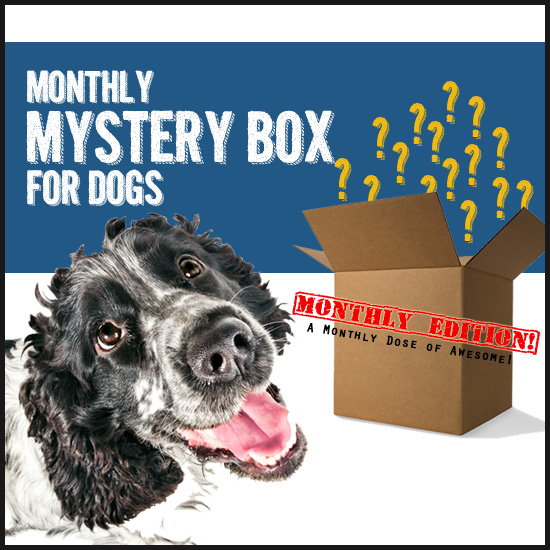 We are officially offering a Monthly Mystery Box of Dog Goodies! Yes, your best friend will receive a box of wonderful mysterious treats, toys, & more every month! We love pets and can't imagine our lives without them. But we also know that big box pet retailers and other monthly dog programs over charges and under delivers. We strive to do the exact opposite here. Know that you will get more BARK for your BUCK when you shop here. We have 3 types available for your small, medium or large size dog. Each month, your pup will receive a different set of items tailored to its size.
---
Our RF-based technology offers much greater accuracy than GPS trackers. Not just to which house or neighbours garden but guides you right in to their exact location to within 2.5 cm (1 inch). Simply attach the lightweight (5 grams) tag to your cat or kitten's collar and you can quickly locate them using the credit card-sized handset. Splash-proof cases supplied protects your Tag from the elements and from knocks, bumps or minor scratches. Activate the Handset and it sounds a series of beeps, with colour-coded lights to show you which direction to walk in. The more lights the closer you are – Red for far away, Amber for closer, and Green for really close. Batteries included : 1 x CR2032 battery in the Handset and 2 x SR1130 batteries in each Tag.
---
Help your furbaby to form good eating habits while having more fun with this interactive puzzle toy! This dog tumbler puzzle toy has a built in self gravity system. With the fun roller design and robot appearance, this pet toy lets your pet have more fun by catching their attention with it's rolling motion. Pets will get treats as reward after they have tapped this slow food toy dispenser. After several times, they will have a sense to get food with own effort, improving IQ. Regularly using this toy will cultivate the dog/cat's behavior to eat slowly. They get food from this slow feed dispenser and eating slowly. Helping them to keep fit and health.
---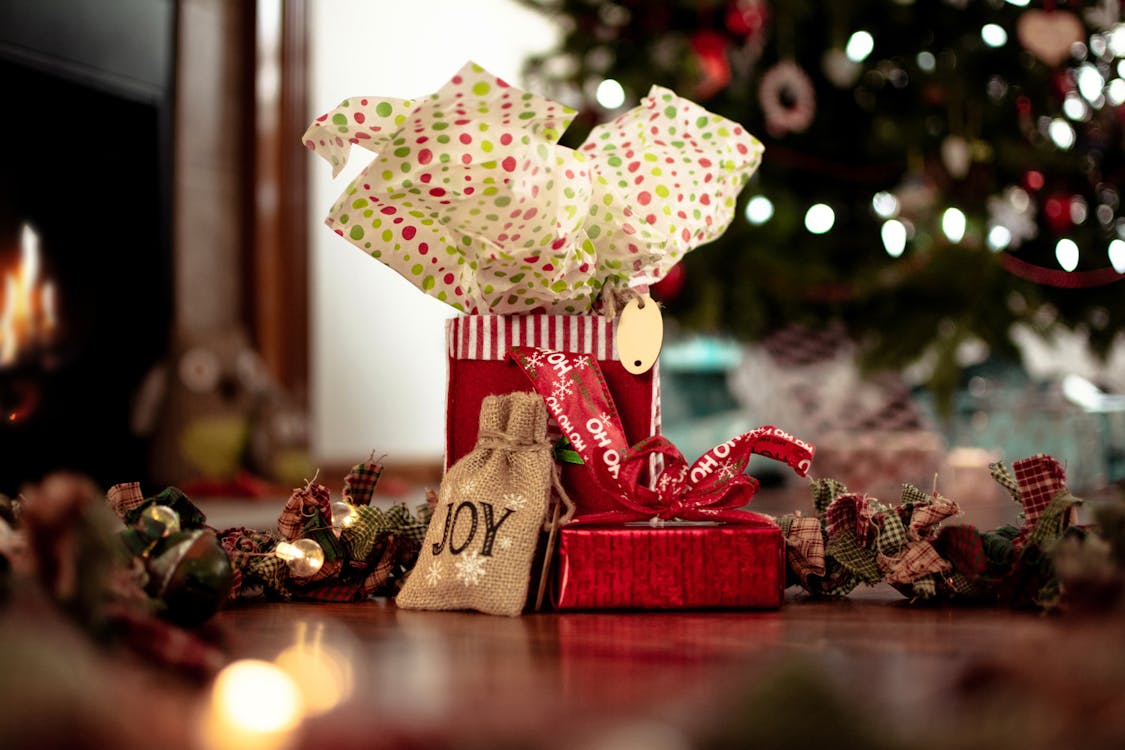 Image credit: Pexels
Other Gift Ideas for our 2023 Holiday Gift Guide
In addition to the curated categories mentioned above, there are plenty of other thoughtful gift ideas that may not fall neatly into a specific category. These versatile presents are perfect for surprising your loved ones with something unique and memorable.
The 1Tac Tactical Pen is the World's Finest Multi-Function Weatherproof Tactical Pen made from Lightweight, Durable Aircraft-Grade Aluminum. The instrument Includes a Tungsten Steel Glass Break Tip, Removable Steel Blade, Easy-Writing, All-Weather Medium Point Ball Point Pen, Integrated 80 Lumen Bright LED Flashlight. Featuring Diamond-Cut Non-Slip Grip. As elegant in the boardroom as it is effective in the field.
---
Get ready for unmatched comfort with our exceptional variety of cat pillows. Our cat pillows, personalized with an image of your own feline friend, are truly unique. Made from soft, cuddly materials, these custom pillows are ideal for snuggling on the couch or enhancing your bedding with extra cat love. Picture having a pillow that perfectly resembles your beloved cat. Order your custom cat pillow now and anticipate its arrival at your doorstep!
---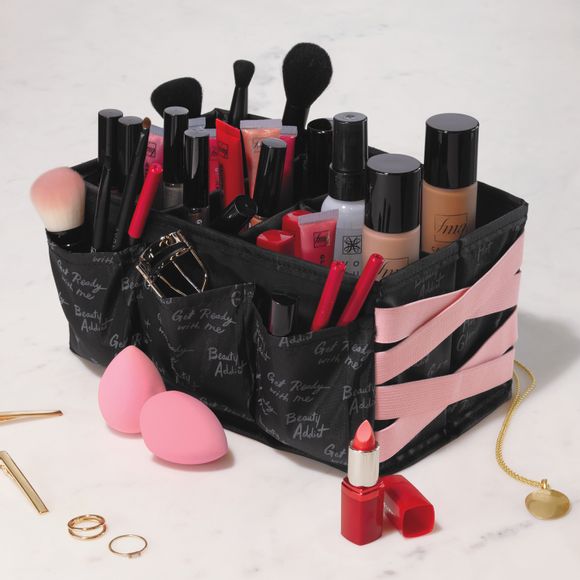 All your tools at the ready! Makeup-theme print. Four compartments with two removable inside dividers, three outer pockets and lattice elastic strapes. Folds up for easy storage 9 1/2" L x 6" W x 5'' H.
---
5% discount with Code: ResinCrete


The JDiction ResinCrete Kit with a 30-minute demold time is a quick and convenient solution for artists and crafters looking to complete their resin artwork efficiently. This kit provides an alternative to traditional epoxy resin and UV resin, allowing you to work faster and create more pieces in less time. The package includes 1000g of ResinCrete Base, 2 molds, 5 pigments, 2 mixing cups, 1 stirring stick, 4 sandpapers, 1 spoon, and 1 wax. Using the kit is easy and safe. You simply need to add water to the ResinCrete Base in a 10:3 ratio by weight and stir vigorously until it's completely dissolved, without any lumps. Then, pour the mixture into the molds and wait for just 30 minutes to demold. The included pigments are specially designed for ResinCrete, offering a wide range of creative possibilities and easy color matching. ResinCrete is a durable and versatile material that is heatproof, food-safe, and can be sealed for waterproofing. It has a smooth, porcelain-like finish once fully cured, and with sanding and wax sealing, it produces a luxurious final product. Moreover, ResinCrete is non-toxic, odorless, and free of VOCs and BPA. It's also non-flammable and food-safe. The kit includes pigments that have undergone rigorous testing to achieve various eye-catching effects, such as terrazzo, marbling, and overlapping color designs, allowing you to boost your creative designs with ease.
I recently tried the JDiction ResinCrete Kit with the 30-minute demold time, and I couldn't be happier with the results. The instructions were straightforward and easy to follow, making the whole process a breeze. What impressed me the most was how quickly it dried and set within just 30 minutes – a delightful surprise! My only suggestion for the user would be to use a small scale (like a postal scale) to measure the water and base more accurately. Overall, this product is a fantastic choice for anyone looking for a fast and user-friendly resin solution.
---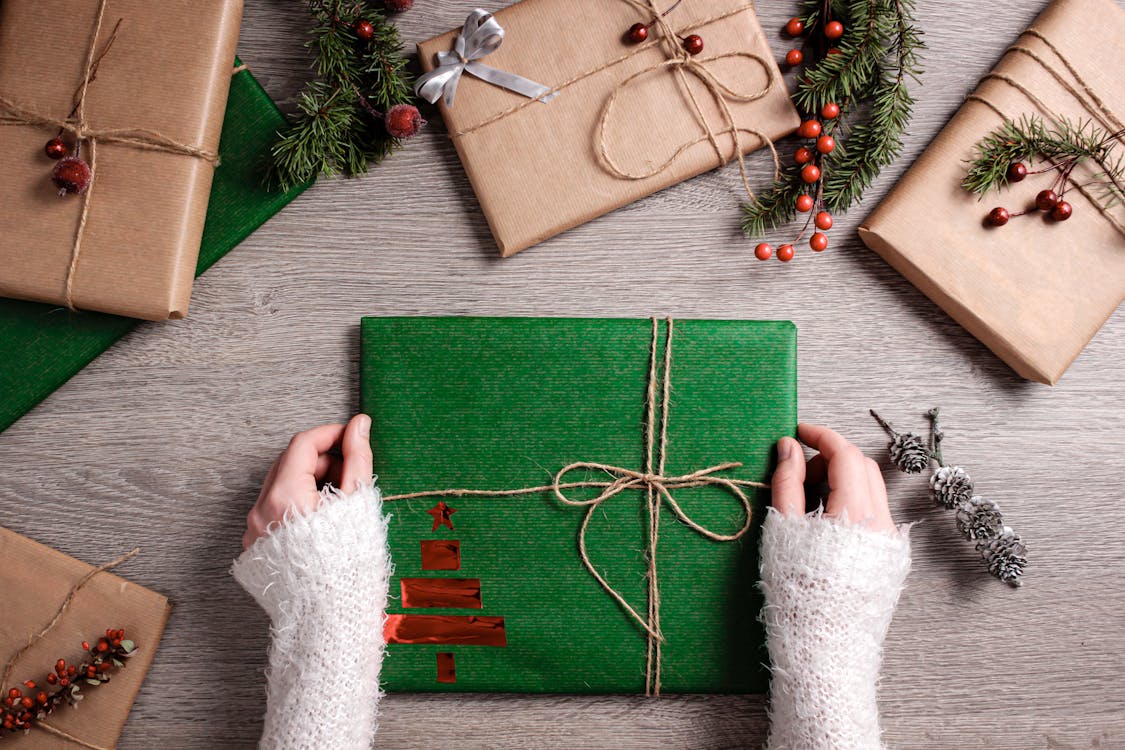 Image credit: Pexels
Holiday Shopping Made Easy
Navigating the hustle and bustle of holiday shopping can be overwhelming. To make your experience smoother, here are some tips:
Plan Ahead: Start early and create a list of recipients and gift ideas.
Set a Budget: Determine how much you're willing to spend on each gift to avoid overspending.
Shop Online: Take advantage of online shopping for convenience and variety.
Read Reviews: Before making a purchase, read reviews to ensure you're getting quality gifts.
Personalize: Add a personal touch with handwritten notes or customized gifts.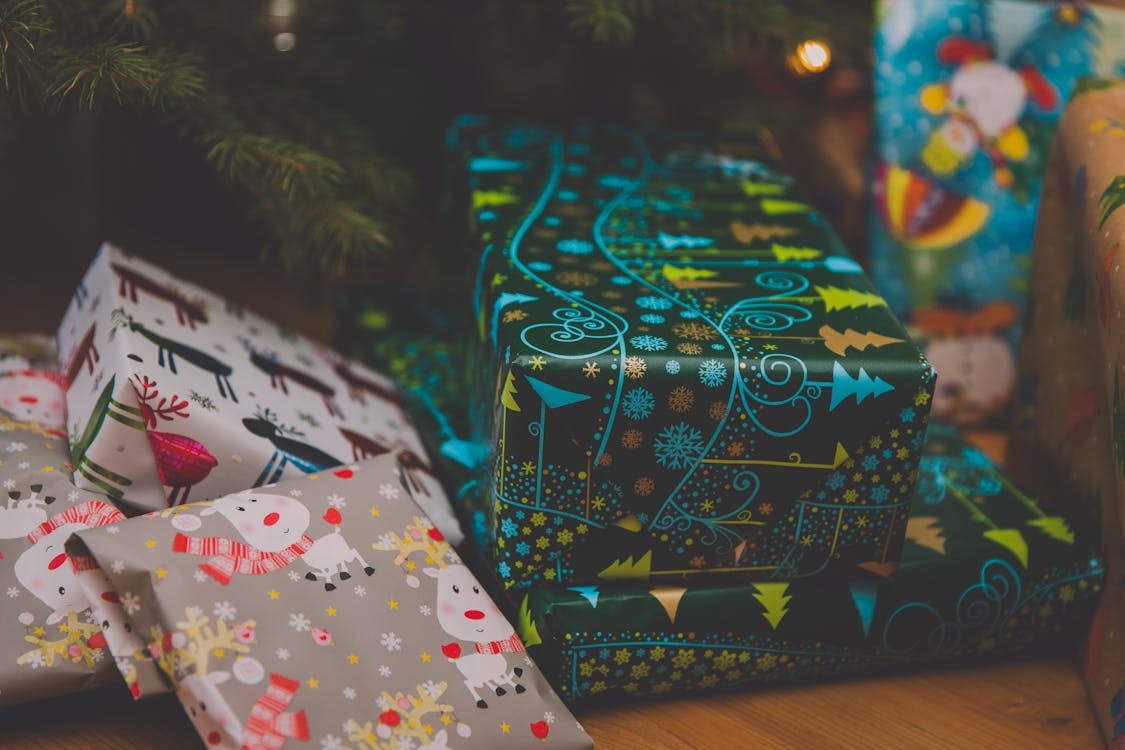 Image credit: Pexels
FAQs (Frequently Asked Questions)
Q: Where can I find the 2023 Holiday Gift Guide?
A: You're already here! Our guide provides an extensive list of gift ideas and recommendations for the 2023 holiday season.
Q: Are the gifts in the guide suitable for all ages?
A: Yes, our guide covers a wide range of gifts suitable for people of all ages, from kids to adults.
Q: Can I trust the product recommendations in the guide?
A: Absolutely! Our experts carefully curate and recommend products based on quality, popularity, and customer reviews.
Q: Is there a budget-friendly section in the guide?
A: Yes, we have gift options to fit various budgets, ensuring you find the perfect gift without breaking the bank.
Q: How can I order the gifts featured in the guide?
A: Simply click on the provided links to purchase the gifts online, or visit your local stores if you prefer an in-person shopping experience.
Q: Can I share this guide with my friends and family?
A: Of course! Feel free to share this guide with your loved ones to help them find the ideal gifts as well.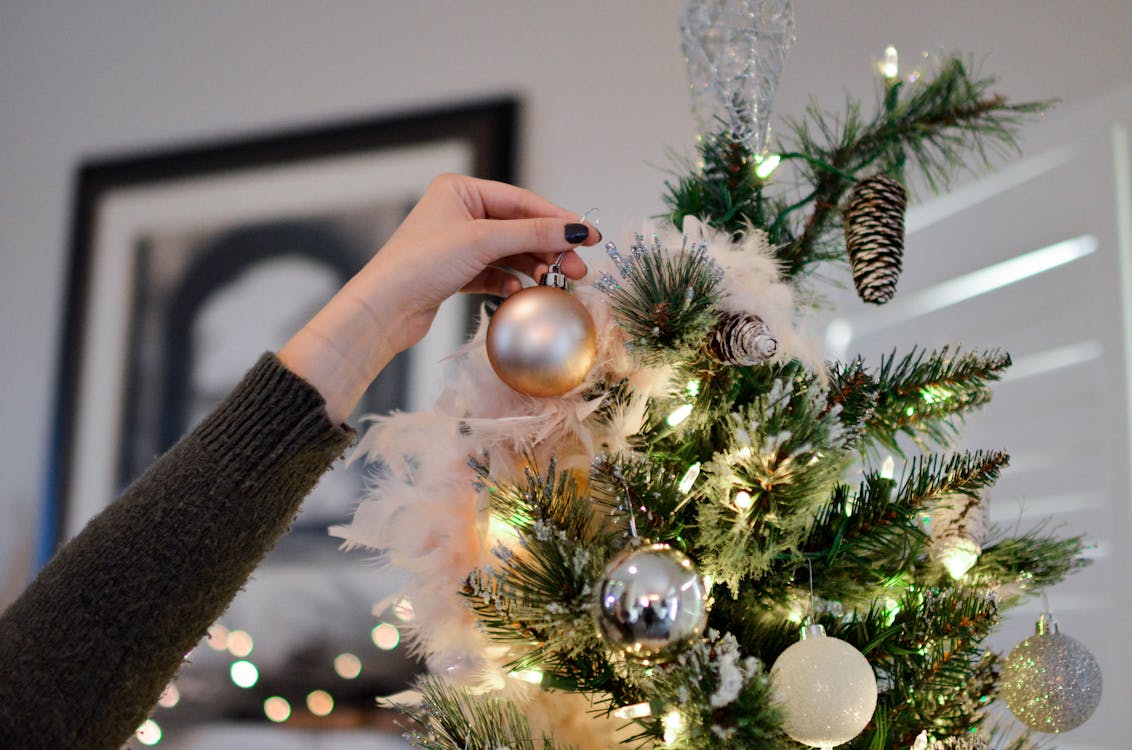 Image credit: Pexels
Conclusion
The 2023 Holiday Gift Guide is your one-stop destination for finding the perfect presents this holiday season. Whether you're shopping for tech enthusiasts, fashionistas, bookworms, or anyone else, our guide has you covered. Follow our tips for stress-free holiday shopping, and make this year's celebrations truly memorable with thoughtful and heartfelt gifts.
PERSONALLY SUPPORT ME WHEN YOU SHOP THROUGH THESE STORES:
Get Featured in our Holiday Gift Guide!
Are you a business that wants its product featured in our 2023 holiday gift guide? Contact me at This email address is being protected from spambots. You need JavaScript enabled to view it.!
LIKE IT? PIN IT!