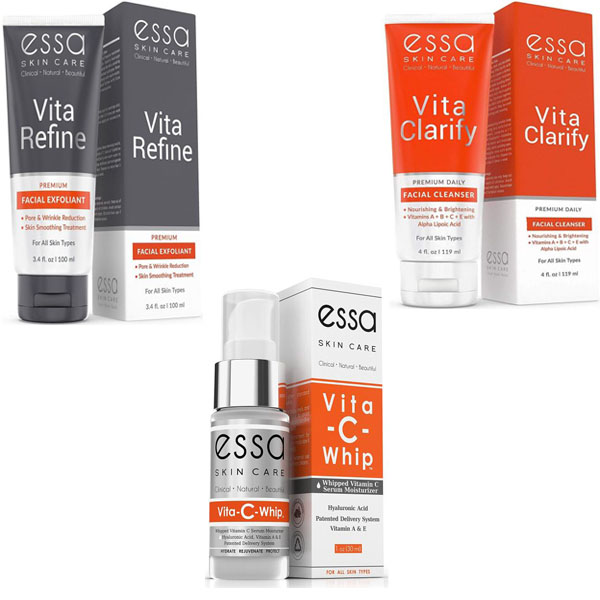 Age-Defying Essa Skin Care Collection - (Currently $16 - $28 each on Amazon with GREAT reviews!) - Choose from Vita C Whip Vitamin C Serum Moisturizer, Vita Refine Exfoliating Face Scrub OR Vita Clarify Organic Vitamin C Face Wash by Essa - GREAT deal because we want you to try it, love it, and come back for more :) - SHIPS FREE!
For topical and external use only. Keep away from children.
Ingredients
Tetrahexyldecyl Ascorbate (Vitamin C Ester), Caprylic/Capric Triglyceride (Coconut / Palm Oil), Aloe Barbadensis (Aloe Vera Extract), Camellia Oleifera (Green Tea Extract), Vitamin A Palmitate (Vitamin A Ester), Tocopheryl Acetate (Vitamin E), Hyaluronic Acid
Vita Refine Exfoliating Face Scrub by Essa
- Natural Beauty & Skin Care Product - Pore Minimizing Microdermabrasion Wash for Men and Women Reduces skin imperfections by exfoliating and refining skin to allow for a more youthful glow.
Ingredients
Organic Herbal Infusion, Alumina (Pharmaceutical Quality Microderm Crystals), Arginine, Hyaluronic Acid, Tocopherol (Vitamin E), Alpha Lipoic, Pyridoxine HCl (Vitamin B6), Lactic Acid, Glycolic Acid, Niacinamide (Vitamin B3), Calcium Pantothenate (Vitamin B5), Sodium Ascorbyl Phosphate (Vitamin C)
Gently cleanses skin while helping to reduce the appearance of fine lines, wrinkles, and skin blemishes.
Ingredients
Organic Herbal Infusion, Tetrahexyldecyl Ascorbate (Vitamin C), Retinyl Palmitate (Vitamin A), Alpha Lipoic Acid, Niacinamide (Vitamin B), Tocopherol (Vitamin E), Helianthus Annuus (Sunflower) Seed Oil, Hexylene Glycol