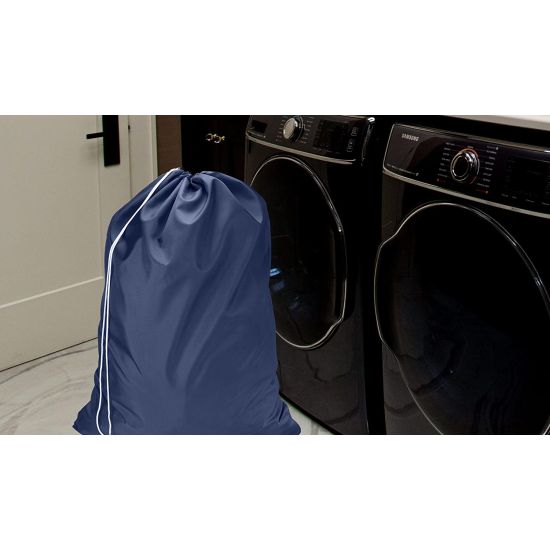 2-Pack of EXTRA LARGE Drawstring Storage / Laundry Bags - These JUMBO bags are great for laundry of course, but so much more! FANTASTIC DEAL simply because you will receive random colors like blue, red and black - $1 shipping, but order two or more 2-packs and SHIPPING IS FREE!
Don't miss out on this deal!
Whether you're a college student who has to transport your laundry to the dorm washer or take it home to mom; or you live in an apartment and want to drop your laundry off at the laundromat, you have to get it there without losing anything. That's why this heavy duty nylon laundry bag will work for you. It's made of 100 percent breathable nylon, and holds up to three loads of laundry (approximately 60 pounds). Its nylon construction helps to protect your clothes from the elements and easily transport your laundry. And just as important, its durability makes it rip- and tear-resistant. Further, these large laundry bags are machine washable, so you can reuse it over and over again, just adding it to the laundry when it seems to be getting a little dirty. It's an ideal bag for college, dorm and apartment dwellers or anyone who prefers a bag to a laundry basket.
zipper pocket
random color.
Measures 26.5 X 21.5