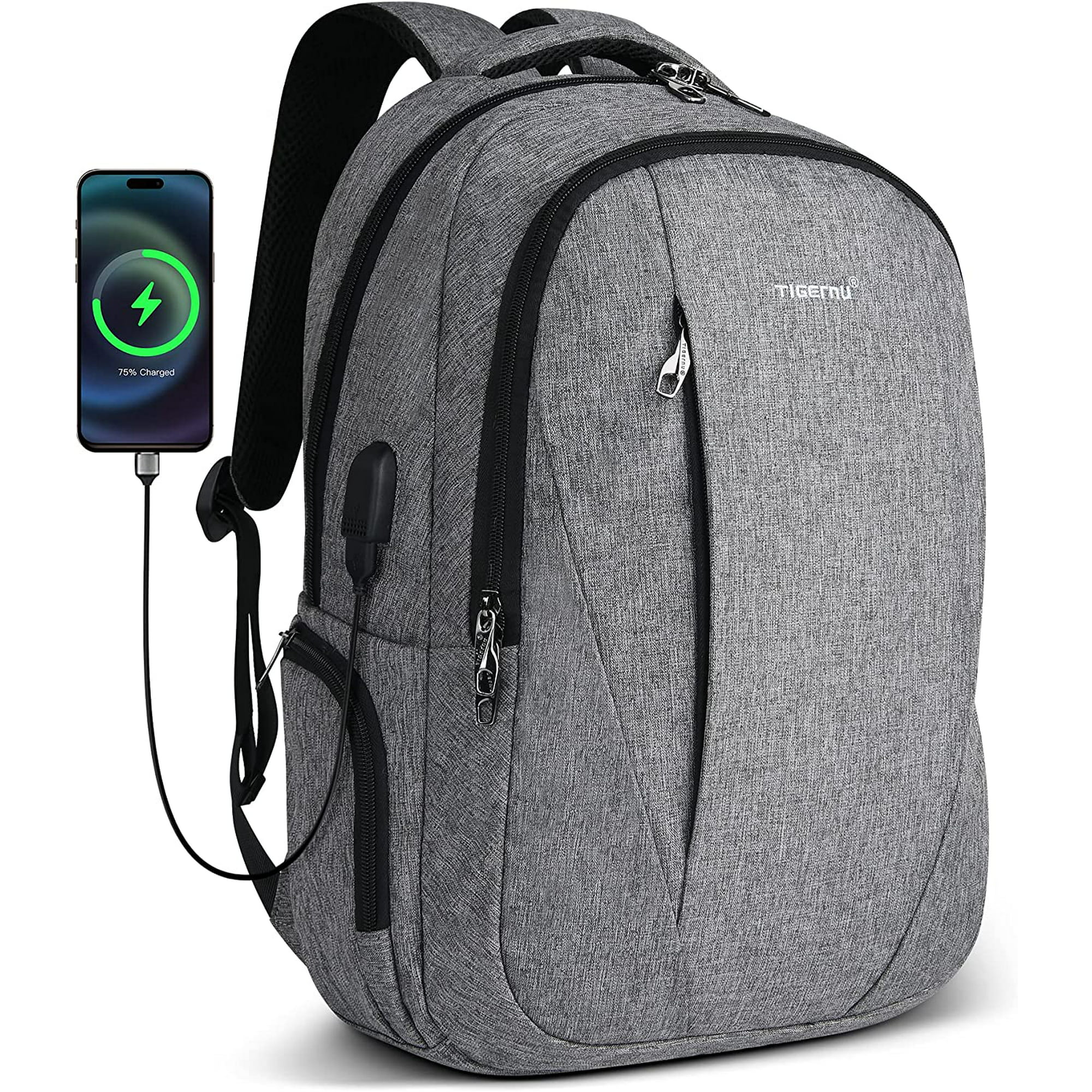 In today's fast-paced world, having a reliable and versatile backpack is essential for every individual on the go. Whether you're a student, a professional, or a travel enthusiast, the right backpack can make your life easier and more organized. Introducing the
Anti-Theft Tech Backpack with USB Charging Port
, a remarkable backpack that combines cutting-edge technology, security features, and affordability.
Why This Backpack is a Steal at $22.99
At first glance, the price tag of $22.99 (originally $74.95 - a
69% discount
) for
this high-quality backpack
might seem too good to be true. The reason for this incredible discount is rather unique. These backpacks were initially rejected by retailers due to the absence of a small 50-cent lock. Fortunately for you, this oversight means you can now get your hands on this top-tier backpack at an unbelievable price!
Convenient USB Port Design
One of the standout features of
this backpack
is the built-in USB charger on the outside, accompanied by a charging cable inside. This nifty design allows you to charge your mobile phone, tablet computer, iPad, and other electronic devices effortlessly, provided you connect them to a power bank or other power sources. Please note that this charging backpack does not power itself; the USB charging port is solely for convenient device charging.
Full Protective Material
When it comes to protecting your valuable belongings, this backpack has you covered. Crafted from durable Oxford fabrics and Polyester, it boasts a long service life and provides 360° all-round protection. With shockproof, splash-proof, wear-resistant, and tear-resistant properties, you can trust this backpack to keep your items safe and sound.
18L Capacity & Multiple Pockets
With its 18-liter capacity,
this laptop backpack
can accommodate laptops, notebooks, iPads up to 15.6 inches (13, 14, 15, 15.6 inches). It features a spacious packing compartment and various pockets, including pencil cases and keychains in the front compartment. This means you can carry all your daily necessities, electronics, document bags, books, and more with ease.
Slim & Lightweight Design
This
slim laptop backpack
boasts a sleek, business-friendly design that's both lightweight and practical. Its dimensions when fully loaded are 18.5 x 13.3 x 8.26 inches (47 x 34 x 21 cm), and it weighs just 0.82 kilograms (1.8 pounds) when empty. This makes it the perfect choice for college, work, office, commute, business, weekends, and travel.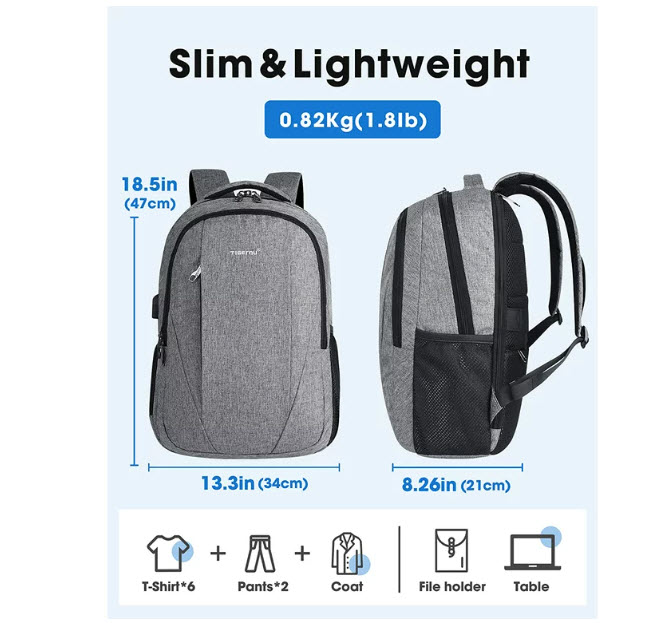 Extreme Detail Design
Every aspect of
this work laptop backpack
has been carefully designed for your comfort and convenience. It features durable metal zippers, a comfortable sturdy handle, adjustable delicate straps, and finishing buckles. Whether you're buying it for yourself or as a gift for a friend or family member, this backpack is a perfect choice.
Multi-Organized Compartments & Pockets
The backpack offers a separate laptop compartment for laptops up to 15.6 inches and a spacious storage compartment for your daily necessities and electronic accessories. The front compartment is equipped with multiple pockets for quick-access items, ensuring your belongings are organized and easy to find.
Safe Backpack for Travel
Safety is a top priority, and this backpack doesn't disappoint. It comes with a hidden anti-theft pocket on the back, protecting your valuable items from potential thieves. The unique dual-layer zipper is exceptionally strong and durable, preventing accidents when you have a lot to carry. Plus, you can lock the zipper with a backpack lock (not included), giving you peace of mind while on the move.
External USB Charging Port Design
The external extension USB charging port, along with the built-in detachable charging cable, offers a convenient way to charge your phone on the road. No more searching for power outlets or carrying bulky power banks – this backpack ensures you stay connected at all times.
Practical & Convenient
The backpack's comfortable airflow back design features thick but soft multi-panel ventilated padding, providing maximum back support. Its ergonomics and adjustable S-shape padding shoulder straps alleviate shoulder stress, making it comfortable for extended wear. The well-padded foam top handle ensures carrying is a breeze.
Quality & Solid Material
Crafted from sturdy Oxford fabric, this business backpack is anti-tear and water splashing resistant, ensuring your belongings stay dry even in rainy conditions. The high-quality branded ABS buckle is scratch-resistant, guaranteeing secure and long-lasting daily use. This backpack is perfect for business, travel, outdoor activities, and school, making it an ideal gift for both men and women.
Conclusion
In summary, the Anti-Theft Tech Backpack with USB Charging Port is a game-changer for individuals seeking a reliable, secure, and affordable backpack. With its innovative features, meticulous design, and unbeatable price of $22.99, it's a steal you can't afford to miss. Upgrade your travel experience and keep your belongings safe and organized with
this exceptional backpack
.
Frequently Asked Questions (FAQs)
Is the USB charging port waterproof?
No, the USB charging port is not waterproof. Please ensure it is protected from moisture to prevent damage.
Can I fit a 15.6-inch laptop in this backpack securely?
Absolutely! The backpack is designed to accommodate laptops up to 15.6 inches with full protection.
Is the backpack suitable for international travel?
Yes, it's an excellent choice for international travel with its anti-theft features and versatile design.
What type of lock should I use with the backpack's anti-theft pocket?
You can use any small padlock to secure the anti-theft pocket, although a TSA-approved lock is recommended for air travel.
Does the backpack come with a warranty?
Yes, the backpack comes with a warranty to ensure your satisfaction and peace of mind.
Don't miss out on this incredible deal! Upgrade your backpack game and stay connected on the go with the Anti-Theft Tech Backpack with USB Charging Port.
If you like Amazon deals & coupon codes join my Telegram Channel (It's FREE!)! Sign up here!
═════════════════════════════════
PROMOTE YOUR BRAND WITH US!
═════════════════════════════════
Want to showcase your product to the Closet of Free Samples audience? Then check out my available advertising options and email me at This email address is being protected from spambots. You need JavaScript enabled to view it. to discuss!
═════════════════════════════════
FOLLOW CFS ON SOCIAL MEDIA
═════════════════════════════════