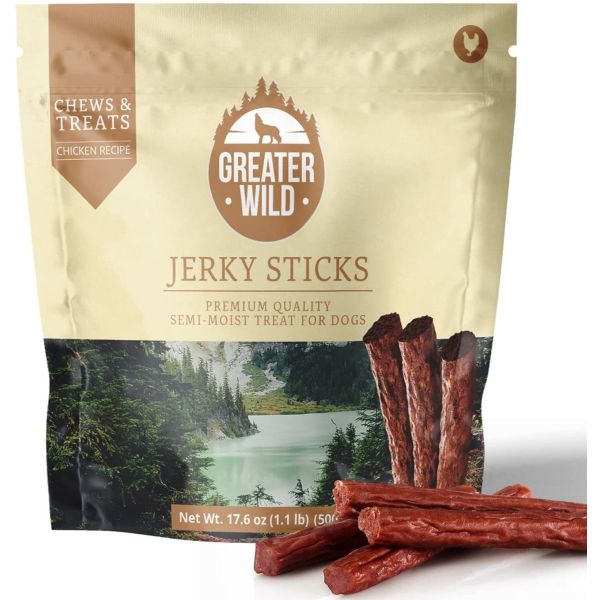 Have a dog? Take advantage of this deal while you can!
Greater Wild's jerky sticks are a great way to keep your pet happy. Look, we know dogs are family and we want you to keep your family happy. Our jerky sticks are packed full of flavor and nutrients that your pet needs and wants. Made from high quality beef, at Greater Wild we pride ourselves in our rigorous quality standards so you can be sure our jerky sticks will be your go-to treat for rewarding your dog. These long-lasting chews not only keep your best friend entertained, but through abrasive chewing, they keep their teeth clean, too.
The soft texture of our jerky treats is one pets love to enjoy and even the fussiest dogs will eat up. If you are planning on training your pet, our treats are the perfect motivation to get them where you want them to be. Because of the way Greater Wild Jerky Sticks are prepared, handling these treats won't leave your hands smelling of processed pet food and will leave your pet hungry for more.
CHICKEN DOG JERKY STICKS: Chicken is the main ingredient in our chicken jerky for dogs. These deliciously flavored treats will quickly become your pet's favorite snack, and they are great for your dog's dental health!
HEALTHY DOG TREATS: Packed with vitamins and minerals, each ingredient is selected to provide energy and nutrition. These dog snacks are great sources of protein, fiber, moisture, calcium, and more.
FOR SMALL AND LARGE DOGS: Designed for dogs of all sizes, give 1-2 pieces to small dogs, up to 4 to medium dogs, and up to 6 for large breeds. No matter the weight, these treats are perfect for your dog.
TIP:
Check out these other
dog deals
currently available while you are here and save some money!