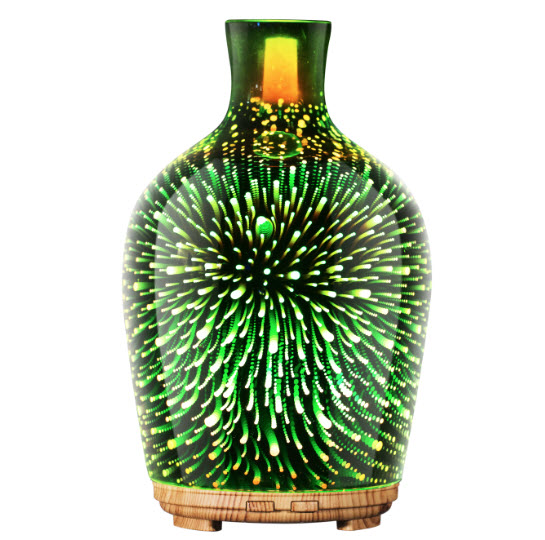 Score this awesome diffuser at a great price!
Relieve the fatigue of the day and relax the nerves. As the pace of life accelerates, people may be prone to fatigue, anxiety, and difficulty falling asleep. This aroma diffuser uses a glass blister shell, and the ultrasonic design ensures that the diffuser can control the smooth mist for a long time. When you sleep, exercise, and read, add your favorite essential oils to this little device. It will emit a pleasant aroma, reduce your fatigue at work and improve the quality of sleep.
Safe Material - Water tank is made of PP material, this diffuser disperses a comfortable stream of room-temperature mist, no heat involved.
Unique Ultrasonic Technology - Adopted ultrasonic vibrations technology to disperse essential oils more efficiently with no noise, creating a superfine mist, which allow you to absorb the full benefit of essential oils.
2 Modes Setting - This carefully crafted glass blister diffuser comes with two buttons to control the light and fog respectively.
Waterless Auto-off - The diffuser will automatically shut off once the water run out, you can enjoy a restful sleep with no worry in overheating machine.
7 Colors Light - The light offers seven different color options, which can either cycle or be locked onto one color, with glass shell match it can match home decor perfectly
Water Capacity 100ml
Package DIMS (or item dim if there is no packaging): 10x6x6 inches
TONS of Limited-Time EXCLUSIVE deals have been posted to my Telegram channel! These deals include limited-time offers, coupon codes, and Amazon deals! It's FREE to join so you don't miss out! ? Sign up here!
═════════════════════════════════
PROMOTE YOUR BRAND WITH US!
═════════════════════════════════
Want to showcase your product to the Closet of Free Samples audience? Then check out my available advertising options and email me at This email address is being protected from spambots. You need JavaScript enabled to view it. to discuss!
═════════════════════════════════
FOLLOW CFS ON SOCIAL MEDIA
═════════════════════════════════