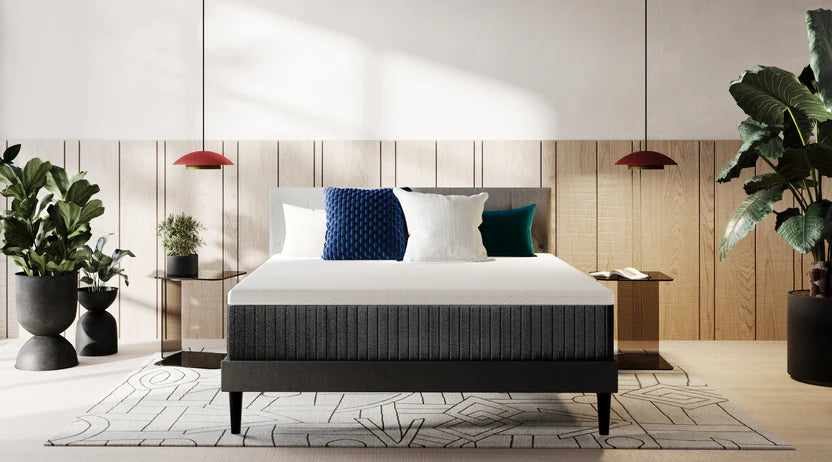 Another great mattress deal if you need a new mattress!
A hybrid mattress that satisfies unique needs of plus-sized sleepers and couples who do more in bed than just sleep. The Emma CliMax combines five layers of cloudlike comfort with one layer of pocketed springs for maximum support and cooling–call it the best six of your life.
This climate-regulating, breathable cover feels soft-to-the-touch and makes mattress maintenance easy: It's moisture-wicking, easy to remove, and machine-washable.
What is it for?
Luxuriously plush comfort layers that are breathable, cooling, and climate-regulating
5 ergonomic zones that adapt, curve, and contour to the unique shape of every body type, providing targeted lumbar support and spinal alignment
Supports sleepers over 250lbs, and up to 1000lbs in total
Who is this mattress ideal for?
Plus-sized sleepers (>250lbs) looking for plush-sized comfort
Couples of all shapes and sizes who do more in bed than just sleep
Value-conscious sleepers who want the most bang for your buck
BONUS:
Check out these other
bedding products on sale
while you are here and save some money!
If you like Amazon deals & coupon codes join my Telegram Channel (It's FREE!)! ? Sign up here!
═════════════════════════════════
PROMOTE YOUR BRAND WITH US!
═════════════════════════════════
Want to showcase your product to the Closet of Free Samples audience? Then check out my available advertising options and email me at This email address is being protected from spambots. You need JavaScript enabled to view it. to discuss!
═════════════════════════════════
FOLLOW CFS ON SOCIAL MEDIA
═════════════════════════════════