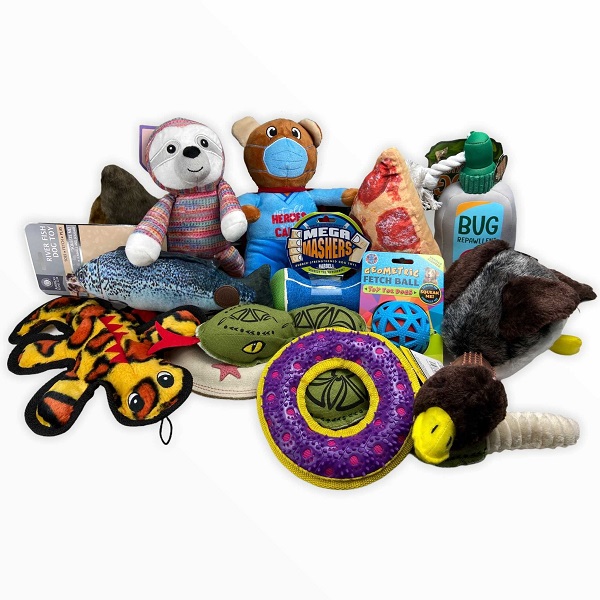 In the realm of pet care, finding the perfect balance between quality and affordability can pose a challenge. This unbeatable deal introduces a
FOUR PACK of Assorted High-Quality Dog Toys
priced at just $15.96, down from the regular $39.96 – a staggering
60% discount
. The toys in question are of a caliber equivalent to those found at PetSmart, where individual toys often range from $8 to $12. This offer delivers not just one, but FOUR top-tier toys for the exceptional price of $15.96, making each toy a mere $3.99.
Superior Quality, Unbeatable Price
Why settle for less when the best is within reach?
These dog toys
transcend the typical dollar store variety, boasting PetSmart quality without the hefty price tag. The diverse assortment guarantees hours of entertainment, with options ranging from robust chew toys to squeaky companions and engaging tug-of-war contenders.
Unmatched Value: $1.49 Shipping, Free on Orders of 2 or More!
Shipping costs often impact the decision-making process. However, fear not – the shipping rates are as budget-friendly as the toy prices. For a mere $1.49, customers can have the entire FOUR PACK delivered to their doorstep. Better yet, order 2 or more packs, and SHIPPING IS FREE! This translates to significant savings on bulk orders, ensuring maximum value for the investment.
Toy Dimensions and Suitability
Versatility for Most Dogs – A Size Guide
The toys' dimensions cater to a variety of dog sizes, making them suitable for a broad range of breeds. While larger breeds find these toys perfectly sized, it's crucial to note that for smaller canine companions weighing around 8 pounds,
these toys
might be slightly too large. Nevertheless, for medium to large-sized dogs, these toys offer the perfect fit, promising a durable play experience.
Realistic Expectations: Possible Duplicates
In the spirit of transparency, potential customers should be aware that there's a chance of receiving duplicate toys. While efforts are made to provide a diverse assortment, occasional duplicates may occur. Importantly, this does not compromise the overall value and enjoyment that pets can derive from these high-quality toys.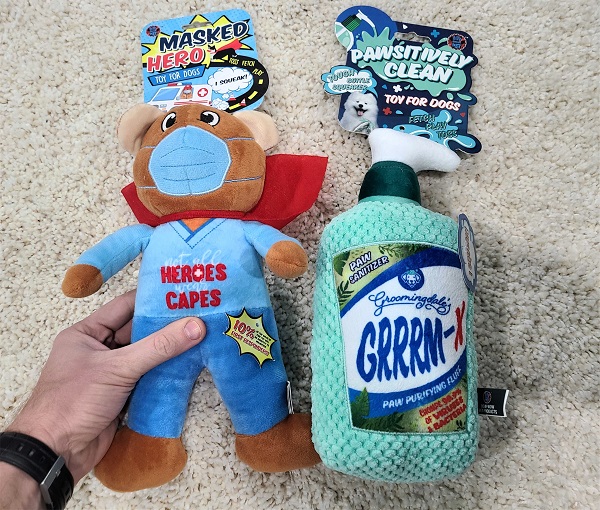 Frequently Asked Questions (FAQ)
Q1: Are these dog toys of PetSmart quality?
Absolutely! Our toys match the quality standards of PetSmart, ensuring a premium playtime experience for your furry friend.
Q2: What's the regular price, and how much can I save?
The regular price is $39.96, but with our 60% discount, you can get the FOUR PACK for just $15.96, saving you a whopping $24.
Q3: Is shipping affordable?
Yes, indeed. The shipping cost is only $1.49, and if you order 2 or more packs, the shipping is entirely FREE, making it a budget-friendly deal.
Q4: Are the toys suitable for all dog sizes?
While generally good for all sizes, if you have a smaller 8-pound dog, these toys might be a bit too big. They are ideal for medium to large-sized dogs.
Q5: Can I expect duplicate toys in the pack?
There is a possibility of receiving some duplicates, but rest assured, this doesn't compromise the overall value and enjoyment your pet will derive from these high-quality toys.
Q6: How long is this offer valid?
This incredible offer is for a limited time only, so be sure to grab your FOUR PACK of dog toys at $15.96 before the deal expires!
Conclusion
In conclusion, the
FOUR PACK of Assorted High-Quality Dog Toys
at $15.96 (reg $39.96) stands as an irresistible deal. The offer prides itself on delivering PetSmart quality toys at a fraction of the cost, ensuring unbeatable value for pet owners mindful of both their furry friends' happiness and their budget.
Why wait? Treat your dog to the ultimate playtime experience without breaking the bank. Order the FOUR PACK today and witness the joy it brings to your pet's life!
If you like Amazon deals & coupon codes join my Telegram Channel (It's FREE!)! Sign up here!
═════════════════════════════════
PROMOTE YOUR BRAND WITH US!
═════════════════════════════════
Want to showcase your product to the Closet of Free Samples audience? Then check out my available advertising options and email me at This email address is being protected from spambots. You need JavaScript enabled to view it. to discuss!
═════════════════════════════════
FOLLOW CFS ON SOCIAL MEDIA
═════════════════════════════════