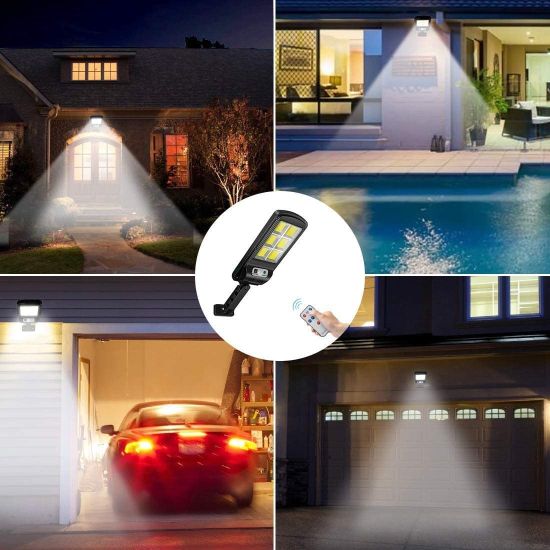 Great deal!
120 LED outdoor solar lights can produce ultra-high brightness lighting in a wide area, for front doors, paths, gutters, porches, front/back yards, gardens, driveways, fences, walls, stairs, landscapes, terraces or any Outdoor places that need lighting provide a lighting experience, bringing you a super bright lighting experience.
The outdoor safety light uses 6000mAh rechargeable lithium-ion battery, and the solar light can continuously illuminate and extend the lighting time. Solar panels work during the day to store electricity and light up for 6-8 hours at night.
3 lighting modes + remote control: remote control 3 modes-mode 1: automatically turn on when an action is detected, and automatically turn off after about 30 seconds of lighting. Mode 2: Always open in dark conditions, it will become brighter when an object is detected. Mode 3: Always open in dark conditions. Note: Please take out the insulating sheet before using the remote control.
Solar lighting adopts high sensitivity and adjustable bracket design, which can sense moving objects within 10-20 feet, providing safety and convenience for families during night scenes.
The solar street light is made of IP67 waterproof high-impact ABS, which can withstand extreme weather conditions such as various outdoor environments. It is suitable for installation in front doors, backyards, porches, courtyards, driveways, garage walls and other places with more sunlight .