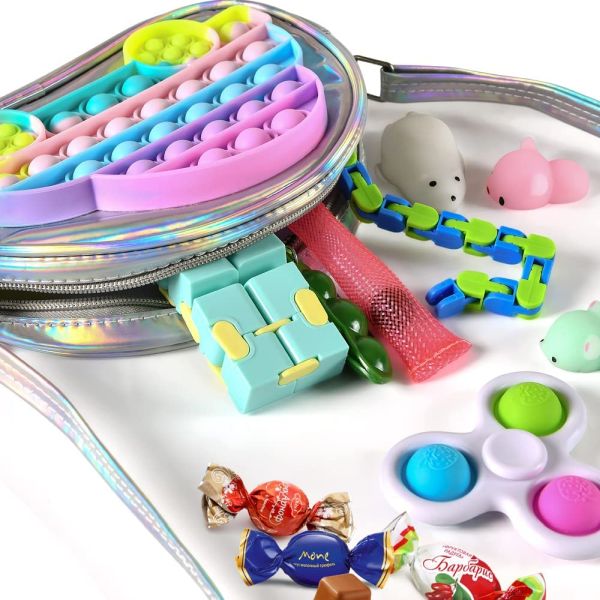 This is a nice little fidget set!
This laser fidget bags for girls with rainbow pressing plate has a wide range of applications, fidget bags for girls suitable for students, office workers, offices, schools, outdoor entertainment, etc. Conducive to concentration, relieve anxiety and stress.
This complete sensory fidget toy set consists of 1 squeeze bean, 3 bungee cords, 2 maze puzzles, 3 bead pressure balls,3 soft toys, 1 Rubik's Cube, 1 decompression ring and an ice cream decompression board. This fidget set also comes with a Hot Air Balloon fidget purse with a decompression board, all toys can be put in the hot air balloon pop fidget purse for kids. It is a great gift for children.
High Quality Silicone
Advanced Laser Fabric
Adjustable Shoulder Strap
Safety Plastic Zipper
Color Red Plate Material: silica gel
This pop fidget purse is the best gift for kids.
Details:
Fidget Bags for Girls Size: 8.27x7.09x2.36inch
Fidget Bags for Girls Gross Weight: 0.38lb
Messenger Fidget Bags for Girls Material: PU laser
Unique fingertip toy design: The combination of a laser car pop fidget purse and a cartoon-shaped detachable fingertip toy makes this pop fidget purse more fashionable. The fidget toy on the front of the purse can be disassembled. You generally have a fidget toy and a purse. The length of the shoulder strap can be adjusted according to the height of the child. This pop purse it is the favorite fashion item for kids now.
A compact purse suitable for fashionable girls: our pop purse it is bright in color, the whole body is made of laser fabric, the fidget toy part is bright in color, the pop fidget purse size is perfect, and it can hold toys, mobile phones, change, keys, etc. Small and lightweight fidget purse for girls will not cause excessive pressure on children's shoulders.
Detachable fidget toy that relieves stress: There is a detachable fingertip toy on the front of the fidget purse. It is not only a purse, but also a very interesting toy. The fidget toy on the front of the purse can be removed for kneading and pressing, which can effectively alleviate restless children
Safe and non-toxic materials: materials that are not easy to stain and break. Our pop fidget bag are made of high-quality and fashionable laser fabrics, which are not easily damaged. The detachable fidget toy is made of high-quality silicone, which is not easy to get dirty and easy to clean. Colorful fidget pop purse it can become the most fashionable collocation items
The best gift for children and fashionable girls: The most fashionable fidget toy laser fidget shoulder bag is suitable as a gift for children and as a gift in line.
Suitable for all kinds of holiday gifts, your children will definitely be very happy when they are suitable for receiving such fashionable and special gifts on birthdays, Easter, Halloween, Christmas and other holidays
Sensory Fidget Toys Set - 1x rocket shoulder bag, 1x astronaut push pop toy, 3x stretchy strings, 1x Infinity Cube, 3x Squishy Toys, 1x squeeze bean, 1x fidget spinner, 3x mesh and marble, 2x Wacky Tracks, all kids toys in this cute bag.
Removable Fidget Toy Design - This crossbody bag combine the sensory toy on the bag, and the rocket push pop toy is detachable, you can take it off from the bag and play it at any time anywhere.
Stress and Anxiety Relief - This fidget pack can relieve anxiety well or pass the time by simple playing squeezing, stretching and flipping with these fidget toys. They are also great for kids with ADD or ADHD and people with OCD or high stress/anxiety levels.
Top Quality for All Ages - Each
fidget toy
is made of safe and durable materials and harmless to kids and adults, playing without worry. This fidget toys pack are easy to clean and comfortable to play in the hand. You can play with your kids together and enjoy the happy game time.
Perfect Gift and Reward - These sensory toys can effectively attract children's attention and exercise sensitivity, expand thinking and cultivate creativity. Ideal gift for kids' Birthday Christmas Party, teen boys gift idea, prizes for kids classroom,carnival prizes etc.
Did you find this post helpful? If so, it would be great if you could show some support by following

Closet of Free Samples on TikTok

(as well as my other social media accounts @closetsamples) and by checking out

my Etsy shop

! As a small creator, all your support makes a difference! Even a simple share of this post to your friends helps! Thanks so much!