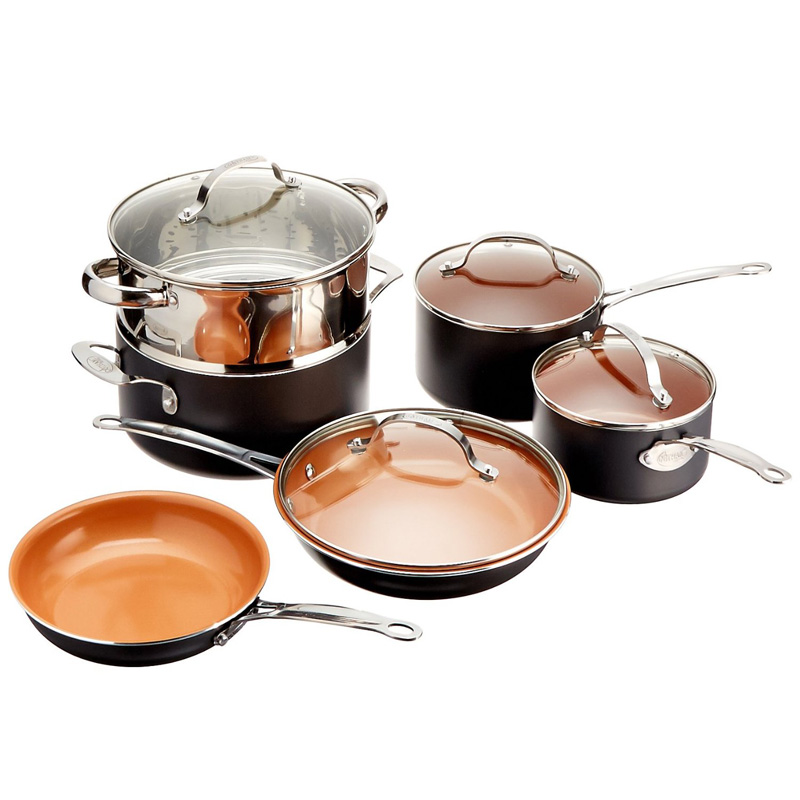 This 
10-Piece Kitchen and Cookware Set
utilizes high-grade titanium and ceramic as surface finishing. This sophisticated combination not only ensures maximal durability it also allows for multi-functional, all-around usage. Titanium plus Ceramic Coating FAQs High-heat threshold to sear perfectly browned steaks! Everything just slides right off, even burnt chocolate and cheese. Food flavor is not altered when cooking tomato-based or any acidic food products thanks to the ceramic component! The non-stick surface cleans easy! Versatile: for stove-top cooking, or baking! Rust-proof all over. Coating doesn`t peel off with constant usage and washing. Included in the Set 8.5-inch Frying Pan 10.25-inch Frying Pan Lid for 10.25-inch Pan 1.5-quart Pot Lid for 1.5-Quart Pot 2.5-Quart Pot Lid for 2.5-Quart Pot 5-Quart Pot Lid for 5-Quart Pot Aluminum Steamer Insert Our Guarantee Not satisfied with your purchase? Just tell us, and we will fix things for you.
Ultra Non-Stick: Everything Just slides right off the pan
Weighs less than frying pans of comparable sizes!
Complete Cooking and Kitchenware set (see description below for components)
100% Safe: PFOA, PTFE, and PFOS-Free
Note: This model is not compatible with induction
???? 

Save Money When You Shop!

 ???? 

Get

Cash back

by using TopCashBack! Sign up here for FREE!

*Tip: Open the TopCashBack link a new window, search for the store, select it and it will open in a new window. Once this happens, you can close that window and continue shopping from where you were. Doing this will log that you are shopping through TopCashBack without losing your place!

Like Wine? You`ll LOVE these:
????
Winc
: $20 Off Your First Order ????
Plonk Wine Club
????
Cellars Wine Club
????
The California Wine Club
: Save 50% off your first 3 months! ????
Wine of the Month Club:
 FREE Wine Accessory with Every Gift Membership! ????
Wine Awesomeness
: Subscribe now and get a variety 3 pack of wine every month for only $45 ????
Winecrasher
????
Wine2Go
????
Uncorked Adventures: 
15% Off Wine Clubs