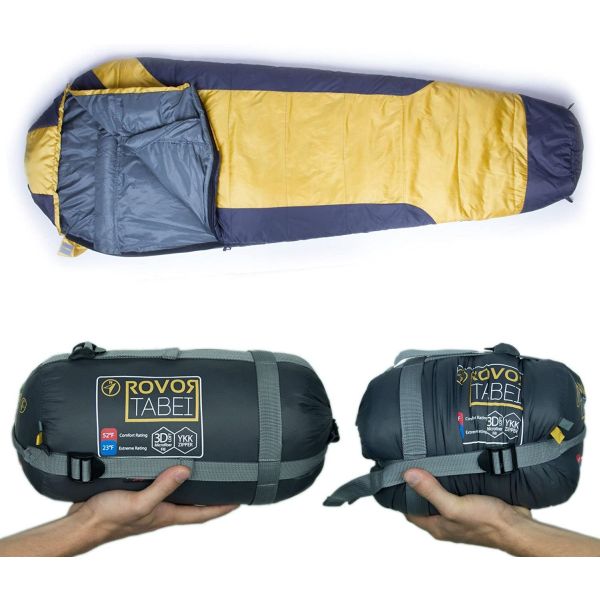 Introducing the
ROVOR Tabei 52 Degree Compact Sleeping Bag
- the ultimate sleeping companion for all your outdoor adventures! Whether you're a tall adult, a teenager, or a growing child, this sleeping bag is designed to provide optimal comfort and warmth for a restful night's sleep. And the best part? It's now available at an incredible price of just $24.99,
down 58%
from its regular price of $59.99! Plus, if you order 2 or more, we'll even throw in FREE SHIPPING!
One of the standout features of the ROVOR Tabei Sleeping Bag is its impressive size. Measuring 90 inches in length, it is one of the tallest sleeping bags on the market, making it a perfect fit for tall adults and teens. With a recommended maximum height of 7 feet, you can stretch out and enjoy a spacious sleeping area that promotes relaxation and rejuvenation.
Designed for moderate to warm weather conditions, the Tabei Sleeping Bag has a temperature rating of 23 degrees Fahrenheit at its extreme and 52 degrees Fahrenheit for comfort. This means you can comfortably use it in a variety of outdoor settings, from camping trips in the spring and summer to cozy nights under the stars during autumn.
Durability is key when it comes to outdoor gear, and the ROVOR Tabei Sleeping Bag delivers. It features a reinforced mini-diamond ripstop polyester shell that combines lightweight construction with exceptional strength. You can rest easy knowing that this sleeping bag is built to withstand the rigors of outdoor use, ensuring its longevity for many camping adventures to come. Plus, the YKK zipper ensures a smooth and hassle-free experience, thanks to its no-snag performance.
Comfort is a top priority, and the Tabei Sleeping Bag doesn't disappoint. The 260 thread count ultra-soft microfiber lining provides a cozy and luxurious feel against your skin, enhancing your sleeping experience. The 100% Polyester 3D Loft Microfiber Fill is not only lightweight but also highly efficient in keeping you warm during chilly nights. You'll appreciate the warmth and insulation it provides, allowing you to sleep comfortably and wake up refreshed.
The ROVOR Tabei 52 Degree Compact Sleeping Bag offers outstanding value for its price. With its generous size, temperature rating, durability, and superior comfort features, it's a must-have for any outdoor enthusiast. Don't miss out on this limited-time offer of $24.99, down from $59.99! And remember, if you order 2 or more, we'll ship them to you for FREE!
Invest in the ROVOR Tabei Sleeping Bag
and experience the perfect blend of functionality, comfort, and affordability. Embrace your next outdoor adventure with confidence, knowing that you have a reliable and cozy sleeping bag by your side. Order yours today and embark on unforgettable camping experiences!
? If you like Amazon deals & coupon codes join my Telegram Channel (It's FREE!)! ? Sign up here!
═════════════════════════════════
PROMOTE YOUR BRAND WITH US!
═════════════════════════════════
Want to showcase your product to the Closet of Free Samples audience? Then check out my available advertising options and email me at This email address is being protected from spambots. You need JavaScript enabled to view it. to discuss!
═════════════════════════════════
FOLLOW CFS ON SOCIAL MEDIA
═════════════════════════════════