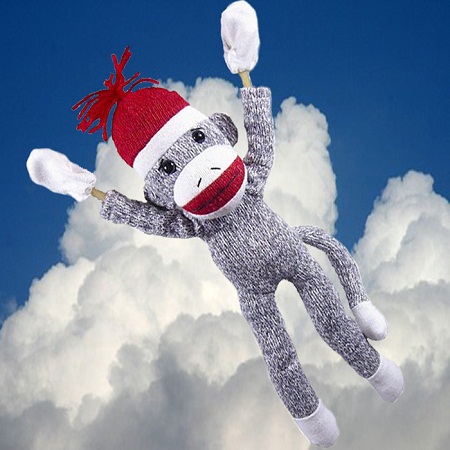 All new - the 12" Super Fly Sock Monkey soars through the air and screams JUST LIKE the other monkeys -- it's just a few inches longer, a bit bigger, and quite frankly a bit cuter.
* Flies up to 50 feet in the air
* Officially licensed
* Exterior Construction: 55% Acrylic / 25% Polyester / 20% Cotton
* Filling: 100% Polyestevr
* Choking hazard, small parts NOT for children under 5 years of age
* Never point or shoot a Super Fly Monkey at another person
This Flying Sock Monkey has rapid speed and can skyrocket up to 50 feet. When you make him fly you can hear him scream!
To operate the
Flying Sock Monkey
is simple:
1. Place your index and middle finger inside the two pockets located on Monkey's hands.
2. Pull back on the Monkey's legs to stretch the Monkey's arms. (7" maximum)
3. Aim upward, then release legs to launch.