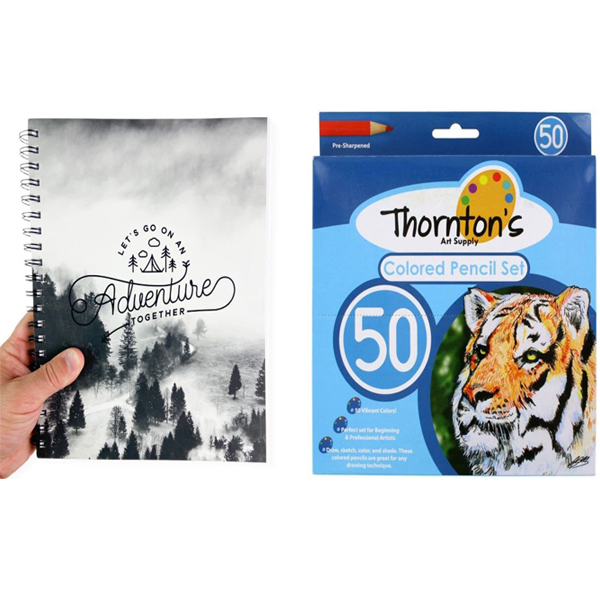 Grab this art set while it's on sale!
COLORFUL AND CONVENIENT: Pre-sharpened and ready to use these pencil sets come in a fold-over display box for making it easy to pick and choose colors. Great for beginner, professional, kids, adults, school classroom, home, studio, office, or gifts!
BOLD COLORS: Our colored pencils are produced with carefully selected high-quality pigments for all of your drawing, sketching, and creative coloring needs.
VERSATILE AND VIBRANT: Draw, sketch, color and shade. This pencil kit is great for any drawing technique on paper, art books, coloring books, bullet journals or other journaling, cards, crafts, posters, or any other magic you may want to create!
SUPERIOR CONSTRUCTION: Sturdy comfortable barrels and soft-core colored pencils lay down rich and smooth with no scratch, making them perfect for color mixing and blending. Pencil tip won't snap under normal pressure and moisture won't smear lines.
BRIGHT VARIETY: Packs come with 50 assorted colors, including: Ivory Yellow Lemon Orange Ochre Vermilion Red Crimson Rosy Pink Magenta Sienna Terra Cotta Peach Green Lime Emerald Royal Blue Indigo Purple Violet Grey Black White, and many many more!
TWO "Let's Go On An Adventure Together" Spiral Sketchbook / Notebook - Large 9" x 11" Size
Soft-touch, velvet laminated cover that ensures image quality over time and creates a water resistant external coating. P.s. It feels like magic.
Thick chipboard on back for extra durability.
9" x 11" spiral notebook
75 sheets/150 pages
Blank, 77lb artist paper
Perforated pages
Wire-O spiral binding
2 Pack
TONS of Limited-Time EXCLUSIVE deals have been posted to my Telegram channel! These deals include limited-time offers, coupon codes, and Amazon deals! It's FREE to join so you don't miss out! 👉 Sign up here!
═════════════════════════════════
PROMOTE YOUR BRAND WITH US!
═════════════════════════════════
Want to showcase your product to the Closet of Free Samples audience? Then check out my available advertising options and email me at

This email address is being protected from spambots. You need JavaScript enabled to view it.

to discuss!
═════════════════════════════════
FOLLOW CFS ON SOCIAL MEDIA
═════════════════════════════════