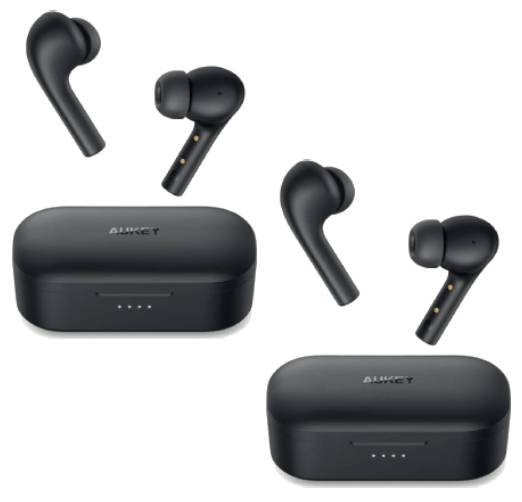 In the fast-paced world of technology, where innovation and quality merge seamlessly, the
AUKEY EP-T21S True Wireless Earbuds
stand out as a beacon of excellence. Priced at an incredible
$19.75 (reg $59.98)
with a jaw-dropping
67% discount
, this two-pack offer is a game-changer for anyone seeking a premium audio experience without breaking the bank.
Unveiling Unrivaled Sound Quality with 5.0 Bluetooth
At the heart of the AUKEY EP-T21S lies its cutting-edge 5.0 Bluetooth technology, ensuring a seamless connection with your devices. This advanced feature not only guarantees a stable and efficient wireless connection but also sets the stage for an audio extravaganza.
Immerse Yourself in High Fidelity Audio
The soul-stirring auditory journey begins with the earbuds' impressive
10 mm enhanced dynamic drivers
, delivering a rich and clean sound profile. Whether you're a music aficionado, podcast enthusiast, or audiobook lover,
these earbuds
promise an unparalleled audio experience that transcends expectations.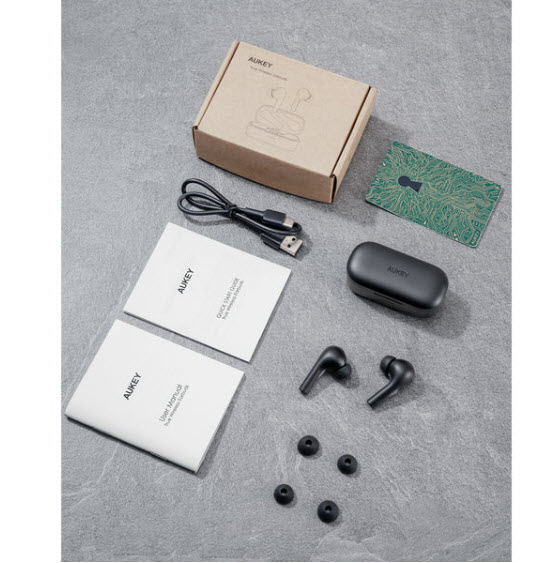 One-Step Connection for Effortless Convenience
Ease of use is paramount, and the AUKEY EP-T21S doesn't disappoint. The
One-Step Connection
feature ensures a hassle-free experience. Simply open the charging case, and like magic, the
earbuds
will automatically establish a stable and efficient wireless connection to your phone. Once paired for the first time, convenience becomes second nature.
What's Inside: Unboxing the Future of Audio
Let's delve into the contents of this extraordinary package, ensuring you know exactly what to expect when you embark on this audio adventure:
AUKEY EP-T21S True Wireless Earbuds - 1 Pair
Charging Case - 1 Unit
Ear-Tips (S/M/L) - Customizable for Your Comfort
USB-C Cable - 1 Piece for Fast and Reliable Charging
User Manual - Your Comprehensive Guide to Optimal Usage
Quick Start Guide - Making Setup Effortless
Note: The earbuds come in a randomly assigned color, either white or black, adding an element of surprise to your unboxing experience.
Crystal Clear Calls with MEMS Microphone Technology
Communication is key, and the AUKEY EP-T21S goes the extra mile with its MEMS microphone technology. This innovative feature ensures your calls are not just heard but heard with exceptional clarity. Bid farewell to muffled conversations and embrace the future of seamless communication.
Elevate Your Audio Experience Today
In conclusion, the AUKEY EP-T21S True Wireless Earbuds redefine the standards of audio excellence. With their unbeatable 67% discount and a myriad of features designed to enhance your listening pleasure, this two-pack offer is a golden ticket to true auditory freedom.
So, why settle for mediocre when you can embrace the extraordinary? Elevate your audio experience today with the AUKEY EP-T21S
True Wireless Earbuds
. Unleash the power of premium sound quality, effortless connectivity, and crystal-clear calls, all wrapped in a sleek and compact design.
If you're ready to embark on this audio journey, seize the opportunity now and treat yourself to the epitome of wireless earbud technology. Your ears deserve the best, and the AUKEY EP-T21S is here to deliver.
If you like Amazon deals & coupon codes join my Telegram Channel (It's FREE!)! Sign up here!
═════════════════════════════════
PROMOTE YOUR BRAND WITH US!
═════════════════════════════════
Want to showcase your product to the Closet of Free Samples audience? Then check out my available advertising options and email me at This email address is being protected from spambots. You need JavaScript enabled to view it. to discuss!
═════════════════════════════════
FOLLOW CFS ON SOCIAL MEDIA
═════════════════════════════════