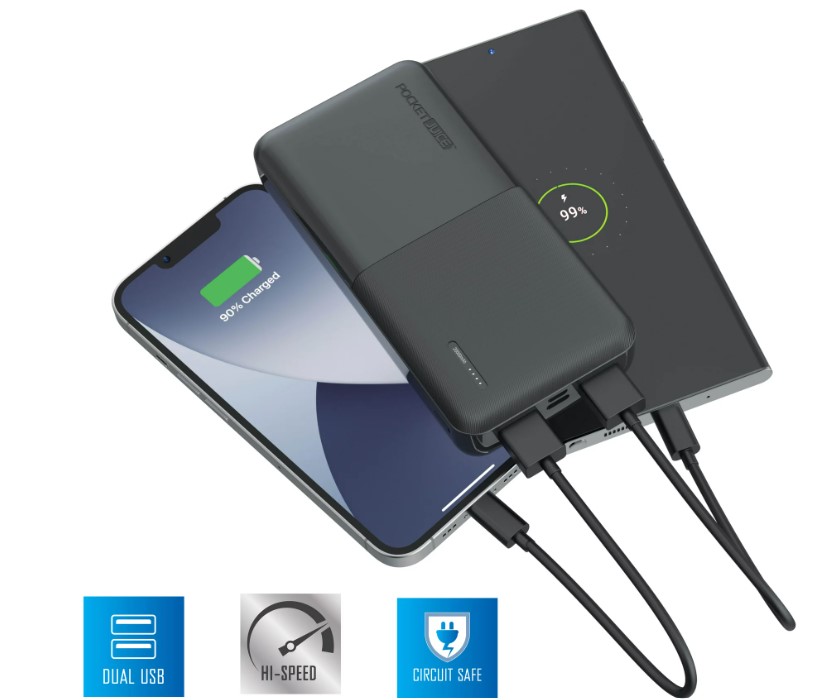 Are you tired of your devices running out of battery at the most inconvenient times? Look no further than the
Ultra High Capacity 20,000 mAh Portable Power Bank with Dual Charging Ports
. And the best part? It's currently available at an incredible
60% discount
, priced at just $19.99 (originally $49.99). This deal is a steal considering that the style and color may vary, but the capacity and features remain consistent across all variants. Plus, it even comes with a built-in flashlight! And here's the cherry on top – it ships for FREE!
The PocketJuice Slim Pro
is your ideal companion for keeping your USB devices powered up while you're on the move. Whether you're on vacation, a business trip, or just tackling your daily commute, this slim and lightweight power bank has got you covered. It comes pre-charged and boasts a sturdy hard shell for added durability and a comfortable grip. With its mighty 20,000mAh lithium-polymer battery, it can charge your smartphone multiple times. Thanks to the four LED battery status indicators, you'll always know when it's time to recharge your PocketJuice. Wherever life takes you, count on PocketJuice for a fast, reliable, and hassle-free charging experience.
Key Features:
Powerful 20,000mAh power bank with dual USB ports for charging multiple devices simultaneously.
LED lights provide clear battery status updates.
The PocketJuice Slim Pro is slim, lightweight, compact, and built to last.
It includes a 4" USB-A to Micro-USB charging cable.
Compact dimensions of only 5.5 x 2.75 x 1 inches and weighing less than 1 lb.
Input: Micro-USB/USB-C - 5V/2A; Output: USB-A - 5V/2.1A.
Why You Need the PocketJuice Slim Pro
In today's fast-paced world, staying connected is essential. Your smartphone, tablet, and other USB-powered devices are your lifelines, and a dead battery can disrupt your day. The
PocketJuice Slim Pro
ensures you never face that inconvenience again. With its immense 20,000mAh battery capacity, it can charge your devices multiple times over. Whether you're on a long road trip, camping in the wilderness, or simply navigating a busy workday, this power bank has your back. Its slim and lightweight design makes it easy to carry in your pocket, purse, or backpack, so you can stay charged and connected wherever you go.
Why this Deal is Irresistible
At just $19.99 (originally $49.99), the PocketJuice Slim Pro is not only a smart investment but also an unbeatable deal. While the style and color may vary, the core features and capacity remain the same, ensuring you get the best value for your money. Plus, it comes with a built-in flashlight, adding an extra layer of functionality to this already impressive power bank. And the icing on the cake? It ships for FREE! Say goodbye to the frustration of running out of battery and missing important calls, messages, or entertainment. With PocketJuice, you're always powered up and ready for whatever comes your way.
How to Get Your PocketJuice Slim Pro
Getting your hands on the PocketJuice Slim Pro is a breeze. Simply visit the product page on the official website, where you can select your preferred style (note that colors may vary). Add it to your cart and proceed to checkout. You'll enjoy FREE shipping, and your PocketJuice will arrive at your doorstep in no time.
? If you like Amazon deals & coupon codes join my Telegram Channel (It's FREE!)! ? Sign up here!
═════════════════════════════════
PROMOTE YOUR BRAND WITH US!
═════════════════════════════════
Want to showcase your product to the Closet of Free Samples audience? Then check out my available advertising options and email me at This email address is being protected from spambots. You need JavaScript enabled to view it. to discuss!
═════════════════════════════════
FOLLOW CFS ON SOCIAL MEDIA
═════════════════════════════════