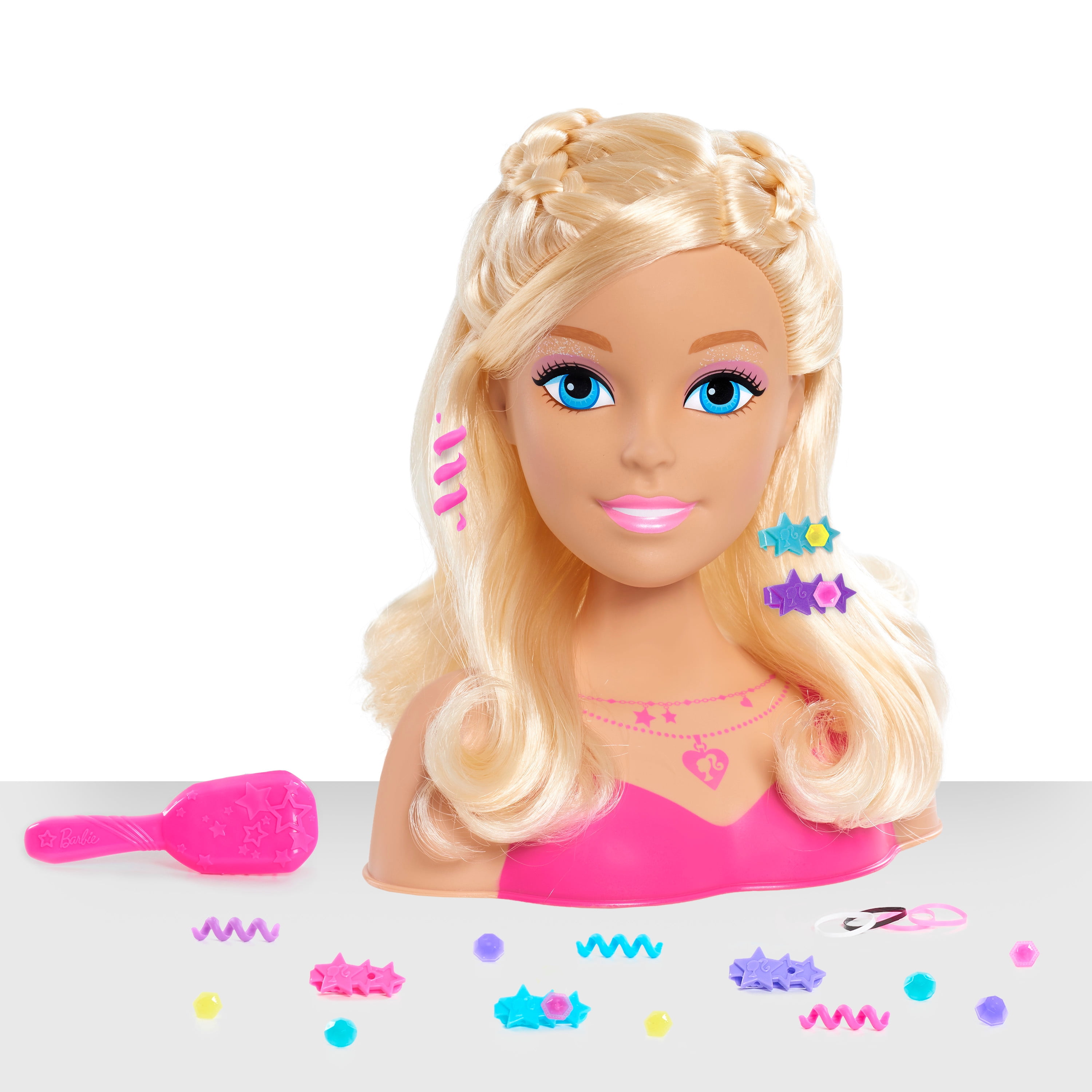 In the world of dolls and fashion, Barbie has reigned supreme for generations. And now, there's an irresistible opportunity for you to step into Barbie's world of glamour and style without breaking the bank. Walmart presents the
Barbie Fashionistas 8-Inch Styling Head
, a true gem that's currently available at an astonishing price of just $7.97, marked down from its original price of $14.97, offering a whopping
46% discount!
The Allure of Barbie Fashionistas Styling Head
Barbie Fashionistas
Styling Head is more than just a toy; it's an avenue for unleashing your creativity and immersing yourself in the world of fashion and hairstyling. With its
20-piece set
, this toy promises endless hours of entertainment, allowing you to explore your hairstyling skills and fashion sense to the fullest.
A Hair-Lover's Paradise
One of the standout features of this Barbie Styling Head is its luxurious, thick, and flowing blonde hair. It's an open canvas waiting for your artistic touch. Whether you're into brushing, twisting, or pinning, Barbie's hair is your playground. With the included cute barrettes and hair ties, you can craft the most fashionable hairdos that your imagination can conjure.
Crafting the Perfect Up-Do
For those moments when you want to give Barbie a more polished and sophisticated look, the cute pink brush and hair twists come to the rescue. Brush her hair back gracefully with the pink brush and then use the hair twists to fashion her locks into a sleek top bun, fit for any elegant occasion.
A Touch of Bling
Elevate Barbie's style with customizable hair barrettes adorned with a variety of pop-in gems. These gems add a touch of sparkle and glamour to Barbie's look, making her the most stylish girl in town.
What's Inside the Box?
One Barbie Styling Head
Three customizable barrettes
Eight pop-in gems
Three hair twists
Hair bands
One brush
This comprehensive set ensures that you have all the tools and accessories you need to create stunning hairstyles and experiment with various looks. It's perfect for budding hairstylists aged 3 and above who want to embark on a creative journey with Barbie.
A Word of Caution
While the Barbie Fashionistas 8-Inch Styling Head is undoubtedly a dream come true for fashion and hairstyling enthusiasts, it's important to note that the packaging of this product reveals its contents and cannot be hidden. Keep this in mind when ordering, especially if it's intended as a surprise gift.
The Perfect Gift for All Occasions
Whether you're in search of the ideal gift for a child's birthday, a special occasion, or simply as a spontaneous gesture of love, the Barbie Fashionistas 8-inch Styling Head, with its incredible 46% discount, is an irresistible choice. Its versatility, entertainment value, and endless creativity make it a fantastic addition to any toy collection.
Conclusion
In summary, the Barbie Fashionistas 8-Inch Styling Head is not just a toy; it's a gateway to a world of fashion and hairstyling possibilities. With its generous set of accessories and a price tag that's hard to resist, this styling head promises hours of fun and creativity for children and Barbie enthusiasts of all ages. Don't miss out on the chance to bring a touch of glamour into your life, and
grab this fantastic deal at Walmart
while it lasts.
If you like Amazon deals & coupon codes join my Telegram Channel (It's FREE!)! Sign up here!
═════════════════════════════════
PROMOTE YOUR BRAND WITH US!
═════════════════════════════════
Want to showcase your product to the Closet of Free Samples audience? Then check out my available advertising options and email me at This email address is being protected from spambots. You need JavaScript enabled to view it. to discuss!
═════════════════════════════════
FOLLOW CFS ON SOCIAL MEDIA
═════════════════════════════════