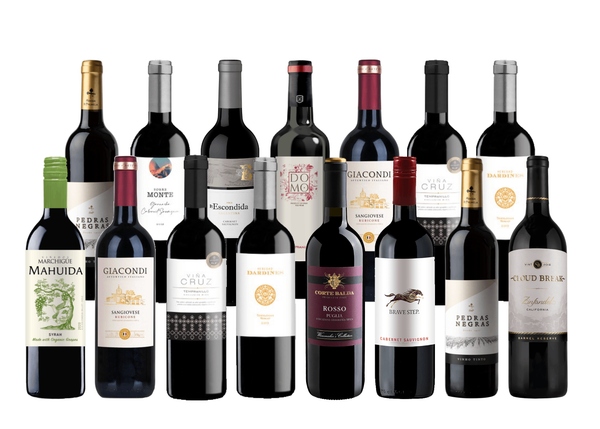 Welcome to a spectacular Fall wine deal that will elevate your wine experience! Get ready to indulge in
15 bottles of award-winning red wine
handpicked for your enjoyment, all for the incredible price of $114.95 (originally $274.95 - a
58% discount
), complete with free shipping. This wine pack is a true connoisseur's dream, featuring premium wines from boutique wineries across the world. Don't miss out on this fantastic opportunity to savor the best red wines of the year!
Wine on Sale 15 Bottles of Award-Winning Red Wine - A Wine Lover's Paradise
In this section, we'll delve into the details of what makes
this wine offer
so exceptional. Let's explore what you'll receive in this wine pack:
15 Bottles of Premium Wine
Your wine journey begins with 15 bottles of
premium red wine
. These bottles are carefully curated to provide you with an unforgettable tasting experience. From deep Cabernet Sauvignon to silky Merlot, from the complexity of Pinot Noir to the boldness of Malbec, this selection has it all.
Boutique Wineries from Across the World
Each bottle in this wine pack is a testament to the craftsmanship of boutique wineries from various corners of the globe. You'll be transported to the scenic vineyards of Spain, the rolling hills of Italy, the majestic landscapes of Chile, and more with every sip.
Possibility of Duplicates
What makes this wine pack even more exciting is the possibility of receiving duplicates of some of the most popular wines. If you discover a favorite, there's a chance you'll get to enjoy it more than once!
Unbelievable Price - $7.67 Per Bottle
At just $7.67 per bottle, this offer is a steal. You won't find a better
deal on premium wines
anywhere else. It's an opportunity to stock up on your favorite reds without breaking the bank.
Free Shipping
To make this deal even sweeter, we offer free shipping! Your wine will arrive at your doorstep, hassle-free.
Popular Grape Varietals
Expect to find an array of popular grape varietals in your wine pack. From the robust flavors of Cabernet Sauvignon to the smoothness of Merlot, each bottle showcases the diversity of the wine world.
International High Ratings
The
wines in this pack
have garnered high ratings and critical acclaim. You'll taste the excellence of 750 ml wines from renowned wine-producing countries like Spain, Italy, Chile, Argentina, France, California, Australia, and more.
Why Choose Our Wine Pack?
With so many wine options available, you might wonder what sets our wine pack apart. Here are some compelling reasons:
Quality Assurance: Our wines are meticulously selected to ensure you experience the very best in every bottle.
Exceptional Value: At $114.95 for 15 bottles, you won't find a better deal on award-winning wines.
Variety: From bold reds to elegant Pinot Noir, our pack offers a diverse selection to suit all palates.
Free Shipping: Enjoy the convenience of free shipping, right to your doorstep.
Boutique Wines: Experience the craftsmanship of boutique wineries from around the world.
Frequently Asked Questions
Q: Can I choose the wines in my pack?
A: No, the wines are pre-selected to offer a diverse and exciting tasting experience.
Q: Is there a guarantee on the quality of the wines?
A: Absolutely! We stand behind the quality of every bottle. If you're not satisfied, we offer a money-back guarantee.
Q: How long will it take for my wine pack to arrive?
A: We strive to deliver your wine pack promptly. Please allow 5-7 business days for delivery.
Q: Are these wines suitable for gifting?
A: Yes, our wine pack makes a wonderful gift for wine enthusiasts or special occasions.
Q: Can I track the delivery of my wine pack?
A: Yes, you will receive a tracking number once your order is shipped.
Q: Is this offer available internationally?
A: Yes, we offer international shipping. Additional charges may apply.
Conclusion
Indulge in the world of fine wines this Fall with our exclusive offer of 15 Bottles of Award-Winning Red Wine for just $114.95 (originally $274.95) with free shipping. From premium boutique wineries to a diverse selection of grape varietals, this wine pack has it all. Don't miss this opportunity to elevate your wine experience.
Order now
and raise your glass to the season's finest!
BONUS:

Check out these other

wine deals

currently available while you are here and save some money!
If you like Amazon deals & coupon codes join my Telegram Channel (It's FREE!)! Sign up here!
═════════════════════════════════
PROMOTE YOUR BRAND WITH US!
═════════════════════════════════
Want to showcase your product to the Closet of Free Samples audience? Then check out my available advertising options and email me at This email address is being protected from spambots. You need JavaScript enabled to view it. to discuss!
═════════════════════════════════
FOLLOW CFS ON SOCIAL MEDIA
═════════════════════════════════