Life hacking allows people to take more ownership of their lives. Before attempting to hack life, people shouldn't just set an end goal but should also ask themselves how they want to feel on a daily basis. If people aren't happy with what they are doing daily they won't succeed. Maybe all this life hackery is just another way the internet tries to hold your attention. Some life hacks might really be game-changers. Either way, it doesn't hurt to try, right?!
Definition of life hack
informal. : a usually simple and clever tip or technique for accomplishing some familiar task more easily and efficiently. "Life hacks," as they are known, are all about eliminating life's manifold frustrations in simple and deliciously clever ways.
Why are life hacks so popular?
Life Hacks are the best things that can happen to a person. Why wouldn't you like to do the same thing in a short and simple way? Like Bill Gates always said He would like to hire a lazy person rather than hard-working person because he will find an easy way to do the same. Life Hacks merely make the work easy with the same results. They are popular because they can improve the rest of your life.
Follow me to save more money!
Don't forget to
follow me on Twitter for daily deals
and freebies. I am very limited on my posting on Facebook due to all their
"violations"
and such. I don't even like to post kitchen knives on there anymore! Whereas
everything
has been getting shared on Twitter. Of course, you are always welcome to still
follow me on Facebook
as well! So don't miss out on all the money-saving offers!
TODAY'S LIFE HACK
Blow some air in when filling up water balloons. It will make the balloons pop when hitting someone instead of just bouncing off.
Speaking of water balloons, give these a try:
Let the water games begin! This set of 37 ready-to-fill water balloons will make a splash at your next summertime party. You'll have handfuls ready to go in one minute, perfect for outdoor games like water balloon spoon races or for creating a fun balloon Piñata.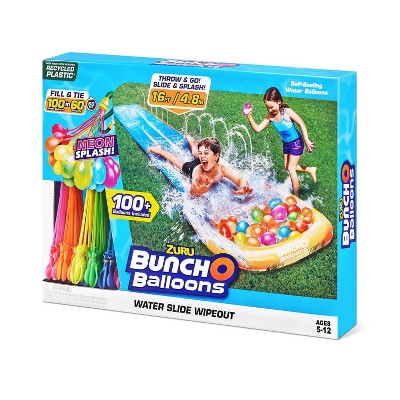 Slide into the brightest summer on record with the Bunch O Balloons Neon Splash Water Slide Wipeout! Combine the thrill of sliding on water and splashing into hundreds of self-sealing, fast filling water balloons to enjoy a fun refreshing summer! Fill and tie 100 water balloons in less than 60 seconds, to save time and unleash summer! Summer's too short, so double your fun with this water fight, water slide combination! Bunch O Balloons stems, and caps are now made from certified recycled plastic, so you can enjoy more environmentally friendly summer fun!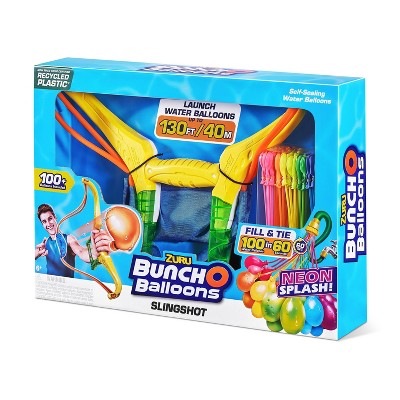 Unleash the brightest summer yet, with Bunch O Balloons Neon Splash Water Balloons! With the Bunch O Balloons Slingshot, powered by X-Shot, you can soak your targets from up to 100 feet / 30 meters before they can even see it coming! Simply load a water balloon into the slingshot pouch, draw, aim and fire! Blast the competition out of the water before they can even see you, or before they can even fill one single hand-tied water balloon! It includes all you need for an epic and refreshing water fight, with the hassle-free and award-winning water balloons that fill by the bunches, auto-ties, and makes summer a lot easier to unleash! Includes 1 Bunch O Balloons Slingshot & 3 x Bunch O Balloons Stems (100+ Self Sealing, Rapid Fill Water Balloons)
TODAY'S GREEN HACK
Looking to add solar power to your house? When calculating the cost and the money saved, always make sure to consider potential solar tax credits and the appreciation in your houses's resale value.
Speaking of solar-powered, these are perfect for emergencies or camping:
Energizer 320Wh/100000mAh portable solar power station and Hanpow 100W photovoltaic power panel are good partners for your outdoor activities. Whether you are in a family emergency, hiking, camping, hunting, fishing, outdoor RV, Van, etc., we can provide safe stable power that you can take your adventure anywhere.
Packed with a 1512Wh (408649mAh) lithium battery pack, no fuel or gasoline needed, no fumes, no pollution, no noise for completely silent operation. The built-in advanced BMS actively protects your devices from short circuits, overvoltage, and other potential hazards. This unit features 3* AC outlets (120V), 2* PD Type-C (60W) ports, 4* USB ports, 1* DC port, and 1* 10W wireless charging station.Our portable power station can power up to 12 devices simultaneously. AC Port Charges in 5-6Hrs;600W Solar Panel Charges in 3-4Hrs(Solar Panel Not Included);Car Port Charges in 25-26Hrs. Plus, the digital display makes it easy to see how much power you have left, while a top handle simplifies carrying, so you can take it with you everywhere you need to be. The Advance 1550 portable generator features a LED flashlight to help you see clearly at night or in low-light conditions. With a matte finish handle that is smooth to touch and easy to grab, this emission-free power station is sure to fulfill your portable power needs in camping, travel, music festivals, emergencies, and more. Whether the natural elements cut the electricity or some other emergency leaves you without power, Togo power features a Portable Power Station that's powerful enough to keep your personal devices charged and at the ready so you can stay connected and entertained.
This solar powered foldable charger is a tool when you are travelling or go outdoors or you are in remote areas where you can not find electricity supply or your power bank is dead and needs to charge your cellphones, gps devices, iPad or other DC 5V electronic devices.