With winter soon approaching, the concern for staying warm becomes paramount. However, the expenses associated with heating, winter clothing, and other seasonal essentials can quickly strain a budget. But worry not, as there are practical and budget-friendly methods to keep warm during the chilly winter months without depleting your finances.
In this guide, we'll delve into various money-saving tips and inventive strategies to help you prepare for the upcoming winter season without breaking the bank. From smart wardrobe choices to energy-efficient home solutions, you'll realize that staying warm while on a budget is not only possible but also manageable.
Image credit: Freepik
Stay Warm, Stay Thrifty: Tips for Winter Clothing
Layer Up:
Instead of splurging on expensive winter clothing, layer your regular clothes. Start with a
thermal
or
long-sleeved shirt
as your base layer, add a
sweater or hoodie
, and top it off with a
warm coat
. This way, you can use what you already have and stay cozy.
Thrift Store Treasures:
Thrift stores are a goldmine for affordable winter wear. You can find gently-used coats,
scarves
,
gloves
, and
hats
at a fraction of the cost of new items. Plus, thrift shopping is eco-friendly!
Warm Socks and Boots:
Invest in a good pair of
warm socks
and
winter boots
. Cold feet can make you feel chilly all over, so it's worth spending a bit more on these essentials.
Embracing the art of staying warm without overspending involves choosing practical and well-crafted options, such as
best made Chelsea boots
, to keep your feet snug in combination with cozy warm socks, allowing you to endure the chillier seasons without compromising on style or your wallet.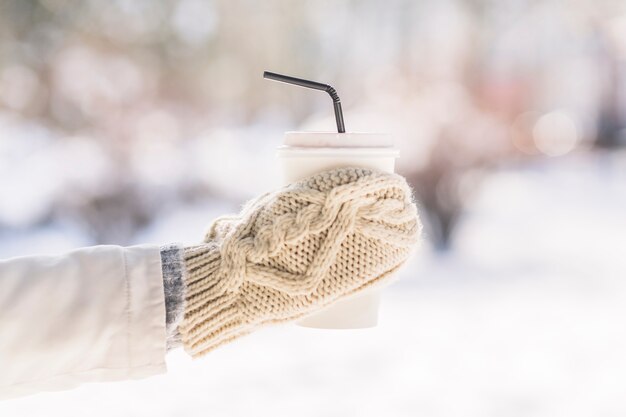 Image credit: Freepik
DIY Hand Warmers
Making your own DIY hand warmers is a fun and practical project, especially during the cold winter months. These hand warmers can be a lifesaver on chilly days or when you're out camping. Here's a step-by-step guide on how to make DIY hand warmers:
Materials You'll Need:
Step-by-Step Instructions:
Cut Fabric: Begin by cutting your chosen fabric into small squares or rectangles, measuring approximately 3x3 inches (7.5x7.5 cm). Remember that you'll need two pieces for each hand warmer.
Sew Three Sides: Take two pieces of fabric and place them together with the patterned sides facing each other. Starting from one corner, sew along three sides, leaving one side open for filling.
Add Rice: Using a funnel or a rolled piece of paper, carefully pour the rice into the fabric pouch. Fill it about two-thirds full, leaving some space for the rice to move around a bit.
Add Essential Oils (Optional): If you'd like to add a soothing fragrance to your hand warmers, place a few drops of your chosen essential oil onto the rice. This step is entirely optional but can enhance your warming experience.
Sew the Final Side: Once you've filled the pouch with rice (and optional essential oils), carefully fold the open end inwards and sew it shut. Make sure your stitches are close together to prevent rice from spilling out.
Trim Excess Fabric: If there's excess fabric around the seams, you can trim it to make your hand warmer look neater.
Heat in the Microwave: To use your DIY hand warmers, simply place them in the microwave for about 20-30 seconds. Be cautious not to overheat them, as rice can burn. Always test the temperature on your wrist before putting them in your pockets.
Enjoy the Warmth: Your DIY hand warmers are now ready to use. Slip them into your pockets, gloves, or mittens to keep your hands toasty during cold weather.
Additional Tips:
You can customize the size of your hand warmers to fit your needs.
To reuse your hand warmers, simply microwave them again when they cool down.
If you're making these as gifts, consider adding a personalized touch like embroidery or decorative buttons.
These DIY hand warmers are a cost-effective and eco-friendly way to stay warm during winter, and they also make thoughtful handmade gifts for friends and family.
Image credit: Freepik
Budget-Friendly Heating Hacks for Your Home
Seal the Leaks:
Inspect your home for drafts and seal any gaps or cracks around windows and doors. You can use
weatherstripping
or even old towels to block drafts, helping to keep warm air in and cold air out.
Use Draft Stoppers:
Place
draft stoppers
at the bottom of doors to prevent cold air from sneaking in. You can make your own using a rolled-up towel or purchase affordable ones online.
Maximize Sunlight: During the day, open your curtains or blinds to let in natural sunlight. Sunlight not only brightens your home but also provides free heat. Close them at night to trap the warmth.
Space Heaters with Caution:
If you're using
space heaters
, be mindful of safety and efficiency. Place them in the rooms you're actively using and turn them off when you leave. Also, consider electric blankets to keep you warm at night.
Cuddle Up:
Embrace the warmth of cuddling! Sharing body heat with a loved one or snuggling up with
blankets
can help you stay cozy without cranking up the thermostat.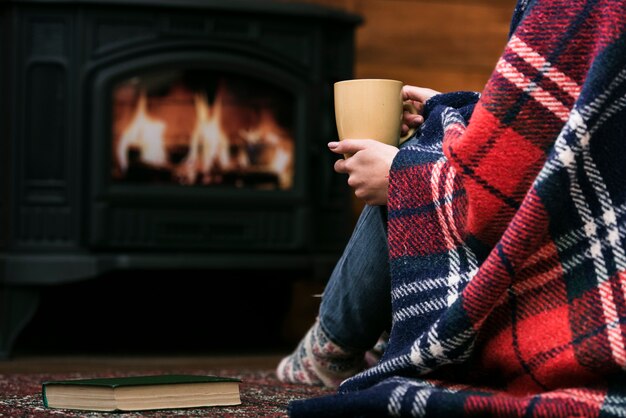 Image credit: Freepik
Save on Heating Costs
Adjust the Thermostat: Lowering your thermostat by just a few degrees can significantly reduce your heating bills. When you're home, aim for a comfortable but slightly cooler temperature, and when you're away or asleep, turn it down even more.
Use Ceiling Fans Wisely: Ceiling fans aren't just for summer. In the winter, set your fans to run clockwise at a low speed. This will help distribute warm air more evenly throughout the room.
Cook and Bake: Winter is the perfect time to indulge in hearty, homemade meals. Cooking and baking not only warm up your kitchen but also provide comforting, budget-friendly food.
Regular Maintenance: Ensure your heating system is running efficiently by scheduling regular maintenance. A well-maintained system uses less energy and saves you money.
Image credit: Freepik
DIY Heater with no electricity
Creating a DIY heater without electricity can be a lifesaver during power outages or when you're looking to save on energy costs. Here's a simple method to make one using readily available materials:
Materials You'll Need:
Terracotta pots: You'll need two pots, one larger than the other. The larger pot should have a hole in the bottom.
Candles: Choose several tea light candles or a small votive candle.
Bricks or a metal trivet: These will serve as a base for your heater.
Instructions:
1. Prepare the Base: Place bricks or a metal trivet on a flat, heat-resistant surface. This will act as a stable base for your DIY heater.
2. Position the Larger Pot: Turn the larger terracotta pot upside down and place it over the base. Ensure it's centered and stable.
3. Insert the Smaller Pot: Now, take the smaller terracotta pot and slide it down over the first pot's upside-down base. The smaller pot should fit snugly into the larger one but still leave some space around the edges.
4. Add Candles: Light your tea light candles or votive candle(s). Place them inside the space between the two pots. The heat from the candles will warm the inner chamber.
5. Allow It to Heat: As the candles burn, the inner chamber will heat up. The terracotta pots will absorb and radiate this heat, warming up the surrounding area. This method is especially effective in small spaces.
Safety Tips:
Always place your DIY heater on a non-flammable surface.
Keep an eye on the candles to prevent any accidents.
Ensure proper ventilation in the room to avoid a buildup of carbon monoxide.
This DIY heater provides a simple and cost-effective way to add some warmth to your space without relying on electricity. It's perfect for emergency situations or just creating a cozy ambiance on a chilly evening. Stay warm!
Image credit: Freepik
Stay Warm and Thrifty
Winter doesn't have to drain your bank account. By layering your clothing, shopping smart, and implementing budget-friendly home heating tips, you can enjoy a warm and cozy winter without the financial chill. Remember, staying warm is about comfort, not costly purchases.
In conclusion, winter on a budget doesn't mean you have to compromise your comfort or well-being. By implementing these cost-effective strategies, you can enjoy a warm and cozy winter without the financial stress. From sealing up drafts to embracing thrift store finds, every small effort adds up to significant savings. So, as the temperature drops and the snow falls, remember that you have the knowledge and tools to navigate winter with both warmth and financial peace of mind. Stay toasty, stay smart, and enjoy the season!