Swagbucks has long been an established way of earning a little extra cash. So while these deals occasionally change, here are the ways I make the most of my time and money.
1. I make $35 a month by sticking to my 100 SB daily goal.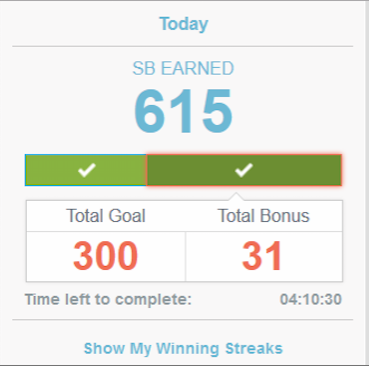 When I do this, I earn an Amazon $10 gift card every 10 days. Plus, when I hit my monthly SB goals, I earn an extra 500 points ($5) per month.
2. I make $10 a month by referring friends.

Since I earn 10% of their earnings, when my squad brings in 10,000 SB (or $100), I get 1,000 ($10). All I had to do was sign them up. Eligible earnings include top menu bar items like Shop, Search, Watch, Play, Answer, Discover, Daily Poll, Activities, Coupons, and Tasks. Mobile apps contribute, too. Plus, I teach my crew the same tips in this article, so when they succeed with Swagbucks, they'll also double or triple my monthly earnings.
3. I made $20 when I got cashback for free shoes and resold them online.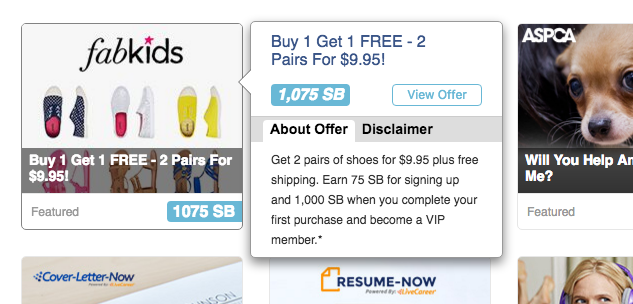 When I did this FabKids shoe deal, I got 2 pairs for only $9.95. The $10.75 cashback in SB makes those better than free.
Bonus: You can always resell these deals online on locally and make your money back!
4. I earned $3 right away with a free, 30-Day Free Trial of Amazon Prime Video.

At 300 SB, this Special Offer by TrialPay means I earned an instant $3. I also look for offers with high initial payouts, like the Uber offer paying 750 SB to sign up ($7.50).
Note: Deals like these are typically only redeemable one time per account.
5. I get 7% cashback on my Groupon purchases.
The SwagButton lets me know when there are rebate offers available. So, as an example, when Swagbucks awards me 7 SB per dollar spent, this amounts to 7% cashback. I recently purchased $100 in Nerf War Zone credits through Groupon, so I took my $7 in cashback to buy extra Nerf ammo to bring along (Watch out, lamers! You're mine).
6. I spent $2 to make $25 on a 2-month Audible subscription.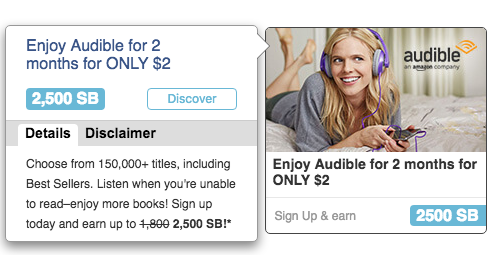 I always look for opportunities to earn SB profits. So when I signed up for 2 months of Audible for $2, I banked 2,500 SB or $25. That's a $23 profit!
7. I earned $10 buying $9.76 in Hefty Bags from Walmart.
I look for offers giving back at least the amount I put in, like this deal for Hefty Bags from Walmart. I paid only $4.88 per box and earned 1,000 SB ($10) when buying 2. That's a moneymaker all day long.
8. I earn at least $2 a survey taking Answer Gold Surveys.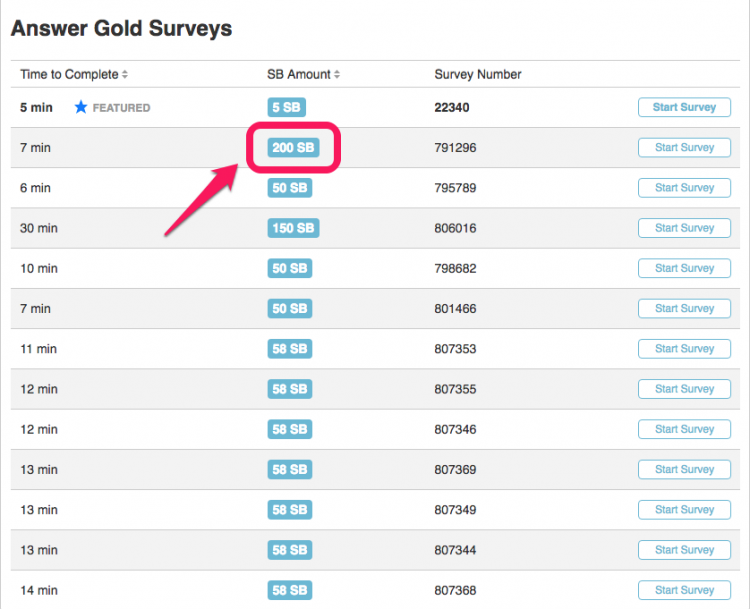 These high-paying surveys are worth 200 SBs ($2), so I pick the high earners requiring the least amount of time.
9. I get up to 24% when I shop through Swagbucks retailer links and then buy gift cards through Swagbucks' gift card shop.

First, I shop stores online for items through the Swagbucks shopping link. Then, armed with my shopping cart totals, I shop Swagbucks' gift card marketplace MyGiftCardsPlus (MGCP) for retailer eGift cards. This gives me even more cashback (on top of Swagbucks market cashback). While the deals change often, here are some of my fave Swagbucks stackables:
Nike: 4% through the SB Nike link + 20% MGCP (Total: 24% cashback)
Land's End: 2% through the SB Land's End link + 9% MGCP (Total: 11% cashback)
Domino's Pizza: 7% Domino's Groupon through the SB Groupon link + 5.4% MGCP (Total: 12.4% cashback)
Sephora: 6% cashback through the SB Sephora link + 4.5% cashback (Total: 10.5% cashback)
10. Then there are the usual Swagbuck-y ways I can earn more.

Through performing daily tasks, I can add extra points to my account by:
With Swagbucks, I'm earning a surprising amount of money every month—certainly enough to justify those free (and paid) trials, offers, and cashback store links. Making Swagbucks lucrative is easy once you know the tricks…. And who couldn't use an extra $100 at the end of the month?
►► Get Cash back on this purchase by using TopCashBack! Sign up here for FREE!
Tip: Open the TopCashBack link a new window, search for the store, select it and it will open in a new window. Once this happens, you can close that window and continue shopping from where you were. Doing this will log that you are shopping through TopCashBack without losing your place!