I love trying new things; especially ones from around the world. When I heard of GlobeIn and what they offer, I became super excited! I mean, I love subscription boxes plus items from various cultures so how could I resist the urge?!
Use coupon code
WELCOME

to save $10 OFF with a 3+ month subscription!
The
GlobeIn
Artisan Box is a monthly subscription box featuring their favorite products from global artisans. Each box is curated around a monthly theme selected by their editor with the aim of helping you experience new and interesting products and cultures. It's a subscription box you can feel good about! All of the items they feature are fairly traded, support artisans and farmers around the world, and are made with love by people who take great pride in their work.
They are dedicated to supporting artisans from around the world and in developing countries where, after agriculture, artisan goods are the second largest source of employment. By supporting them, you help reduce poverty by giving these artisans and their communities, a global audience. To help you connect with their gifted artisans, every month they highlight one artisan or artisan collective and ask you to crowd-fund their special project.
This was my first time trying GlobeIn and I was super excited! I have been eyeing them for a while now and when I got the chance to work with them, I was not disappointed. Well, at first I was because one my items did arrive broken, probably due to the mail carrier. However, I contacted them and they quickly sent me a replacement; no questions asked! So they definitely got me off to a great start with their friendly customer service!
This particular box is called the
comfort box
($50). This box is a quiet box, designed to dissolve the sharp edges of your day and conjure a spell of all-around ease. Just as animals curl up in nests and dens, we offer this collection as a reminder to lavish some attention on the creature inside you that could use a snuggle. Sent with care from India and South Africa, these goods have been designed to decorate the doorway of the senses and lure you into the comfort of the present. So, what are you waiting for? Duck for soft cover under your new woven cotton throw and offset brash workaday lighting with the glow of candles. Shelve the coffee thermos and pick up your new ceramic cup, fill it with soothing herbal tea, and melt, melt away!
As far as the items go, I got a total of 6 items:
Country: Mexico
These decorative and whimsical baskets make beautiful home storage options, lending a pop of color and handcrafted warmth to children's bedrooms, bathroom storage, kitchen countertops or as gift packaging for loved ones.
For the people of the Mixteca region of Mexico, basket-weaving is a way of life that also sustains life. With a dexterity passed down through generations, ancestry come to life in the tireless work of fingers, the weavers weave palms into vibrant, multi-colored baskets. On the outskirts of Oaxaca City, Doña Martina Garcia and her group of eight artisan basket weavers produce roughly 700 baskets per month.
For each artisan involved, basket-weaving means a stable monthly income used for building a house, starting a small business, or purchasing food and medicine. For Doña Martina (pictured left), her steady sales through GlobeIn have meant being able to spend more time at home, where she can work on her baskets while taking care of her children. Recently, she sold her stall in the Oaxaca Crafts Market, where she had been selling for ten years, and has dedicated herself and her small team to working entirely for GlobeIn.
Country: India
Snuggle up! For non-snuggle moments, spell comfort into your decor by draping over a couch or chair.
Materials: 100% cotton
Measurements: 36×60 inches
Among the accouterments of cozy, the blanket is a staple, and what better place to source this main article of comfort than from region known for its rich history in textile production? Karur, India is such a place, where weaving has historically been an integral part of culture and daily life.
Partnership with the global textile company Piece & Co. allows Karur's women weavers to bring their work to the world market and establish their traditional skills as valuable means of support for their families and communities. It also ensures that, instead of merely ending up as a memory in a museum somewhere, the craft itself stays alive.
Karur's textiles are good news for the environment, too. Your blanket is made of yarn woven from recycled cotton straps, a method of production that saves land, water, and energy, while reducing landfill waste.
Country: South Africa
These lovely candles are painted by hand, with funky lines that say it all, pulsing as they do with the rhythm of a joyful hand, of a life full of love, art, community, and music! Turn down the lights and enjoy their soft glow.
It may not surprise you that Catherine, the artisan who painted your new pyramid candles, loves to dance. That decorating candles is her passion. That she's the mother of two boys, enjoys spending time with family and friends, and finds real satisfaction in being a part of the Fair Trade community by working with Nobunto.
The funky lines of your new candles say it all, pulsing as they do with the rhythm of a joyful hand, of a life full of love, art, community, and music!
Based in the small village of Napier, Nobunto employs women of the disadvantaged community, nurtures their natural creativity, and unleashes their inspirational designs into the global market.
Country: India
Shelve the coffee thermos and pick up your new ceramic cup, fill it with soothing herbal tea, and melt, melt away.


Hailing from India, a country abundant with the custom of tea, your new cup and saucer comes with a mission: to inspire your own personal culture of easeful tea-time moments.
This special vessel was molded, cast, glazed, polished, and painted in Khurja, India's "Ceramics City," where over 50 local artisans were provided with work through The Village Experience to complete GlobeIn's order.
Meet one of the many artisans on this team, Rajesh. Having had to join the workforce early to help his family make ends meet, Rajesh never finished the 10th grade. Moving from one low-paying job to the next for many years, Rajesh finally found his current ceramics cooperative where, for the past ten years, he has flourished, making good money and working among friends.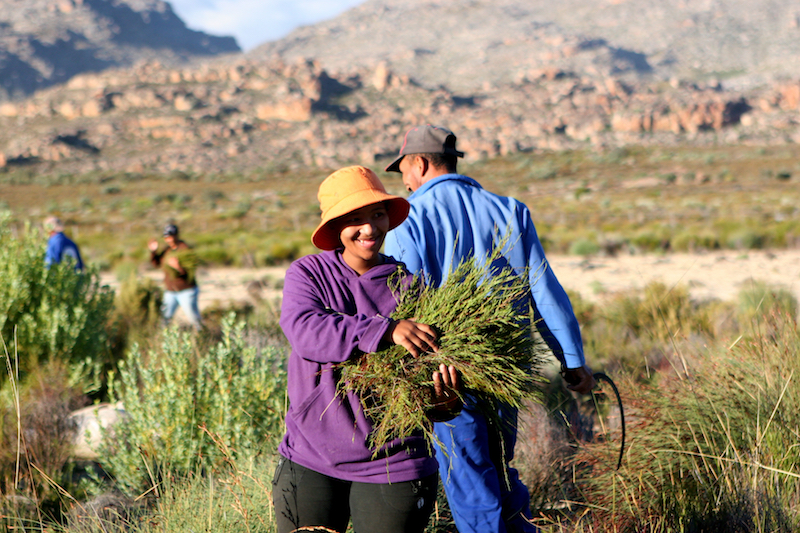 Country: India/South Africa
This botanical infusion of the rooibos plant from South Africa has the flavor of tea but is naturally caffeine free. Harvested from small-scale farms, the tea is perfectly smooth with a well-rounded taste and a sweetness of its own.
Equal Exchange is more than just a tea—it's a model in which tea farmers have a voice and are in control of their futures. Whereas most tea, even most Fair Trade tea, is grown on plantations, Equal Exchange seeks to do its part in revolutionizing the industry by investing in small farmer partners. These producers have often been marginalized and even pushed off the most fertile lands by plantation owners.
But a new future is in sight and each delicious cup you enjoy of your new stash has something to do with it. Democratically organized and in total control of their livelihoods, production, and land, the farmers behind your next tea time are pioneers in much needed environmental and social reform within the industry.
As you can see; GlobeIn put some really nice quality stuff in those box! While it doesn't seem like a lot for $50, these items are amazing! Not to mention, the total value of this box is $73.50 if you were to purchase each individually, so you're getting a nice little savings as well! I enjoyed everything in this box. I mean the details on the candles, the delicious tea and using my new cup and saucer while trying it, and even wrapping myself up in my new warm blanket while working at the computer! What adds even more to the experience is knowing that, not only are getting awesome handmade items, but you're helping other cultures out while also learning about them. I honestly have only good things to say and would highly recommend them to anyone!
Interested in signing up? Use the coupon code
WELCOME
at checkout to get $10 off a 3-month subscription! Just want to browse? Check Out their
Gifts Under $20
!
Hurricane Matthew hit Haiti with 140+ winds and has left 60,000 people without shelter. "...Wiped out. Barely 1% of houses are standing," ABC News.
We have the opportunity to transform this devastation by building a new community in the hardest-hit area of Haiti. 100% of your donation will hire locals, buy materials, and build a life-changing home for families in need. A home that will be the foundation and protection for health, education, and the future. Even better, New Story will show us the exact family we help and send us a video as the family moves into their new home for full accountability and transparency.
New Story has already built 211 homes in Haiti. They all survived the hurricane completely and protected over 1,000 people. Join us and let's do for somewhat we wish we could do for all!