This month I decided to do things a little differently. Rather than the same old blog post, once again, I did a real live video unboxing of this months FitSnack box. For anybody not familiar with FitSnack, check out my past reviews here. So rather than you having to read it; you get to see it.

The background info: When I originally learned about Fit Snack, I wanted to learn what they were about. Now I can't get enough of them! Besides offering healthy (and delicious might I add) snacks, it's also a subscription box. I LOVE subscription boxes because they offer new products I would have never touched on my own. Of course, finding new things to fall in love with could be bad too if you're on a budget, especially since I tend to find way too many most of the time! Enough about how awesome subscription boxes are, let's get on with this Fit Snack box. So what exactly is in the Fit Snack Box? Each Fit Snack box is packed with the most delicious and healthiest products on the market. They strive to include a diverse experience of full and sample size items that are as good as they are good for you. Every box is different – half the fun is getting the mystery box of goodies delivered to your door each month! Each product always containing two or more of the following: GMO-Free, High in protein, low in sugar, gluten free, organic, raw, vegan and all natural. Plus, they add in bonus items such as energy boosters, nutritional supplements, or refreshing beverages. Also, they include a note card that includes information about the items in your box as well as exclusive workouts, workout gear or other active lifestyle inspiration. Each monthly Fit Snack box contains 7 – 10 carefully curated items, generally valued at over $30.
There are additional benefits to being a Fit Snack member!
Fit Quarterly– our workout, recipe and inspirational publication.
Fit Music– complimentary workout music mix from one of Hollywood's hottest DJs, Jonny Fontana.
Fit Community– a supportive and active community of members that share tips, ideas, and motivation.
Fit Philanthropy – for each box we ship, we donate one meal through Feeding America.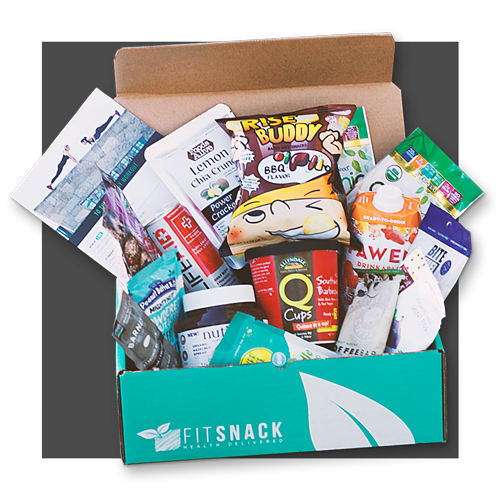 I have been a fan of FitSnack since day one. I love trying new things every month and FitSnack generally doesn't disappoint me. Here are the items I got in my box this month:
AMAZI PLANTAIN CHIPS
Amazi is a woman-owned, healthy snack company revolutionizing the plantin, importing, and selling organic dried and roasted plantain chips from Uganda.
FAWEN DRINKABLE SOUP
Fawen ready-to-drink soup is a delicious boost of plant-based superfood to fuel an active lifestyle, anytime, anywhere! Organic, hydrating, and clean - drink Fawen daily to fuel the things you love! Be sure to get your Fawen the best fuel for summer at drinkfawen.com. This month, enjoy Broccoli and Cauliflowers.
KRACNOLA VITALITY CLUSTERS
Our goal was to create a snack for health conscious individuals, that didn't alienate your taste buds. Our line specializes in high-end, gourmet granola that tantalizes your taste buds. Nutritious & delicious! Super vitality klusters; Packed with loads of fiber & other healthy ingredients. Handcrafted in small batches to create fresh crunchy, addictive golden klusters, Krancnola will fuel your body for a more productive day.
NUTTY GOODNESS
A mouth-watering fusion of nature's most delicious fruits and nuts... with absolutely nothing else. Certified organic, gluten-free, non-GMO, vegan and Kosher! Pineapple Paradiso: a subtropical fusion of nuts and pineapple. Nana Rama: Inspired by Nana's legendary banana nut bread.
HIPPEAS ORGANIC CHICKPEA PUFFS
HIPPEAS organic chickpea puffs are gluten-free, vegan, non-GMO and packed with fiber & protein. Far out Fajita has a fiery stash of chili, paprika, cumin, and good vibes!
NUTIVA CHIA SEEDS
These mighty, gluten-free seeds are packed with omega-3, protein, rare antioxidants, and fiber. Enjoy them in your yogurt, oatmeal, baked goods or smoothies.
TAKE 5
Take 5 is a 2oz relaxation shot designed to keep you calm and focus. Non-drowsy, drug-free, and reduces stress.
This box was definitely a good one! One thing that really stood out in this box that I fell in love with was the HIPPEAS puffs! I love the slight kick and bold flavor. While the bag seemed small, it was actually rather filling. Something else I was surprised that I enjoyed was the Take 5 relaxation shot. It actually tasted good! Usually, "health" shots of any sort taste nasty in my opinion, but that one was really delicious! Of course, I really enjoyed most of the items in the box, which is really no surprise. FitSnack is generally very good at sending out only the best tasting (healthy) stuff!
Needless to say, I still love FitSnack. Everything always arrives fresh and in tact. Not to mention everything is a full sized sample (unless they throw in smaller bonus samples) and is completely sealed. I love the information card that it comes with and the various exercise and workout suggestions. You don't get the same workout routine so you can mix it up every month along with your snacks. Is the box worth it? In my opinion, absolutely!
► Looking for more Subscription boxes and monthly clubs? Look HERE!