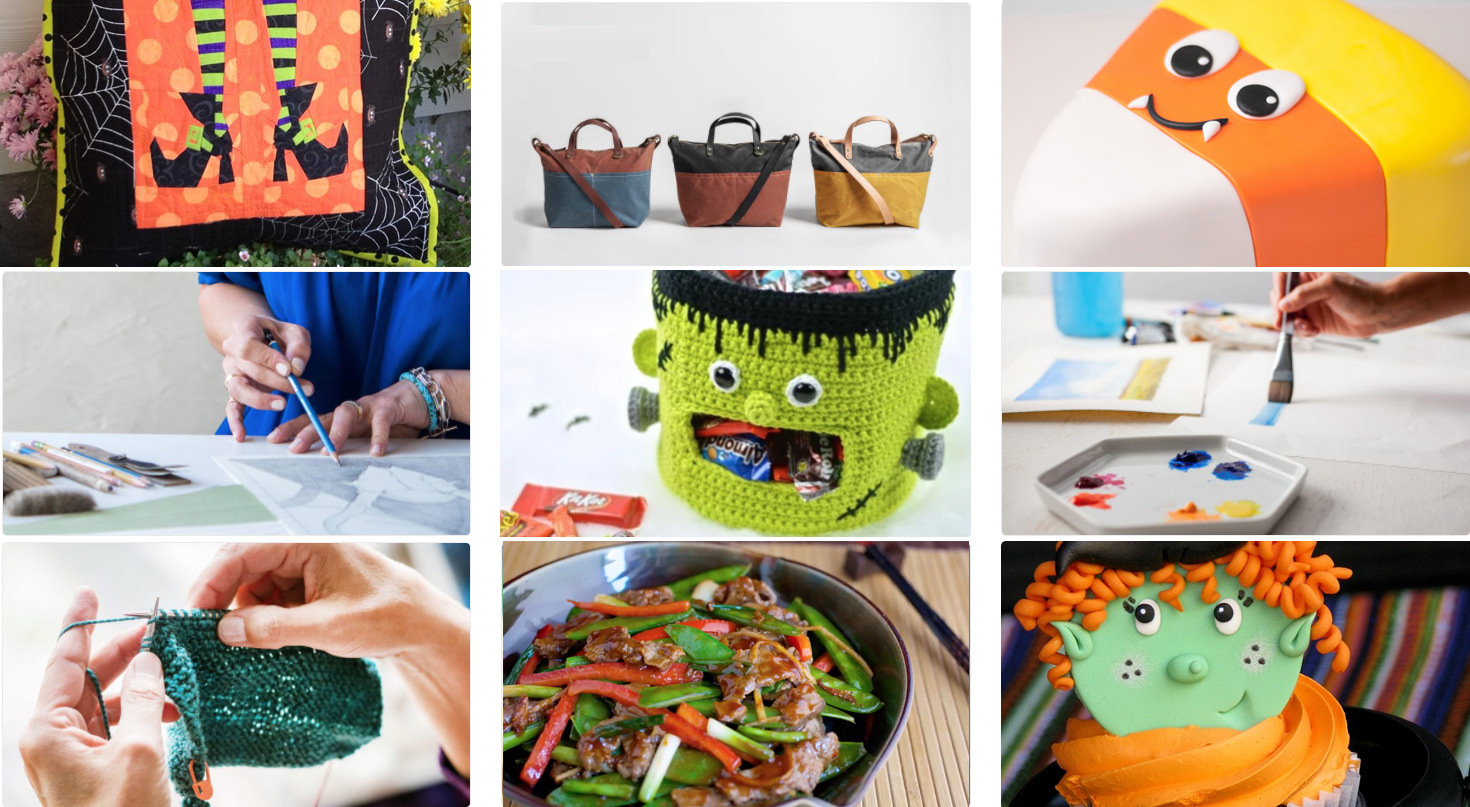 Just in time for some Halloween and holiday crafting!
Looking to start a new hobby or to learn more about a current one? Let
Craftsy
online classes help you out! For a limited time, Craftsy is offering up a
Premium 1-Year Membership
for just $2.49 (regularly $89.99)! That's a
97% discount
! Better yet, no promo code is needed as the price will automatically apply at checkout.
Having a
Craftsy Premium Membership
gives you access to over 1,500 online craft and hobby classes! There's a huge variety of classes available so you're sure to find something you'll love. PLUS, Craftsy has a new Membership Sharing program that allows users to share their membership with up to 3 of their family members or friends at no additional cost! Now everyone can get in on the fun!
Craftsy classes
start at $19.99 EACH (if you're not a member), so you'll save the most when you sign up for the Premium Membership because it gives you access to all 1,500+ of their premium classes for just 99¢ – and that's for the whole year!!! Plus, when you sign up for a membership, you'll score exclusive content, customized offers, and so much more. AND, Craftsy guarantees you'll love your annual membership so they offer a 30-day guarantee! If for any reason you're not loving it, you can cancel anytime within the first 30 days for a 100% refund. Note that a refund is not available for monthly memberships.
Craftsy offers all kinds of fun classes. Here are just a few you can choose from:
Baking – Cake Decorating, Cookie Decorating by Season, Over the Top Cupcakes, How to Grow Your Cake Business, Castle Cake Techniques
Fitness – Spa Day, Practicing Mindfulness, Mastering Tai Chi, Yoga for Healthy Mind & Body, Physiology & Fitness
Quilting – Welsh Quilting, Big Stitch Quilted Clutch, The Scrappy Market Tote, Weekend Patchwork, Free Motion Gifts
Photography – Flat Lay Your Life: Pro Photo Tips, How to Edit Photos, Baby Photography at Home, Stunning Panoramas
Your
premium membership
will give you access to well over 1,500 world-class instructional videos, exclusive live streaming events, a weekly newsletter with inspiration, access to online instruction for over 20 hobbies, and free downloadable resources. Plus, since the videos are pre-recorded, you're able to access them 24/7 and watch them at your own pace. If you're crafting with the videos, you'll be able to stop, start or rewind at any time.
Note that your membership will automatically renew annually until you cancel. You can easily cancel your membership at any time and get a refund for unused months or opt-out of automatic renewal by contacting their customer service department.
► Looking for more Subscription boxes and monthly clubs? Look HERE!
Did you find this post helpful? If so, it would be great if you could show some support by following

Closet of Free Samples on TikTok

(as well as my other social media accounts @closetsamples) and by checking out

my Etsy shop

! As a small creator, all your support makes a difference! Even a simple share of this post to your friends helps! Thanks so much!