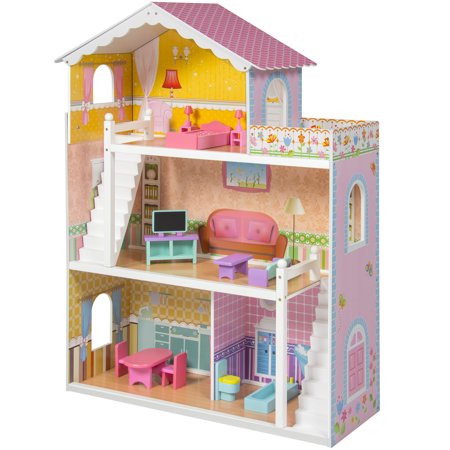 Who says giving Barbie and Friends a home has to cost a fortune, right now you can get the
Large Children's Wooden Dollhouse
for only $74.94 and it comes with a ton of stuff already. Plus if the kids already have Barbie stuff it will fit too! Best Choice Products presents you this brand new dollhouse with furniture. This environmental friendly, non-toxic paint wooden dollhouse features 3 stories of fun, illustrated with a bathroom, a bedroom, a living room, a kitchen, and a balcony. This dollhouse comes with 17 pcs mini wood furniture, and can accommodated Barbie or dolls up to 14 tall. This beautiful dollhouse is a prefect addition to kids playroom. Kids will definitely love this beautiful dollhouse!
NEW PRODUCT WITH FACTORY PACKAGING
FEATURES:
Made of MDF carb P2 and pine wood
Non-toxic, environmental friendly design
3 stories featuring a bathroom, a bedroom, a living room, a kitchen, and a balcony!
17pcs mini wood furniture that kids can decorate the house
Two molded plastic staircases
Big windows on both sides for viewing dolls, furniture and house from different angles
Accommodate Barbie or dolls up to 14
Large enough that multiple children can play at once
Recommended for age 3+
Easy to assemble, assembly instruction includedSPECIFICATIONS:
Product dimension: 44(H) 32(W) 12(D)
Product weight: 26.25
???? Get

Cash back

on this purchase by using TopCashBack! Sign up here for FREE!
*Tip: Open the TopCashBack link a new window, search for the store, select it and it will open in a new window. Once this happens, you can close that window and continue shopping from where you were. Doing this will log that you are shopping through TopCashBack without losing your place!
???? Also,

Save even

 

MORE

 money with Honey - a FREE Add-on that automatically searches and applies coupons to your purchases!
*Tip: Honey is a browser extension that automatically finds and applies coupon codes at checkout on thousands of sites. But that`s not all–– Honey also instantly finds better prices on Amazon and offers cash bonuses on many stores.  It works in various browsers and take just a minute to sign up -- plus it`s FREE! When you`re on a checkout page with a promo code field, Honey will pop up and ask if you want to check for savings. Simply click the "Find Savings" button and Honey will automatically try all known coupon codes for that store (including Honey exclusives). If they find a code that works, they'll apply the one that saves you the most money to your cart. It`s that simple!