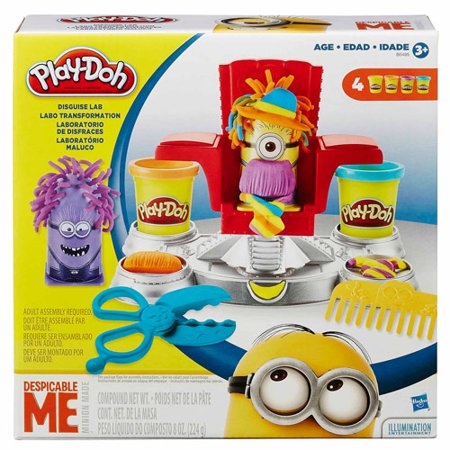 Stop by Walmart and grab the
Minion Play Doh-Set
for only $5.98. Walmart usually sells the Minion Play-Doh set for $9.96, save $3.98 today! This Roll Back price won`t last. So swing by Walmart and grab yours before they`re all gone. If you ever wanted to feel like a minion, now is your chance with the Play-Doh Disguise Lab Featuring Despicable Me Minions. Sometimes we all feel like just one in a minion, but the disguise lab is here to change that. This lab of
Play-Doh minions
helps create crazy disguises for your creatures by pressing out hilarious hairstyles and customizing with Play-Doh bananas, sirens, and other fun shapes. When you`re done, give them a haircut and start all over again. It`s about to get completely silly around here, and these despicable minions like it that way! You get two minion character thimbles to disguise and four Play-Doh colors. Despicable Me, Minion Made and all related marks and characters are trademarks and copyrights of Universal Studios. Licensed by Universal Studios Licensing LLC. All Rights Reserved. Hasbro and all related terms are trademarks of Hasbro. Minion supporters can contact QA with questions. Create different minions of various colors and shapes all with the fun Play-Doh formula you`ve come to know. Adult assembly is required to put this together. Have a little fun and a little mischief as you remember the adventures and play with the Play-Doh Disguise Lab Featuring Despicable Me Minions
Play-Doh Disguise Lab Featuring Despicable Me Minions:
Create crazy minion disguises by pressing out hilarious hairstyles
Customize Play-Doh minions with silly banana, siren and other half-mold shapes
2 minion character thimbles to disguise
Includes 4 Play-Doh colors
Contact QA with questions
Adult assembly required
? Get
Cash back
Get
Cash back
on this purchase by using
TopCashBack
!
Sign up here
for
FREE
!
Tip: Open the TopCashBack link a new window, search for the store, select it and it will open in a new window. Once this happens, you can close that window and continue shopping from where you were. Doing this will log that you are shopping through TopCashBack without losing your place!