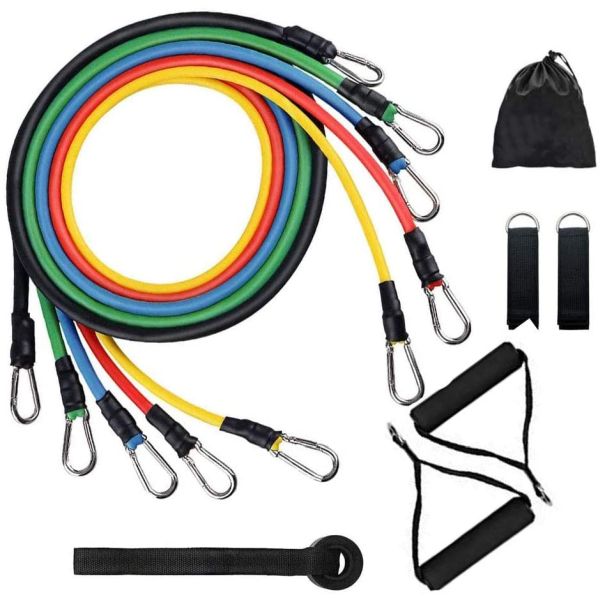 11 Piece Exercise Resistance Bands Set - Includes:5 resistance bands, 2 foam handles, 2 ankle straps, 1 door anchor and 1 carry bag. Everything you need to get a full body workout at home! These are sold out everywhere in stores, and MUCH more expensive on amazon! - SHIPS FREE!
High quality resistance tube. This
multifunctional elastic resistance band
has the same training method as the dumbbells. It can be used on foot or fixed on the door. It is strong enough to stimulate your muscles. Use elastic fitness bands to train your muscles in a state of tension and strength, the best option for losing weight. Fitness Body shape.
Durable latex tubes. The resistance tubes are made of premium rubber latex, it can withstand strong extension. Excellent elasticity and durability, with a longer life than normal.
5 bands with different resistances.
Yellow band = 10 pounds.
Red band = 15 pounds
Blue band = 20 pounds
Green band = 25 pounds
Black band = 30 pounds
You can combine different bands together to create resistance from 10 pounds to 100 pounds.
Burn fat and build your best loot You can use these bands at home in a hotel room in the gym, in the stadium, etc. You can use resistance bands to build your muscle everywhere in your spare time. It is less expensive and cumbersome than free weights. You can even use them to build your body while watching TV at home.
Package includes:
5 resistance bands.
2 foam handles.
2 ankle straps.
1 door anchor.
1 carry bag.