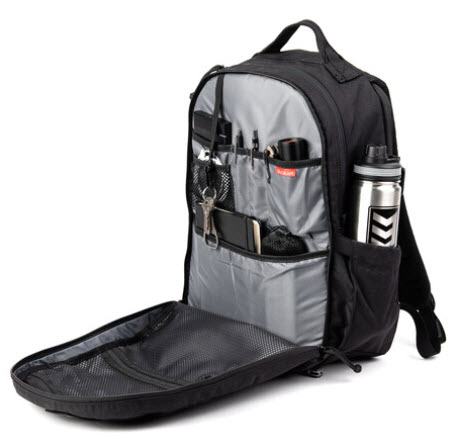 In the bustling world of e-commerce and online shopping, finding the perfect backpack that combines style, functionality, and affordability can be an arduous task. But what if we told you there's a hidden gem that not only meets but exceeds your expectations? Enter the
3V GEAR Urban Rugged Tech Backpack
, a versatile masterpiece that has taken the market by storm with its unbeatable price of $19.99, marked down from the original $100. With an astounding
80% discount
, this is a deal you simply can't ignore!
The Best of Both Worlds: Rugged Tech Pack or Gear Pack
The 3V GEAR Urban
Rugged Tech Backpack
is a marvel of modern design, offering the best of both worlds. Whether you need a rugged tech pack for your gadgets or a gear pack for your outdoor adventures, this backpack is your ultimate companion, designed to withstand whatever life throws your way.
Unparalleled Craftsmanship
When it comes to quality, the 3V GEAR Urban Rugged Tech Backpack stands in a league of its own. Crafted with meticulous attention to detail, it boasts incredible durability and longevity.
This backpack
is more than just a bag; it's a testament to exceptional craftsmanship.
Free Shipping for Your Convenience
We understand the importance of affordability and convenience, which is why we're delighted to inform you that the 3V GEAR Urban Rugged Tech Backpack ships for free! No hidden fees, no extra charges - just pure value for your money.
The Subrosa: A Discreet and Subdued Alternative
If you're in search of a backpack with a more discreet and subdued look, the 3V Gear Subrosa Urban Tech Backpack is your perfect match. This urban tech backpack is meticulously designed with organization and efficiency in mind.
Superb Organization
The Subrosa features not one but two padded laptop sleeves that easily accommodate most laptops and tablets. Say goodbye to the chaos of cables and pens; with a robust admin pocket, everything finds its place.
Built to Last
The 3V Gear Subrosa Urban Tech Backpack is constructed from robust 500D nylon, ensuring it can handle the rigors of daily use. Its clamshell design allows for easy loading, making packing and unpacking a breeze.
Loaded with Features
The Subrosa doesn't just stop at being rugged and organized; it's packed with thoughtful features. With two external water bottle pockets, a concealed carry weapons (CCW) velcro panel, and compatibility with a hydration reservoir, it's ready for anything. The EVA molded back-panel ensures airflow against your back, keeping you comfortable throughout your day.
Dive Deeper into the Product Details
When it comes to choosing
the perfect backpack
, the devil is in the details. Here's a closer look at the specifications of the 3V GEAR Urban Rugged Tech Backpack and the Subrosa Urban Tech Backpack:
Colors: Bold and Stylish Black
Materials: 100% 500D Nylon
Measurements: 19"L x 13"W x 9"H
Additional Features:
YKK Zippers and Silent Zipper Pulls: Ensuring smooth and noiseless operation.
Discreet (SOB) Styling: A sleek and understated design.
Rugged Grab Handle: For easy carrying.
Velcro ID Panel with Included 3V Gear Patch: Customize your backpack with your own patch.
Velcro Strap Keepers: Keep your straps tidy and organized.
Internal Padded Pocket: Safely stores your laptop, tablet, or hydration reservoir.
Padded Base: Extra protection for your valuable tech.
Includes a 2 Liter Hydration Reservoir: Stay hydrated on the go.
Dimensions: 19"h x 13"w x 9"d
30 Liters Capacity: Spacious enough for all your essentials.
Weight: A mere 2.55 lbs, ensuring easy portability.
Your Path to Unmatched Quality
The 3V GEAR Urban Rugged Tech Backpack and the Subrosa Urban Tech Backpack redefine the meaning of quality in the world of backpacks. Offering unparalleled craftsmanship, thoughtful design, and unbeatable affordability, they are the top choice for everyday carry.
With these backpacks by your side, you can embark on any adventure, be it a tech-savvy expedition or a rugged outdoor escapade. Say goodbye to the hassle of finding the perfect backpack; it's right here in front of you.
If you like Amazon deals & coupon codes join my Telegram Channel (It's FREE!)! Sign up here!
═════════════════════════════════
PROMOTE YOUR BRAND WITH US!
═════════════════════════════════
Want to showcase your product to the Closet of Free Samples audience? Then check out my available advertising options and email me at This email address is being protected from spambots. You need JavaScript enabled to view it. to discuss!
═════════════════════════════════
FOLLOW CFS ON SOCIAL MEDIA
═════════════════════════════════