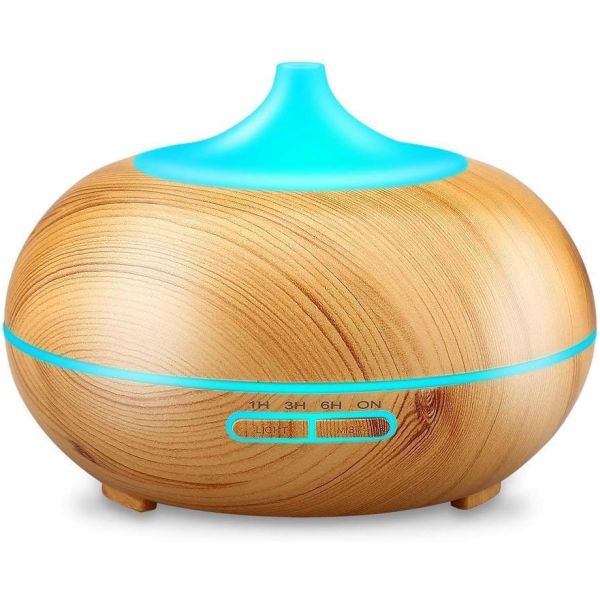 In today's fast-paced world, creating a serene and comforting atmosphere at home is essential. The
Large Aroma Essential Oil Diffuser
, now available at an incredible $24.99 (originally priced at $49.99 with a
50% discount
), is the perfect addition to your living space. This 500ml Wood Grain Ultrasonic Cool Mist Whisper-Quiet Humidifier not only enhances the ambiance with its classic wood grain finish but also serves multiple purposes, from being an essential oil diffuser to a cool mist humidifier and a decorative piece.
Large Aroma Essential Oil Diffuser - Key Features
| Features | Details |
| --- | --- |
| Capacity | 500ml |
| Operation Time | Over 10 hours |
| Auto-Off Function | Yes (Waterless auto-off after 5s) |
| Time Settings | 1 hour, 3 hours, 6 hours, continuous |
| Ultrasonic Technology | Advanced 2.4MHZ |
| Lighting Options | 7 soothing LED colors with dim and bright settings |
| Therapeutic Benefits | Relieves congested sinus, removes odors, and provides fresh air |
| Simple Operation | User-friendly operation with easy steps |
Experience Tranquility and Wellness
Large Aroma Essential Oil Diffuser - Versatile and Relaxing
Transform your living space into a haven of tranquility with
this Large Aroma Essential Oil Diffuser
. Not only does it disperse your favorite essential oils as micro-particles through cool mist ultrasonic technology, but it also does so quietly, ensuring it never disturbs your activities, whether it's reading, working, or sleeping.
Create Your Ideal Ambiance
With 7 soothing LED colors and options for dim or bright lighting, you have complete control over your environment. You can cycle through 14 colors or select one fixed color to match your mood and needs. Whether you're seeking relaxation or a vibrant atmosphere, this diffuser delivers.
Health Benefits at Your Fingertips
This ultrasonic diffuser
goes beyond ambiance. It offers therapeutic benefits such as relieving congested sinuses and nasal passages. Plus, it can eliminate smoky odors and pesky animal scents, ensuring you always have a breath of fresh air.
Effortless Operation
Humidifier Diffuser Simple Operation
This diffuser
is designed with user-friendliness in mind, making it accessible to everyone. Follow these simple steps for operation:
Lift the Cap: Begin by lifting the cap and filling the water tank.
Add Essential Oils: Next, add drops of your favorite aromatherapy or essential oil to infuse your space with delightful fragrances.
Connect and Select Mist Mode: Connect the humidifier to a power source and press the "MIST" button to choose your desired mode from options like 1 hour, 3 hours, 6 hours, or continuous mist.
Adjust Lighting: Customize the ambiance further by pressing the "LIGHT" button to change the LED colors according to your preference.
Aromatherapy Diffuser Working Modes
Timing Mode: Choose from 1H, 3H, 6H, or continuous mist modes. Enjoy continuous misting until the water runs out.
Light Changing Mode: Opt for a specific colored light or let the device cycle through all 7 colors for an ever-changing ambiance.
Technical Specifications
Aroma Essential Oil Diffuser Specifications
Advanced Ultrasonic Technology: Operates at 2.4MHZ for efficient and quiet diffusion.
Working Time: Enjoy up to 8-10 hours of continuous operation.
Input Power: Compatible with AC100-240V at 50/60HZ.
Material: Crafted from durable PP (Polypropylene) material.
Auto Power Off: Provides safety with an auto-off feature.
Mist Capacity: Generates a mist of 40ml per hour.
Water Capacity: The water tank holds 500ml, ensuring extended operation without frequent refills.
What's Included
In the package, you'll find everything you need to start enhancing your home's atmosphere:
1x Adapter
1x User Manual
1x Remote Control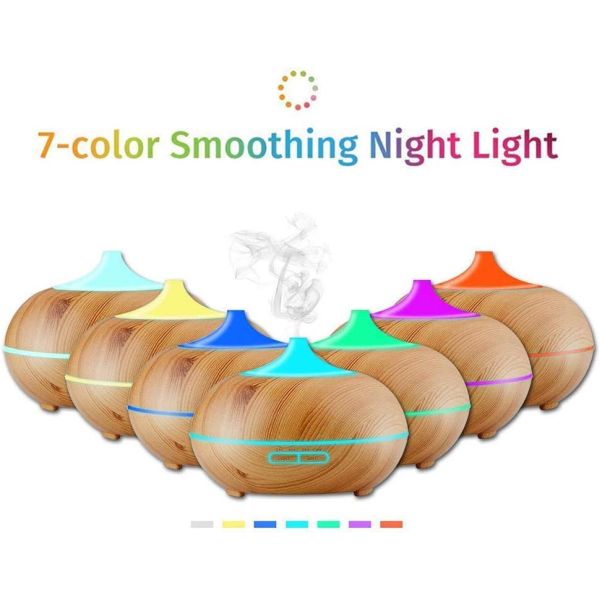 FAQs
Q: Can I use tap water in the diffuser?
A: Yes, tap water is suitable for use. However, using distilled or purified water may prolong the life of your diffuser.
Q: Is this diffuser noisy?
A: Not at all! Thanks to its advanced ultrasonic technology, it operates quietly and won't disrupt your activities or sleep.
Q: How do I clean the diffuser?
A: To clean the diffuser, unplug it and wipe it down with a soft cloth. Be sure to clean the water tank and mist outlet regularly.
Q: Can I use this diffuser without essential oils?
A: Absolutely! You can use it as a humidifier without adding oils, helping to maintain a comfortable level of moisture in your room.
Q: Is the LED light cycling optional?
A: Yes, you can set it to cycle through the 7 colors or choose one fixed color, depending on your preference.
Q: Does it come with a warranty?
A: Yes, our Large Aroma Essential Oil Diffuser comes with a warranty
If you like Amazon deals & coupon codes join my Telegram Channel (It's FREE!)! Sign up here!
═════════════════════════════════
PROMOTE YOUR BRAND WITH US!
═════════════════════════════════
Want to showcase your product to the Closet of Free Samples audience? Then check out my available advertising options and email me at This email address is being protected from spambots. You need JavaScript enabled to view it. to discuss!
═════════════════════════════════
FOLLOW CFS ON SOCIAL MEDIA
═════════════════════════════════