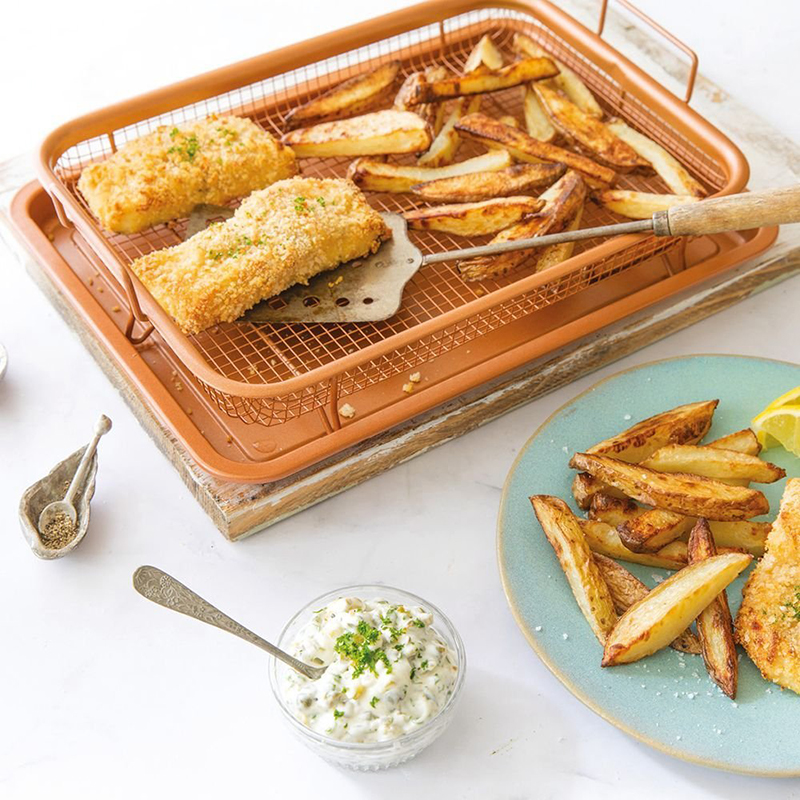 If you love crispy, golden-brown fried food but want more healthier options we have the solution! Enjoy a Healthier Alternative to Daily Cooking. Now fry or cook food with minimal oil or butter with the Crisper tray which works like an oil-less air fryer, perfect for creating healthier food and preserving taste. There's no longer a need to buy big and expensive air fryers. Specially designed of two-pieces kitchen set allows heat to circulate 360° around food meaning there's no need to turn or flip your food while cooking. The circulated air makes food crispy on the outside but juicy and tender on the inside.
1. Ceramic Coated Nonstick Mesh Basket
2. Ceramic Coated Nonstick Cookie Sheet (pan) Basket Size 8.7 X 11.9 & Tray Size 9.6 X 12.8
Now you can enjoy crispy, pizzeria perfect pizza right out of the oven with the Copper Chef 4-in-1 Perfect Pizza & Crisper Pan. It's the chef-grade, 12" double sided non-stick pizza pan for evenly cooked, extra crisp bake at home pizza every single time. One side makes golden-brown thin crust pizza. Just flip it over for regular New York Style pizza crust or even ooey gooey cheesy stuffed crust! Use the Spring Form Wall with extra deep sides when you want an authentic, Chicago style deep dish pizza. The secret is 360° Air Crisp Technology. It allows heat to circulate above, under, and around your pizza for a crispy golden crust every time. You can even use the Crisping Screen to turn your oven into an air fryer!
Product Features
Air Frying Crisper Screen For A Crisp You Can't Resist-Crisping Screen For Crunchy, Golden Brown French Fries, Mozzarella Sticks, Chicken Fingers & More!
No-stick ceramic coating allows you to cook without extra butter, oil and chemicals, which reduce calories and fat.
Special coating ensures no food sticks to the surface and air circulation reduces chances of food burning, it gives perfectly crispy, golden-brown results.
Choose Pizza/Round Crisper or Cookie Tray/Rectangular Crisper
LOOKING FOR A GOOD DEAL ON WINE? CHECK THESE:
🍾 Winc: $20 Off Your First Order
🍾 Plonk Wine Club
🍾 Cellars Wine Club
🍾 The California Wine Club: Save 50% off your first 3 months!
🍾 Wine of the Month Club: FREE Wine Accessory with Every Gift Membership!
🍾 Wine Awesomeness: Subscribe now and get a variety 3 pack of wine every month for only $45
🍾 Winecrasher
🍾 Wine2Go
🍾 Uncorked Adventures: 15% Off Wine Clubs