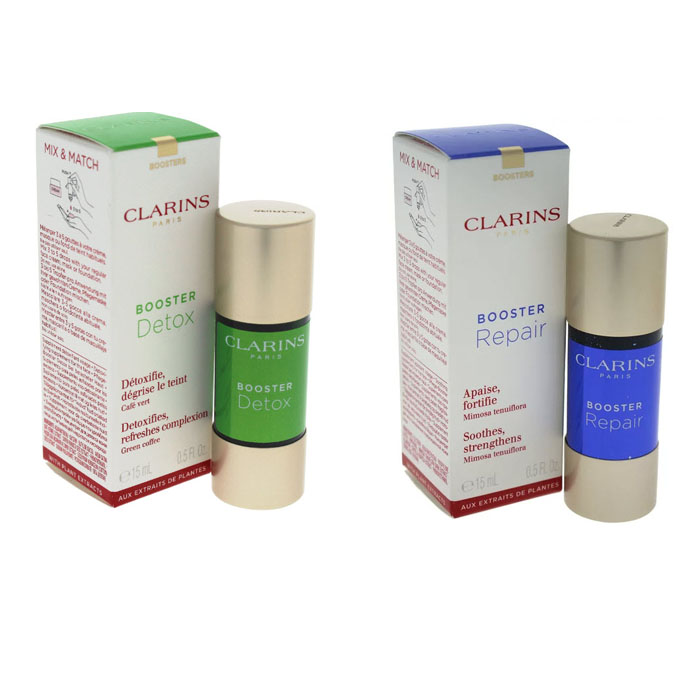 In the world of skincare, finding the perfect products to revitalize your skin can be a daunting task. But what if we told you that you can get not one but two incredible serums at an unbeatable price? Meet the Clarins Booster Unisex SET, currently priced at just $19.99, down from its regular price of $49.98. This limited-time offer allows you to experience the benefits of both the
Clarins Booster Detox and Clarins Booster Repair serums
. Dive into the world of skincare transformation and discover how these products can give you a radiant complexion and youthful skin.
Clarins Booster Detox: Your Path to Radiant Skin
Unveiling the Power of Green Coffee Extract
The
Clarins Booster Detox
is a skincare game-changer enriched with the miraculous green coffee extract. This unique ingredient possesses incredible detoxifying properties, making it the ideal choice for refreshing and reviving your skin. With just a few drops of this booster, you can achieve a radiant complexion and enjoy a supple, plumped-up skin that you'll love.
How It Works
The green coffee extract in
this serum
works its magic by eliminating toxins and impurities from your skin, leaving it clean and rejuvenated. It's like a revitalizing cup of coffee for your face, giving you that much-needed boost of energy. Additionally, it helps improve circulation, ensuring that your skin receives the nourishment it deserves.
Experience the Transformation
Users have reported noticeable improvements in their skin's texture and overall appearance after incorporating Clarins Booster Detox into their daily skincare routine. It's suitable for all skin types and offers a refreshing, spa-like experience every time you apply it. Say goodbye to dull skin and hello to a radiant glow!
Clarins Booster Repair: The Anti-Aging Marvel
Unleash the Power of Anti-Aging
Aging is a natural process, but with the right skincare, you can age gracefully. Clarins Booster Repair is your go-to solution for powerful anti-aging benefits. It's designed to reduce inflammation, balance moisture levels, calm your skin, tone it, hydrate it, and even help reduce redness. The result? Youthful, glowing skin that defies time.
Sun Protection Reinvented
Incorporating sun protection into your daily routine is essential, and Clarins Booster Repair makes it effortless. This booster enhances sun protection, shielding your skin from harmful UV rays and environmental stressors. It's like having a protective shield for your skin, ensuring it stays youthful and healthy.
The Magic of Time-Release Actives
What sets Clarins Booster Repair apart is its ability to release its active ingredients gradually. This means your skin gets a continuous supply of nourishment throughout the day, keeping it hydrated and looking its best.
Assembled for Perfection
Before we delve into the FAQs, let's take a moment to appreciate the compact design of these products. The Clarins Booster Detox and Clarins Booster Repair come in a convenient 0.5 oz size, making them perfect for travel or daily use. With dimensions of 2.25 x 2.25 x 6.60 inches, they're easy to carry and store, ensuring that your skincare routine is always within reach.
FAQs
Q: What is the Clarins Booster Unisex SET $19.99 (reg $49.98)?
A: The Clarins Booster Unisex SET $19.99 (reg $49.98) includes both the Clarins Booster Detox and Clarins Booster Repair serums, allowing you to enjoy a 60% discount on these fantastic skincare products.
Q: Can I use these boosters for any skin type?
A: Absolutely! Both the Clarins Booster Detox and Clarins Booster Repair are suitable for all skin types, so you can enjoy their benefits regardless of your skin's specific needs.
Q: How do I use these boosters in my skincare routine?
A: Simply add a few drops of the booster to your regular moisturizer or serum and apply it to your face and neck. Use it daily for the best results.
Q: Is there a limit to the number of sets I can order at this discount?
A: No, there is no limit. You can order as many sets as you like, and when you order two or more sets, you'll also enjoy free shipping.
Q: Are these boosters safe to use with other skincare products?
A: Yes, these boosters are designed to be compatible with your existing skincare routine. Just add them to your favorite products for an extra boost of benefits.
Q: Can I use Clarins Booster Repair as a standalone anti-aging product?
A: Yes, you can use Clarins Booster Repair on its own or mix it with your moisturizer or serum for added anti-aging benefits.
Conclusion
The Clarins Booster Unisex SET $19.99 (reg $49.98)
60% discount
is a skincare lover's dream come true. With the
Clarins Booster Detox and Clarins Booster Repair,
you can achieve radiant, youthful skin at an incredibly affordable price. Don't miss out on this fantastic offer to elevate your skincare routine to new heights. Say goodbye to dull, aging skin and hello to a more beautiful you.
? If you like Amazon deals & coupon codes join my Telegram Channel (It's FREE!)! ? Sign up here!
═════════════════════════════════
PROMOTE YOUR BRAND WITH US!
═════════════════════════════════
Want to showcase your product to the Closet of Free Samples audience? Then check out my available advertising options and email me at This email address is being protected from spambots. You need JavaScript enabled to view it. to discuss!
═════════════════════════════════
FOLLOW CFS ON SOCIAL MEDIA
═════════════════════════════════