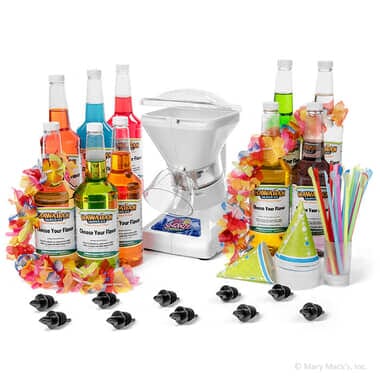 I live in the South so shaved ice and snowballs are a thing just about all year round. While these are rather affordable, sometimes you may not feel like leaving your house. That's where the
Little Snowie Party Kit from Hawaiian Shaved Ice
comes in! It's an at-home kit so you can make shaved ice from the comfort of your own home.
For those of you who are not familiar, shaved ice in its simplest form is composed of thinly shaved ice and syrup served in a cup, paper cone, or bowl. Distinct from a snow cone which uses crushed ice, the ice for Hawaiian shave ice is thinly shaved to create a unique texture that is more powdery and snow-like. Whereas Snow Cones have larger granules of ice than shaved ice. Shaved ice is produced from either block ice shavers or cube ice shavers. But no matter what type of machine you use, shaved ice is never crunchy.
People generally eat shaved ice with a spoon and a straw. You start with the spoon, and because some of the ice will have melted by the time you finish eating the ice, you then use the straw to suck up the rest.
Little Snowie Max Cube Ice Shaver (Electrical, 110 Volt)
10 Quarts of ready-to-use syrup (your choice)
10 bottle pourers
10 night caps/dust covers
200 Snow Cone Cups (color & design may vary)
200 Spoon Straws
If this kit is not the right one for you, check out
HawaiianShavedIce.com
's website for more options. They have several bundles you can choose from as well as other supplies!
Did you find this post helpful? If so, it would be great if you could show some support by following

Closet of Free Samples on TikTok

(as well as my other social media accounts @closetsamples) and by checking out

my Etsy shop

! As a small creator, all your support makes a difference! Even a simple share of this post to your friends helps! Thanks so much!