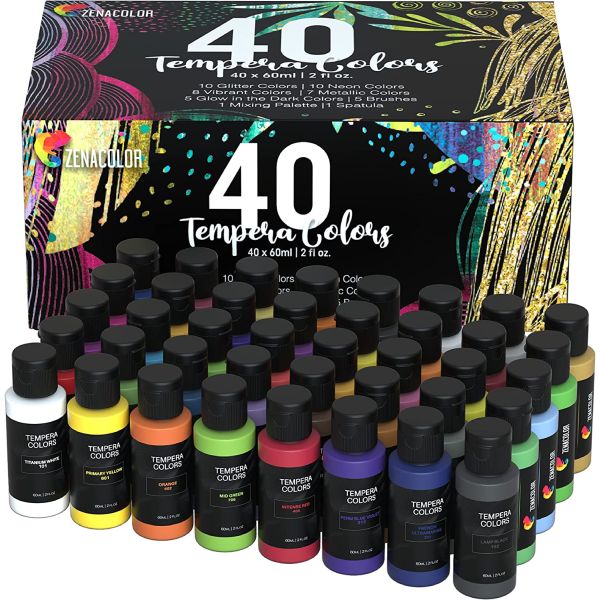 This is perfect for your art supply stash!
Zenacolor - Set of baby safe paint for hand and feet, 40 tubes for endless fun!
Would you like to give your children the perfect childrens paints or paint for toddlers to suit them and their artistic needs? The 40 washable finger paint for toddlers 1-3 tubes of 2 oz have vibrant and unique color including black, white tempera paint and white washable paint with 8 matte, 10 glitter paint kids glitter paint for kids glitter paints for kids, 10 neon kids paint, 5 fluorescent, 7 metallic poster paint.
With the non toxic finger paint for babies and non toxic paint for babies from Zenacolor, your children's artwork will be full of intense and vivid. Every tube contains highly pigmented, bright and high quality nontoxic paint for babies. The different craft paint for kids finishes allow your children to add volume, effect and texture to their artwork with finger paints non toxic washable toddler.
The miscible and window paint for glass washable will make your life, and your artistic experiences, easier. Creativity run wild without them ever feeling frustrated! The large 2 oz child kids paints and washable paint set for toddlers 2-4 years tubes are the perfect size to allow you to create several paintings without a problem!
These ideal kids finger paint for kids ages 4-8 will also suit adults artists. Washable Tempera paint adapt to all supports: canvas, cardboard, painting paper for children, children posters.
So don't wait any longer and take advantage of new Zenacolor tempera kids washable paint for kids non toxic, ASTM D-4236. As with the whole range of Zenacolor products, quality and quantity are always key! These paints for toddlers will be perfect for your kids hand paint artworks :)
ENDLESS FUN IN ONE BIG KIT - The tempera paint for kids contains 40 poster paint pots of 2Oz (60mL) each : the washable paints for kids can be used with hands (or brushes) for hours of fun with creative youngsters
UNIQUE AND VIVID COLORS - The set of tempura paints washable contains 8 matte, 10 sparkly, 10 neon, 5 fluorescent and 7 metallic tempera paint to allow your children to let their imagination run wild with tempura paints washable set
SO EASY TO USE - Temperas paint is very easy to use for children on paper, cardboard, posters, with paint brushes, sponges or fingers : this baby paint non toxic washable infant is perfect as baby finger paint
BONUS:
Check out these other
paints on sale
while you are here and save some money!
Did you find this post helpful? If so, it would be great if you could show some support by following

Closet of Free Samples on TikTok

(as well as my other social media accounts @closetsamples) and by checking out

my Etsy shop

! As a small creator, all your support makes a difference! Even a simple share of this post to your friends helps! Thanks so much!