Life hacking allows people to take more ownership of their lives. Before attempting to hack life, people shouldn't just set an end goal but should also ask themselves how they want to feel on a daily basis. If people aren't happy with what they are doing daily they won't succeed. Maybe all this life hackery is just another way the internet tries to hold your attention. Some life hacks might really be game-changers. Either way, it doesn't hurt to try, right?!
Definition of life hack
informal. : a usually simple and clever tip or technique for accomplishing some familiar task more easily and efficiently. "Life hacks," as they are known, are all about eliminating life's manifold frustrations in simple and deliciously clever ways.
Why are life hacks so popular?
Life Hacks are the best things that can happen to a person. Why wouldn't you like to do the same thing in a short and simple way? Like Bill Gates always said He would like to hire a lazy person rather than hard-working person because he will find an easy way to do the same. Life Hacks merely make the work easy with the same results. They are popular because they can improve the rest of your life.
Follow me to save more money!
Don't forget to
follow me on Twitter for daily deals
and freebies. I am very limited on my posting on Facebook due to all their
"violations"
and such. I don't even like to post kitchen knives on there anymore! Whereas
everything
has been getting shared on Twitter. Of course, you are always welcome to still
follow me on Facebook
as well! So don't miss out on all the money-saving offers!
TODAY'S LIFE HACK
Want to get a bug out of your room while you're sleeping/studying? Close the door, and turn off the lights. Then turn on the lights in the adjoining room. This will lure the bug out toward the new light source.
Speaking of bugs, check these items out:
GREEN BEAN BUDDY™ Bug Killer is an all-in-one pest control treatment certified by the American Academy of Entomological Sciences (AAES) using a 12 month real world field study involving a multi-story museum and health facility. The naturally formulated bug killer kills bed bugs, fleas, ticks, roaches, ants, millipedes, silverfish, carpet beetles, spider mites, aphids, beetles, centipedes, stink bugs, gnats, spiders and prevents future infestations for up to 30 days. This formulation is already being used by numerous hotels, hospitals, resorts, and pest management companies.
Bug Buddy Ultrasonic Pest Repeller is ideal for repelling bed bugs, house mice, black beetles, mosquitoes, fleas, flies, crickets, ants, and vermin without having to rely toxic chemicals or risky traps. The state of the art ultrasonic sound repels insects and rodents up to 860 square feet. Deter pests from your home without having to use poisons or toxic chemicals. Bug Buddy Insect & Rodent Repeller is completely safe and will not harm children or pets.
#3 Honeybug Andy Warhol Happy Bug Day
Learn your colors with a little help from Warhol! This sturdy board book features Andy Warhol's bug artwork, which he created during the 1950's. Each type of bug corresponds to a certain color.
TODAY'S GREEN HACK
By planting large deciduous trees to the west and northwest of your house, you can block enough sunlight from hitting your house to save up to 35 percent on air conditioning bills (up to $131 a month).
Speaking of trees, check these out: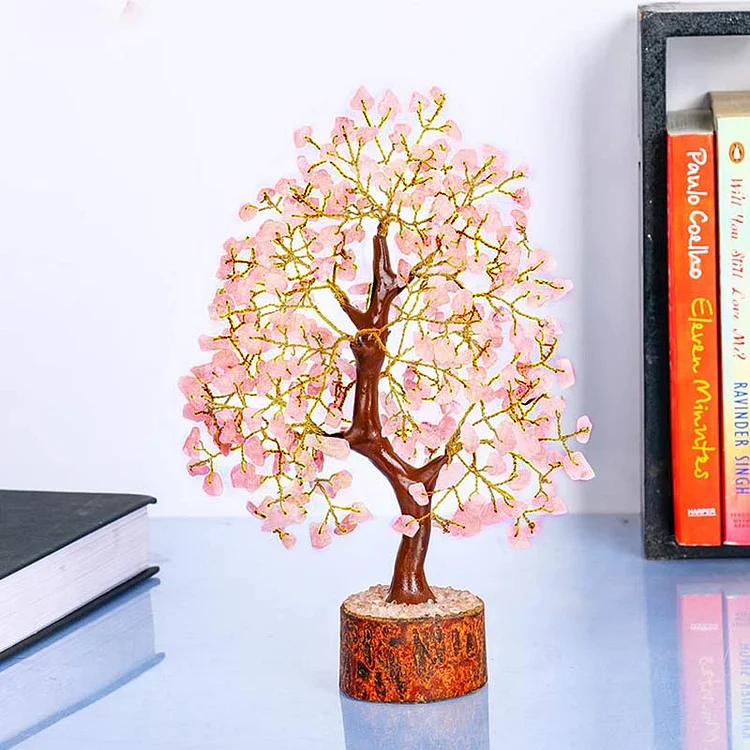 #1 Olivenorma Strawberry Quartz Wooden Branches Feng Shui Tree
The tree of life has become an archetype, appearing across various cultures as a spiritual and philosophical symbol. It is symbolic of new life, growth, abundance, stability, long life, strength, togetherness, ancestry, fertility and the interconnectedness of everything in the universe. Crystal Feng Shui Trees are considered to have healing and cleansing energies and are said to attract positive energy in abundance and are believed to give us love, happiness, and protection from the evil spirits around us.
#2 La Jolie Muse Artificial Ficus Tree - 5.6 Feet
This hand-assembled ficus has realistic bumped burls, a rough trunk, and bendable branches with lush leaves that imitate the natural beauty of a real ficus. Lifelike and durable, you can bring nature indoors and rest easy knowing that your ficus will look stunning all year round.
#3 Tree Givers Plant a Tree in Memory
Whether you're a first time TreeGiver or you have planted memorial trees with us for years, the Original TreeGiver Memorial Tree Planting is the most thoughtful and unique sympathy gift to show you care. Each planting in the state of your choice includes an Official Certificate of Planting, a Handwritten Card with a message you specify, and a Sympathy Letter describing your thoughtful gift in memory of a loved one.